22nd March:Lessons and Youme Town!
After the curry dinner the night before, it was time to wake up to do so many things for my packed and filled day... To start off, it was lessons at the 広島国際センター again.. I have been missing afternoon lessons because I didn't realise that lessons in the morning were still on.. So I attended lessons here!
There were many mainland Chinese at the centre.. But I have found my anti-China spirit fading off after I landed in Hiroshima.. At least the ones I meet here ain't so bad.. This photo consis of people from China, Korea, Domican Republic, Thailand, Phillippines, Indonesia, Singapore(me) and Japan!The girl in the centre squatting down is from Indonesia.. She was moving to Yokohama, so she bought doughnuts for everyone as a farewell gift.. **touched**
On the way back, I found this group of Japanese singing near the Atomic Bomb Dome.. And they were getting people to sign a petition for the government to write history the way it should be.. I was so touched by these efforts.. As you can see, I'm somewhere in this picture, joining them in Singing! I had to sign, because their efforts make me realise the Japanese are really repentful for the war sins..
As developed as Japan is, there are still a number of Japanese who remain homeless in Japan.. As you can see here, there is a man who have to sleep on the streets because he doesn't have a home..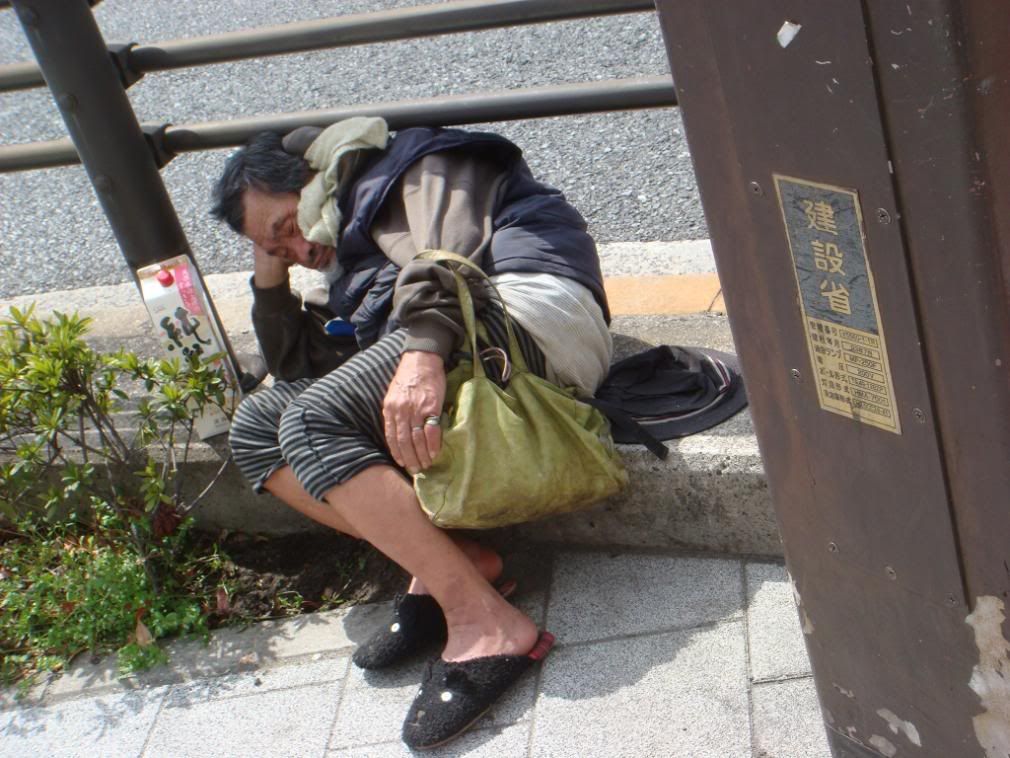 After my afternoon of lessons and shopping at Mamachen, タッチャンbrought me to his favourite furniture shop in Ujina 宇品.. As you can see, there is the sea in the background.. And a nice structure here. Apparently, Ujina宇品 is really near the sea..
After the furniture shop at Ujina, タッチャン (Tat-chan) brought me to Youme Town!!! And I had to take a photo with this mascot cuz its cute, plus I dun see many mascots in Singapore... Makes me tempted to push him to the ground though.. Oops.. *EVil thoughts(`_')*
Shopping trolleys here look like that so that children can have a little fun while parents are shopping!!!

Youme town's ice cream is exceptionally cheap ($1) per ice cream!! And On top of that, dry ice is provided!!! You just have to put your plastic bag of ice cream in this machine and close the cover, press a button and voila!! Dry Ice!!!



23rd March: Walk at Sogo
I spend a Sunday in Sogo, reading at Kinokuniya, eating free sample at Sogo again.. The most interesting I have to share is this spiral escalator.. Ever seen an escalator that travels upwards in a spiral? Here's one!!
Like Junwei said, my blog is always full of food!!! So here are my breakfast for Tuesday and Wednesday morning!!!
On Tuesday morning, I had Hotateほたて(Scallop) with eggs rice bowl... The Scallops here are ususally fresh ones, not like dry ones we usually eat and they are good!! They are big and they're no expensive! Like one for 50 cents?

On Wednesday morning, I had Oyako Don 親子丼.. It has chicken and eggs, So the name oyako don means like th emother and the child because the mother is the chicken and the egg is the child.. So you have the mother and the child!!!

And on Wednesday, I had something really nice again from my dearest 豚姉.. Cookies!!! Look at the range of colours!!! Ain't they beautiful!?!?!?! I'm really sure my mother would love these cuz they're not sweet, soft and chewy!!!!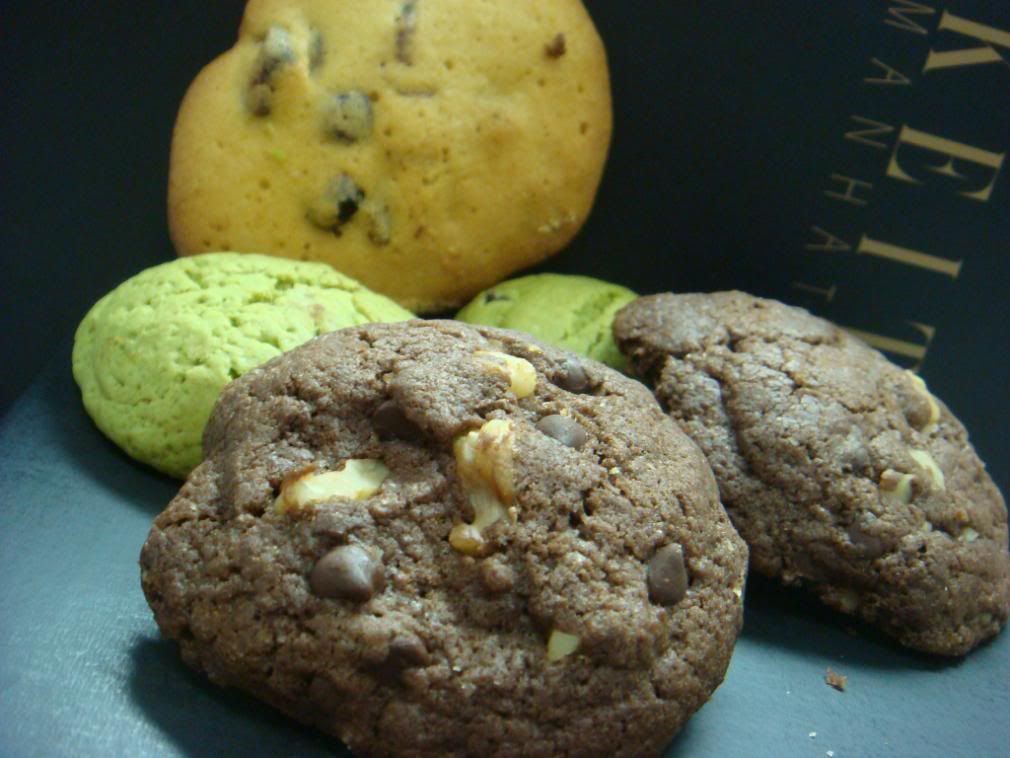 After a long week of work, Friday finally came.. and タッチャンwas so nice to buy me ice cream to reward my week of hardwork!!! Look at the amount of ice cream he bought me!!! It was from You-me town.. So each of these cost about $1 only... But still!!! That's alot of ice cream!!!!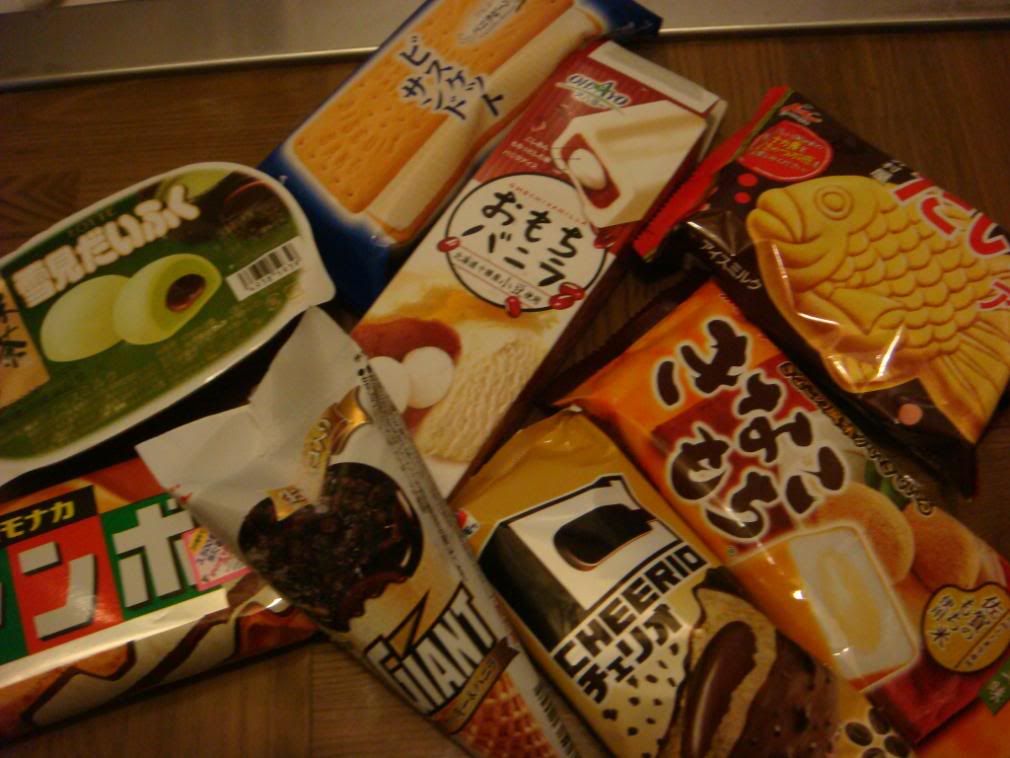 Photos for past few entries on