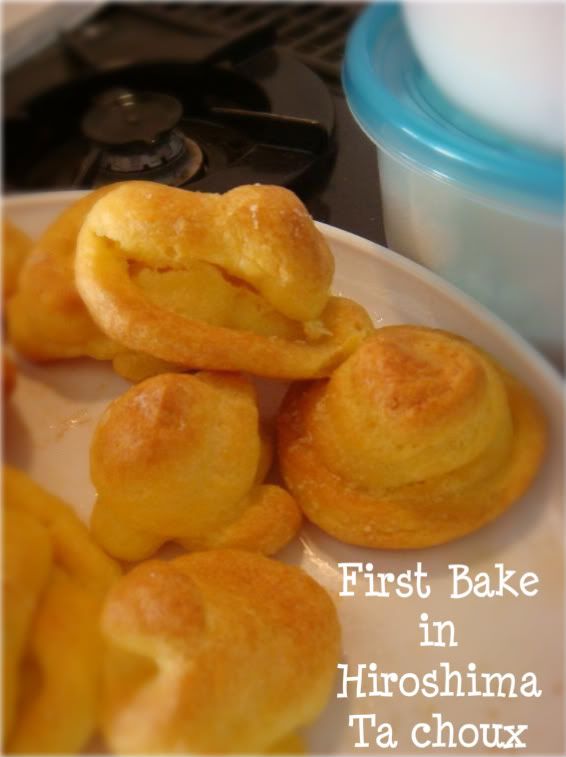 All Thanks to タッチャン, I could make Choux puffs inHiroshima.. These are kind of different from the usual ones I make, so they deserve a name! I decided to call them Ta-choux.. inspired by タッチャン.. Since I could make these while I'm in Hiroshima, I'm sure anyone could make it in Singapore! So here's the recipe!!!
Ingredients:
Custard
1/2 cup sugar
5 tbsp all purpose flour
1 pinch salt
2 cups milk
2 egg yolks
1tsp vanilla extract
Choux Pastry
1 cup water
1/2 cup or 110g butter
1 cup sifted all-purpose flour
1/4 teaspoon salt
4 eggs
Directions:
For Custard
Combine sugar, flour, salt
Add1 cup of milk and bring to boil
When mixture boils, add the other half cup of milk
When entire mixture boil, pour some of the boiled milk mixture on to the two egg yolks (So it won't be too hot to cook the eggs instead)
Pour the egg mixture into the boiling milk mixture and continue to boil till mixture bubbles and thickens
Remove from heat. add vanilla and refrigerate
For Choux Pastry
Preheat oven to 230 degrees Celcius/450 degrees F
Put butter and sugar together in a sauce pan and bring to boil
Sift in the flour and salt
Stir vigorously with a whisk until mixture lifts off the pan and forms a dough
Remove from heat, add eggs one by one, mixing evenly before adding the next one
Drop spoonfuls onto baking sheet or pipe into desired shape
Bake for 10 mins in oven, reduce heat to 200 Degrees c/ 400 degrees F and bake 25 mins more
Cool and pipe custard into the Ta Choux or cut the choux from the top and spoon custard into the Choux
And there you have! Your homemade cream puffs!!