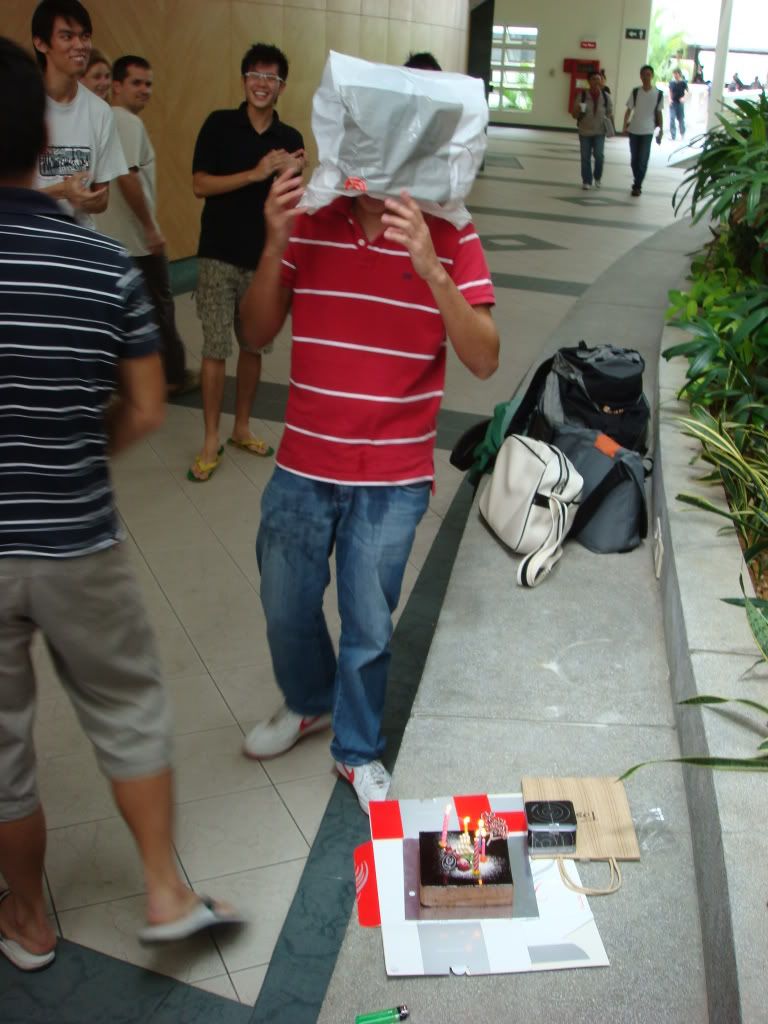 Plastic Bag's Boy birthday!!! who's the plastic bag boy? Who's birthday???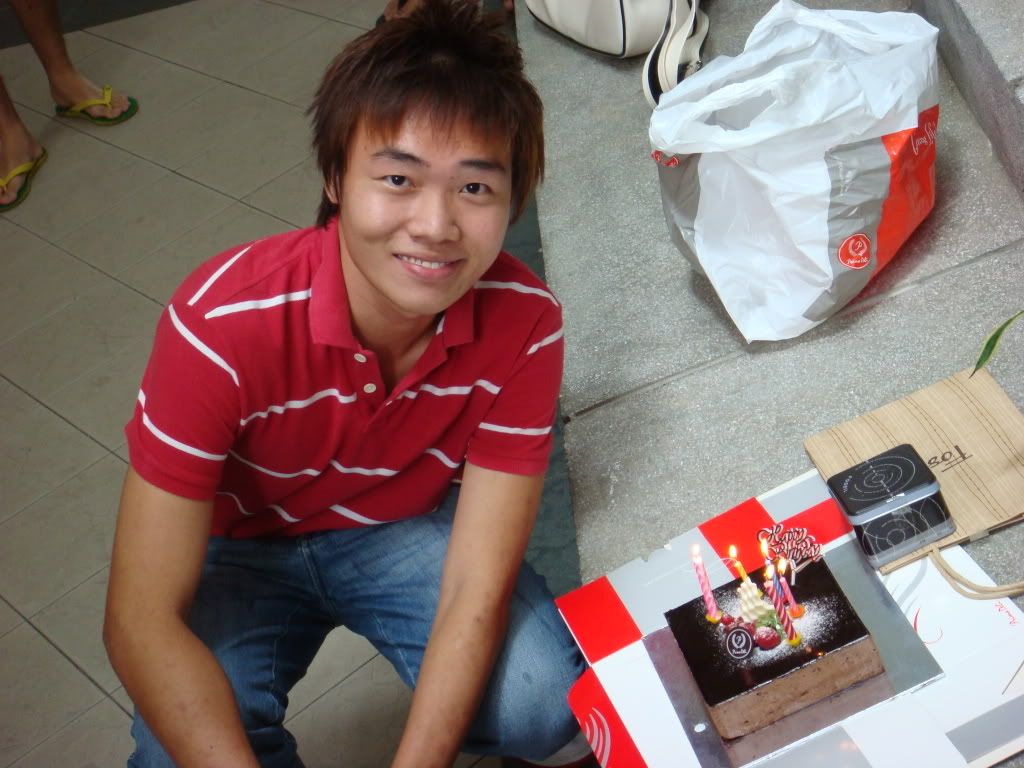 Its'S yI gUANG'S 23RD BIRTHDAY!!! hARPIE bURFDAE yI gUANG!!! Act, its nt today.. haha
but exams are coming.. So LETS MAKE DO.. WHAHAA... I KNOW.. MY LETTERS ARE IN CAPS.. WAHHAA.. WADEVA... tRY SOMETHING NEW MAHX... bUT NONETHELESS, harpie harpie burfdae to Yi Guang!!!! SI HAN!!! WHY DIDN'T YOU COME TO SCHOOL TODAY!?!?!? iTS A FELLOW teh gang MEMBER'S BIRTHDAY!!!
lOL.. bUT yI gUANG HAD A BUNCH OF REALLY GREAT FRIENDS.. HELP HIM CELEBRATING FOR HIM.. NOT ME LAR.. i'M A HORRIBLE PERSON.. aLL i DID WAS SNAP PHOTOS.. bUT i THINK aH mING GE BOUGHT HIM A PRESENT AND NICE jUNWEI WENT TO BUY HIM A CAKE BEFORE COMING TO SCHOOL!!! tHREE CHEERS TO THEM SO WE COULD HAVE A MINI CELEBRATION.. wEE hEE!!!
This photo tells you Aero people are so shy.. u noe why? cuz everyone is so scattered...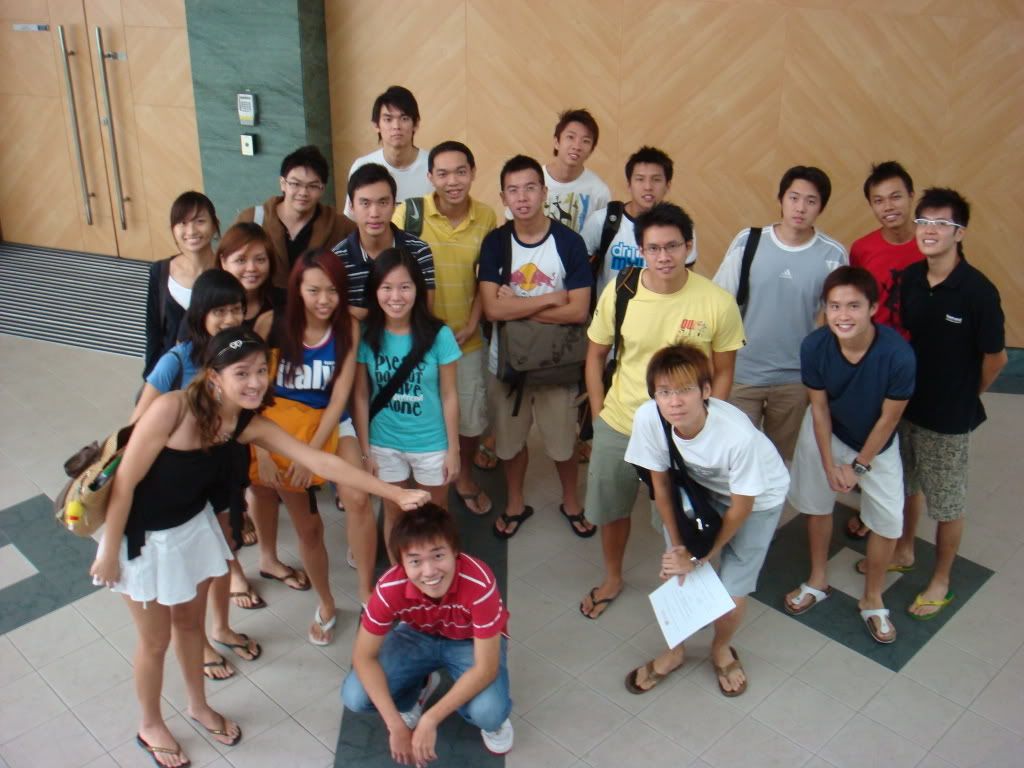 Oh well, now that i'm in, I shall spice up the photo my grabbing Yi guang's nicely gelled hair..
i THINK jUNWEI BOUGHT SOME ALCOHOL TYPE CAKE.. DUNNO WAD IS IT.. bUT DAMN NICE.. iT WAS COLD.. wITH NICE CHOCOLATE COATED CRISPIES!! yUMMILICIOUS!!! i WANNA BAKE!!! sO DEPRIVED OF BAKING.. bUT iF i WANNA BAKE, i HAVE TO USE A HAND WHISK.. roar!!!!
ITS BEEN SOMETIME SINCE i LAST TOOK A PHOTO LIKE THAT WITH OINK OINK... bUT i LOVE SIMPLY ADORE THAT STUNT LOOK.. WAHHAA...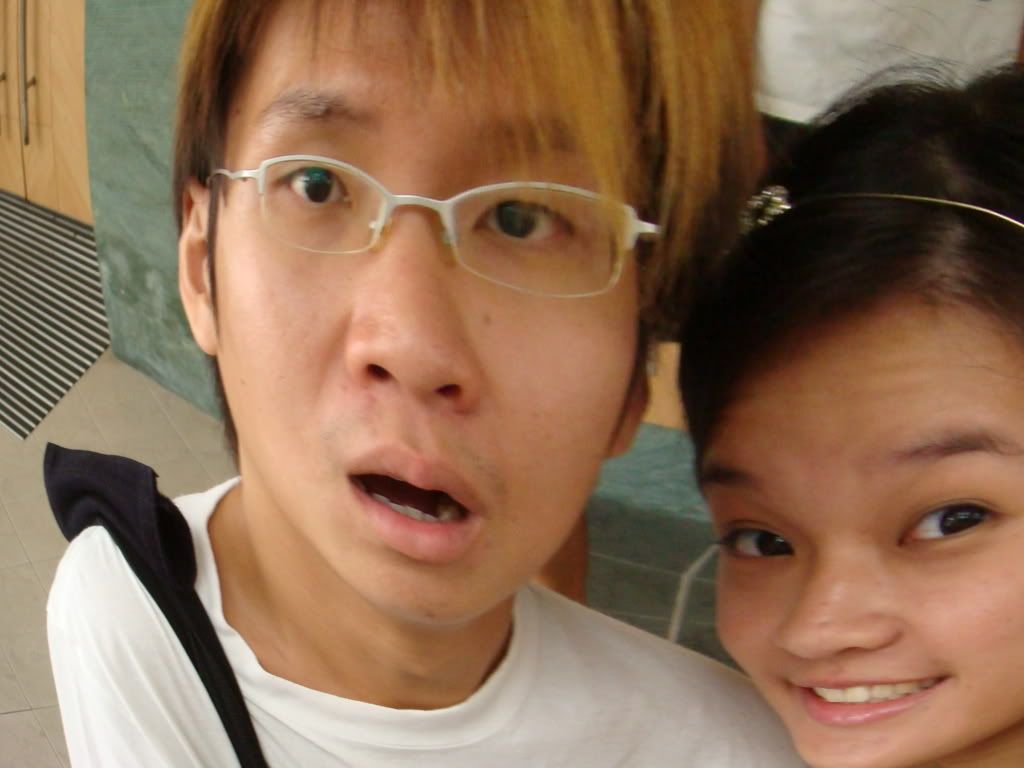 tHIS PHOTO MAKES YOU FEEL AS THOUGH U ARE IN A FISH TANK WITH THE FUNNY MAN GASPING AT YOU AND THE HAMBURGER FACE GAL SMILING AT YOU.. LOL....
iNTRODUCING!!!! aERO'S laughing (Xiao hua xiao cao) FLOWER AND GRASS!!!!!
Now here is a nice shot with the Temasek Secondary School Buddies.. hehe..
aND FOR THOSE OF YOU WO WANT TODAY'S PHOTOS, HELP YOUSELF TO:
http://www.4shared.com/file/28362629/cc8a227e/hARpIE_bUrFdAe_yI_gUanG.html
yOU WILL REALISE THAT yI gUANG SHOULD HAVE TAKEN THE CHANCE TO TAKE PHOTO WITH ALL THE GIRLS!! i THINK GUYS JUST LOVE IT!! oNE GUY IN A SEA OF GIRLS!! tHAT KINDA PHOTO... iT MAKES YOU THE "ladies man" bUT THE ONLY ADVANTAGE yI gUANG TRIED TO GRASP FROM HIS BIRTHDAY WAS TO ASK pROF sCHLUTER FOR EXAM SYLLABUS!!wAHAHA.. tOO BAD!!! iT DIDN'T WORK.. aLL HE GOT WAS A "happy birthday" FROM pROF sCHLUTER..
mEH mEH!!! hARPIE bURFDAE yI gUANG!!!