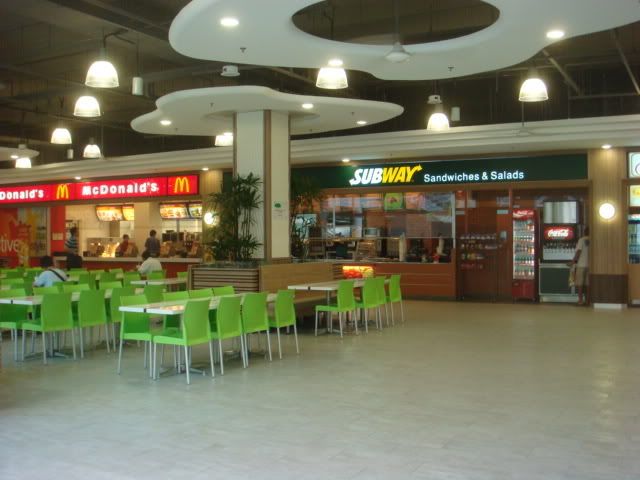 I met up with Yuanman in school today.. She was sharing tips with me about FYP... Really nice.. :) Besides, Dinner with Dave the night before ended in tears, so it was nice to meet up with people... (Note this is an Entry for last last monday, 7th July) No wonder Yuanman was asking why I look so haggard and shagged.. Took me some time to remember I cried alot the night before... Haha.. But it was really babish of me.. I cry until I was tired and i slept.. And here is the canteen!!!!!! The new canteen!! New chairs and tables! New stalls!!! New and clean!!!! And expensive too!
This is a new building below our beautiful canteen.. Dunno what it is.. haha... maybe for MAE? Went home after that to nua... Den I took 169 to AMK central.. good thing is 169 comes more frequent than that 138 in the old home and I have more buses.. So its good.. Bad thing is the long walk to the bus stop... Oh well..
I met up with Eileen and Suat Cheng.. The funny thing is their dressing actually matched.. without plans to do so.. Cool right? Haha....
AND THEY GAVE ME
BELATED BIRTHDAY PRESENTS!!!!!
Thanks to Suat Cheng for the Silicon Baking sheet... ITs so nice to use!!! And Thanks to Eileen for the shaking head tiger... It seats in my toilet, capturing energy from the sun to shake its head.. Haha..
Dinner was
pepper lunch
.. AGAIN!!! Always eating pepper lunch.. But thankfully, they had a new menu....
SUKIYAKI
!!!! I love Sukiyaki in Japan... But the
Sukiyaki in Pepper lunch lack authenticity
.... They gave Udon instead of Konnyaku... And There was
no raw egg to dip in
...
Conclusion about
food in AMK HUB
: Nothing nice to eat... other than Pepper lunch and NEw York New York...
After our dinner, we had yogurt!!! At
yogurt place
... They had so much flavours of yogurt... The yogurt is actually really simple... Its the topppings they give that makes it special.... Second level of AMK hub... My opinion:
Over priced... But wholesome good!!! NOT super duper good, but nice..
And
look at the Claire who gained 8kg!!!
SO FAT!!!!!!!!!!