After a long night of crying the night before, a shock came to me on Saturday night.. I remembered baking horrible tasting shortbread.. Well, not horrible, but it lacked something some how... Maybe too hard? Suddenly, a call came.. to my phone.. it was him.. I was happy yet lost.. He was really concerned about how I was getting along.. Well, I was doing baking for therapy.. and as usual, baking in a sucky mood indeed produces crap...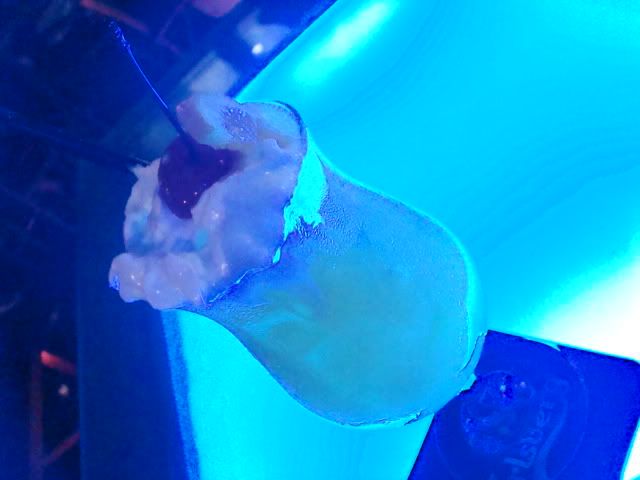 And he asked me if I wanted to catch movie.. ** Yes!!!! Why would I wanna give up a chance to go out with you? It was like a chance for me to save the relationship.. A light at the end of the tunnel which I thought let to a dead end..** But... Saturday night movie=expensive? But he was really sweet.. He told me not to worry about the price.. But yet still, I knew I wun wan a treat.. I had to say yes, cuz I can't pass the chance to go out with him.. On top of that, he was coming to pick me up!!!!!!!!!! How lucky can I be?
MOvies that night had bad timing, bad prices, nothing interesting.. So we landed up walking around the night streets of orchard road.. And decided to look for live bands... And we found ourselves at Indochine Wisma.. That was a really great place to chill.. Great band.. all kinds of liqour, beer and what nots at a single price of $15.. Seating in lazy sofas...
We had a nice talk.. I found out he wasn't having as easy time as I thought.. I thought I was the only one wetting my pillows being stupid.. But the guilt and confusion was driving him crazy.. He was really troubled.. I couldn't do much.. I was the cause of all these trouble.. But all I can do now is not bear grudges and be there for him in whatever way I can..
Bearing grudges only will turn me into a bitter person
and probably back to the hot and
short tempered Claire
I used to be..
The details of how we met up the following Sunday was kind of a blur to me.. But I do remember going to Holland V to try out the
cold rock
... Over priced and almost similar to Ben and Jerry's, the cold rock's only interesting point was to look at the way they mix their ice cream.. A kid's size ice cream is $4.60 and additional toppings come at $1 each...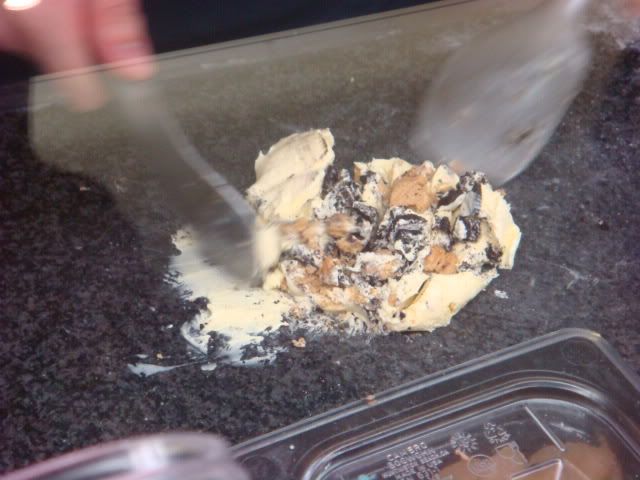 Another night of long chat and sharing.. Things were not ready to fall in place.. But its ok... For an impatient Claire who is always screaming at people, this is one of the best opportunity to train my patience..
But doing the right thing doesn't mean making everyone happy.. He's trapped becasue of his conscience and pressure from family.. All he wants is to be alone.. Some Alone time.. no girls, no pressure.. It's not difficult.. But it may need alot of tolerance from me..
I can't admit I'm sad, but I guess getting to meet him twice on consecutive days did make me feel better I guess. So I baked something nice!! My Coconut Chiffon cake that went Poof within a day! Now that's fast!! Recipe shall be up soon... Pardon my laziness...

After all the packing being almost down it was time to laze around.. But something nice came! Another phone call! He asked me out for dinner!! Except its at Raffles Place.. So I took the 167 which took one hour to get me to town.. It was enjoyable though.. Cuz I could watch yakitate Japan on my phone.. Town+ meeting him, I had to look pretty! I remembered the night before he had a basketball match with Junwei and friends.. But he gave it up for me.. So we met up at City Hall MRT.. And woohoo cuz I wasn't late.. Damien came along, so the three of us had dinner at HAn's Raffles place.. The set menus there are worth it though.. Main+soup+garlic tost+dessert+drink.. Dessert was a slice of watermelon though..
But around 6, he had to go for basketball cuz they din have enough players.. So my date ended with a one hour dinner.. Damien had to go Tanglin.. except he didn't noe how to go plus his ERP cashcard was low on cash, which means summon under the ERP gate.. So I followed his car to Tanglin to pick his friend.. Ho-Lan abit cuz my directions gt a little lost since I was away for so long.. Damien dropped me off at holland V after that and I tried finding my way home using my bus guide.. There was one bus to switch,but I switched twice cuz I landed myself at pandan valley thanks to taking bus in the wrong direction.. Haha...