Since I offered to make Oreo Cheese Cupcakes for my sister, so it was kind of the first thing I baked after exams.. Louis, My bro-in-law will be returning China tomorrow, so I just had to let him try my bakes.. I baked the cupcakes yesterday night and it looked like that..
So I proceeded to decorating the Oreo Cheese Cupcakes.. Melting the chocolate ganache.. Taking the rainbow sprinkles from the freezer.. and it became like that: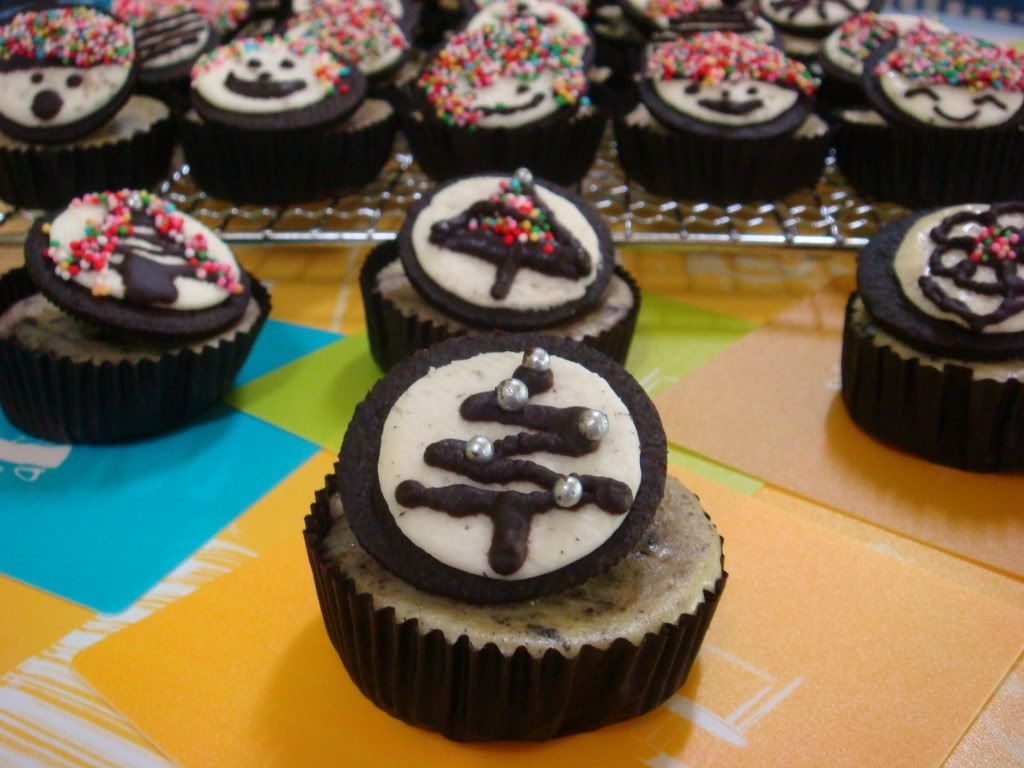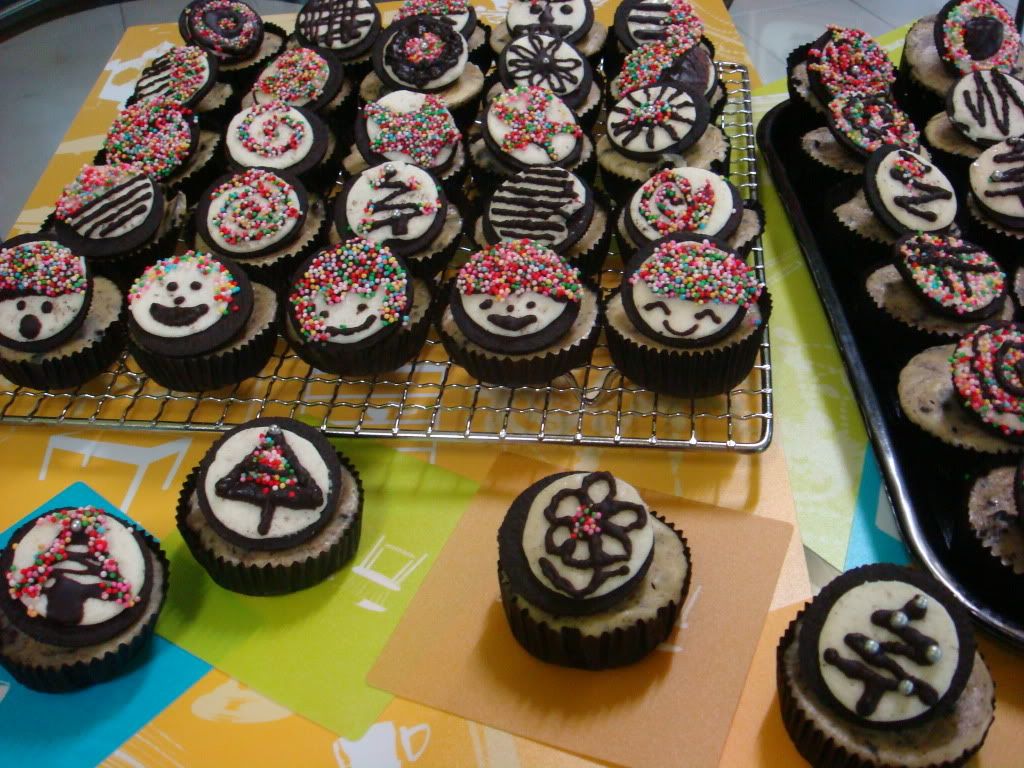 Any idea how I felt after decorating the cupcakes? A hint is given in the picture below:
In the spirit of christmas, I tried decorating a few cookies with the theme of christmas.. This is one is really simple.. But I really like it! :-)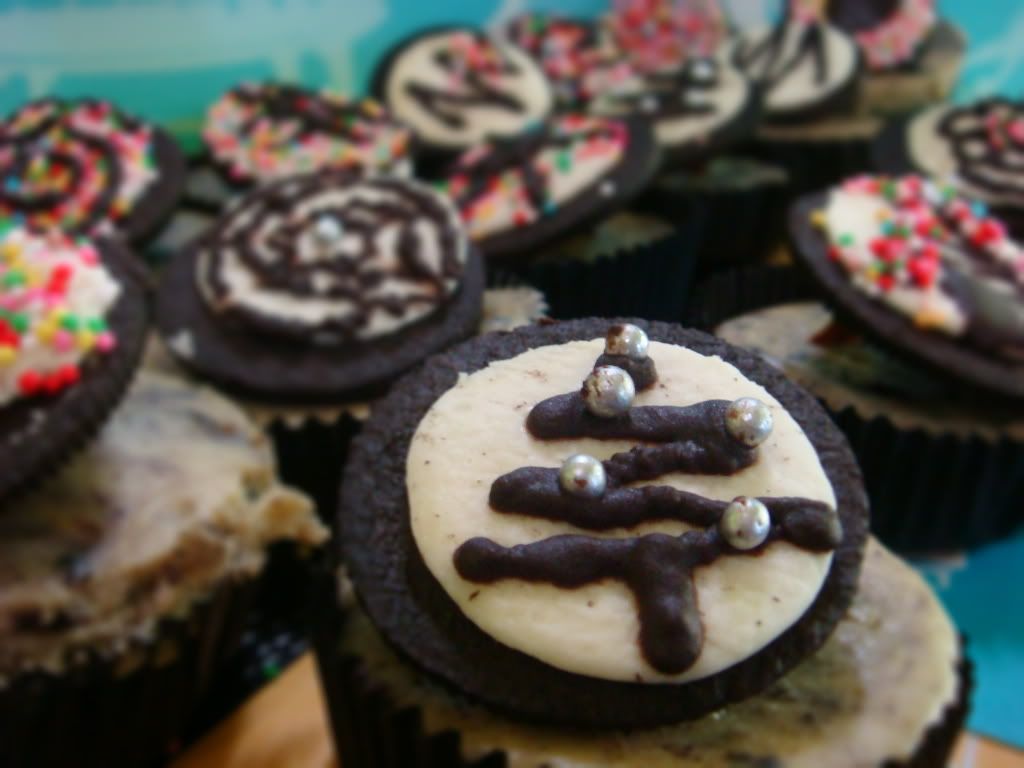 After spending my morning with the little cupcakes, I proceeded to town to see a doctor for my back problems.. My appointment is 1.30, but the doctor was seeing another patient, so I waited till two.. Doctor Loo was actually seeing a baby.. I saw a maid carrying a baby out.. The baby looked 3 months old.. When i entered theroom, Doctor Loo told me about the baby. The baby is actually a 3 year old kid.. When the baby first came to see Doctor Loo, the mum told her(Dr Loo) that the baby never cried before. When I saw the baby just now, it was crying.. Its a good sign.. Babies should cry, except that this ain't a baby.. I was like.. OMG.. So the baby how?? Dr Loo said that's why we should appreciate how lucky we are... I kind of realise I have a very great life despite a few back problems here and there.. Guess we're always complaining abt thesch this and the sch that, that we forgot how lucky we are to even grow to become what we are and get to attend sch to such an age... So we should treasure what we have and show more care to people who have less luck than we do.. So tml, I'm gonna start baking.. Dave and I will deliver it to orphanges and the home for the disabled.. Its Christmas.. I can feel the spirit..
Talk about the spirit of Christmas. I gave doctor Loo 4 of the cheese cupcakes I made.. and she gave me a recipe book called rotary buffet!! So nice of her.. The cookbook features Indonesia, Peranakan, Thai, Brunei, European and Chinese Cuisines!!! So cool!!! Can't wait to try some of the recipes..
So after that, I went to my sister's place to drop some of the cupcakes in her fridge. :D Hope the cupcakes put smiles on my sister and bro-in-law face!! I played with PAris.. Paris can fetch... She has this squeaky ball tat she loves to chew on.. The ball will squeak and squeak as she bites.. I wanted to take a video.. It was really cute!!! :D but too bad my phone was in my car..
I din really feel like going home yet, So I tried to find my way to Holland road to look for Pantry MAgic.. I couldn't find it cuz I din have its address.. But I found Holland village.. I neglected chill out zone I have never visited my entire life.. Its a really cool place and I love it.. Its filled with cultures ranging from Singpore to Europe to America.. they have all types of restaurants there.. There's NYDC, Haagen Daz, Swensens', Sushi Tei, Crystal Jade and many other little cafes I have neve heard off, but it had very welcoming ambience and outlook.. I swear I will bring Oinky there to chill out...
I found this cute bread cafe, called Provence Bakery, which reminded me of yakitate Japan's bread shop.. Very old European type of bakery.. The bread display looks like those from four leaves, but if you look closer at the bread they sell, I swore you would be fascinated by what they sell cuz none of them are available in the normal bread shops you see.. The labels even have Japanese Hiragana and Katakana on it..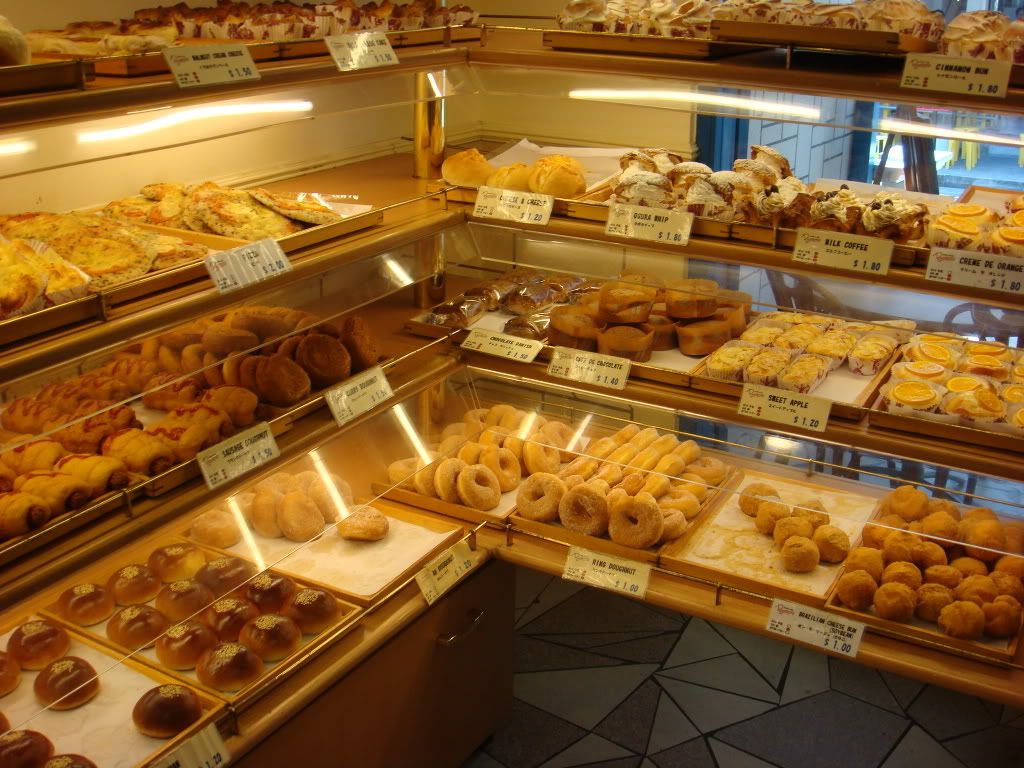 But on top of the bread they sell, the layout of the bakery is homey and very nice European styled.. cool.. :D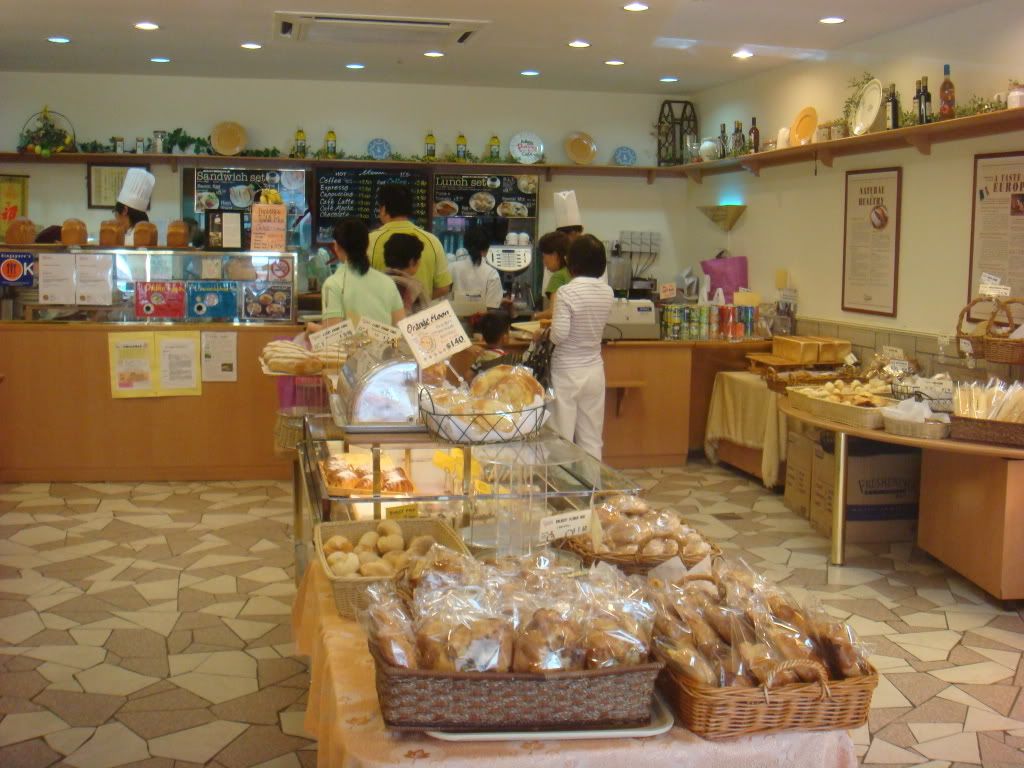 After that, I found this 24 hours Cold Storage.. I was fascinted by the range of stuff they sold.. It was literally an Ang-Mo supermaket.. No wonder there were so many ang mo and angmo cafes in Holland V... But its a cool place nonetheless..
Den I went home, showered and napped.. Dave's dad treated me to Kuishin Bo and I ate to my heart's content.. Thanks Uncle Tan for the Dinner!!