Tat-chan's internet was down, so I couldn't bake anything since I could not surf the net for inspirations.. However, Nomi-chan has a few recipe books for me to browse!! Except its in Japanese.. Well, my efforts in knowing what most ingredients are in Japanese and steps to making the different stuff helped alot.. So I made this wonderful fat free bread that the Ookubo family loved so much.. Nomi-chan even brought it to work!! Some of the filling was actually Tat-chan's breakfast.. since he left the tamago(egg) untouched.. Otousan who often slept in late woke up to the fragrance of the bread leaking from the oven to eat the freshly baked bread.. Haha..
My only regret was forgetting to copy down the recipe.. boohoo..
This is another map of the metro subway which makes people confused.. But I shall just follow Tat-chan, since he is a Tokyo Boi.. Haha.. But I think this was the day he lost his way.. did he? Can't remember.. :P
First stop: Shinbashi!!! From there, we take the monarail to odaiba!!!!
This is the Shinbashi station.. Not exactly very glam... But Odaiba is much nicer.. The monarail station for Odaiba are like the ones we have for seng kang and dover.. And Odaiba is actually a man-made island in the south of Tokyo...
This is the monarail!!! Very fun and comfortable.. You can literally just sleep on the monarail as it travels to and fro.. The view is nice, air con at the right temperature, crowd ain't too much... So? Sleep!
But its expensive to buy invidivual tix for travelling around this area... Its more worth it to spend 900 yen (S$12)on the multi-pass and spending an entire day there from morning to night...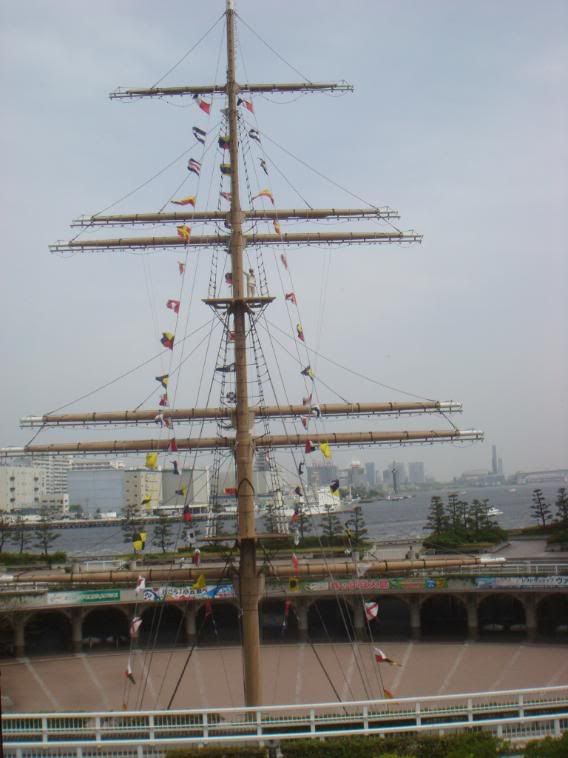 The maritime museum, built on a ship... There are alot of free entry museums opened by the big corporations like Toyota, Panasonic and Shell..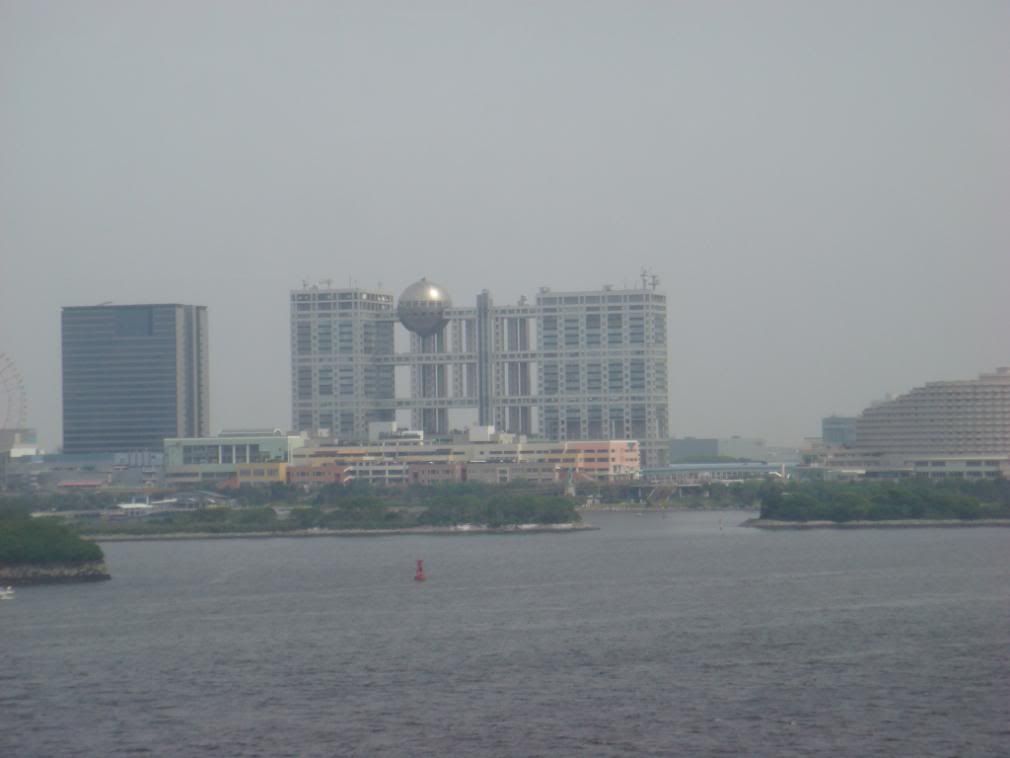 This is Fuji Terebi (Fuji TV), where my dearest Dohmoto Tsuyoshi 堂本剛 works at... Its really special... Cuz of the glod you see standing at the centre left of the building... This globe was built separately and lifted by a crane, and placed in position in the gap created for the globe.. After that, they welded the bridges linking to the globe...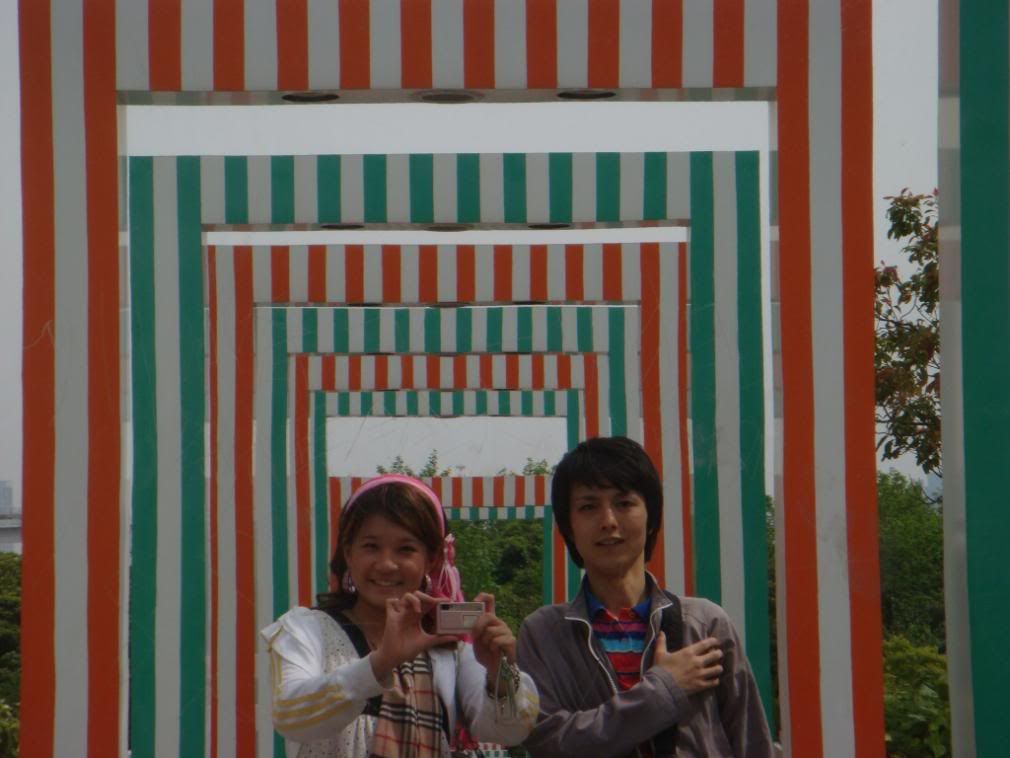 We arrived at our first stop.. I forgot what it was called... But I noe we were walking to the shopping centre called decks... And there was this interesting array of arches that led to a garden (which we din go)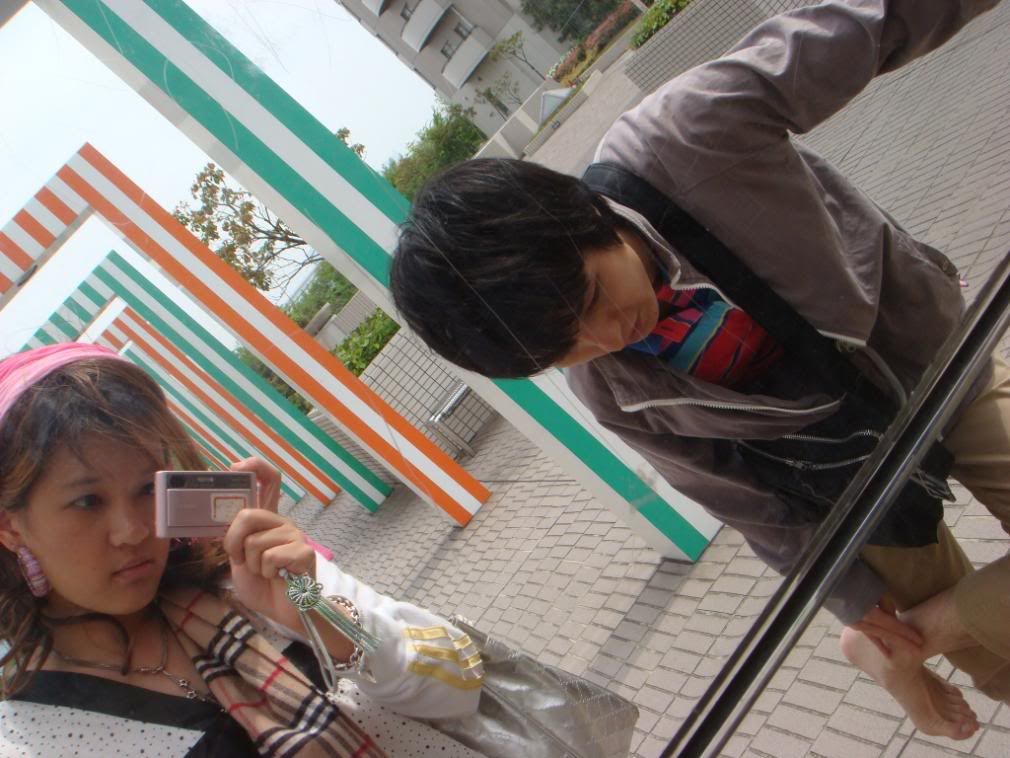 Hilarious moment of Tat-chan scratching his leg.. Haha.. I'm sure he's gonna call me from Japan to remove this picture.. But its so funny... I can't resist not uploading this.. :P
This is decks, the shopping mall we visited and ate crepes at... We had lunch at a Hong Kong restaurant... And we had dim sum!!! SUper expensive Dim Sum!!! But super delicious too!!!
And Japan's biggest Ferris wheel!!!! Lose to our Singapore flyer though.... Too bad... :S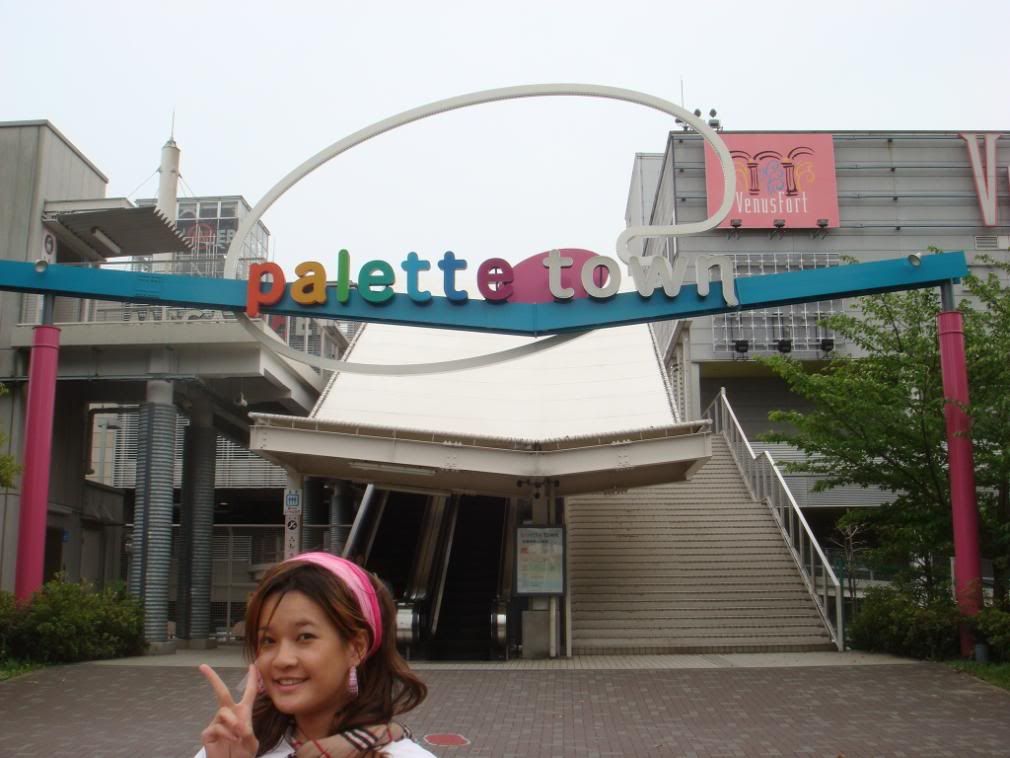 To get to the Ferris Wheel, we must climb this flight of stairs leading to Palette Town...
Palette Town indeed lives up to its names cuz its a really colourful place... Can tell from the Ferris Wheel right?
Well, we're gonna board the Ferris Wheel soon, I will put that under part 2.. Too much to show about Odaiba.. So gotta wait!