Another night of endless baking.. and ting!! I had 2 special pop outs from the oven..
First, I stole a recipe from the fat-free bakes book and baked the
Hours later, I stealed recipes here and there and created the
Red Tea Meringue Tart

As pretty as it looks, it tastes wonderful!!! Red tea curt in a baked tart shell, topped with egg whites meringue scorched by Nozomi-chan's wonderful oven!
After baking the tarts, Tat-chan drove me to the JR station at Koiwa 小岩station.. タッチャンneeded a day to settle some personal stuff like study his English Proficiency test, so 望美ちゃん Nozomi-chan specially took a half day off to meet me up and take me around!! So on my own, I took the JR to 原宿(Harajuku) to meet Nozomi-chan..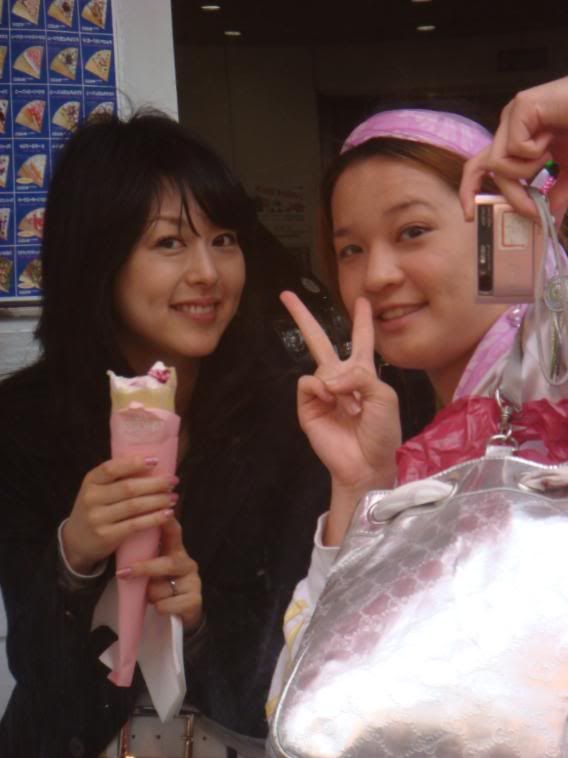 We went walking towards Omotesando and saw some nice clothes and fashion shops.. and I saw interesting manequinns hanging on the ceiling.. Now that's probably the world's most interesting mannequins..

After some walking around the nice shops, we went for lunch! And Nozomi-chan treated me to a nice meal of Sandwich at anderson's

Look at this beautiful sandwich lunch set!!! coupled with a cup of coffee or tea, this is fantastic! My first meal at Anderson's in Tokyo but not in its place of origin, Hiroshima.. Haha...
After lunch, we spent a very long time at a five storey Kiddy Land along Omote sando.. And they sell alot alot of toys, souvenirs, notepads, stationary, miniatures.. Things that just make you say "Awwwww..."

After Kiddy Land, we headed towards Shinjuku.. and I found this cute display made from chocolates and macarons beside Kiddy Land.. Its actually a French Sweets shop...
After a 10 minutes walk towards shibuya, we passed by a uniclo sub-shop selling nice inspired vintage tees and a small range of other types of wear.. I felt the floor was interesting with all the comic prints on the floor.. Imagine customers reading the floor.. Haha.. Floor advertisements... Hmm interesting!

And this is how the vintage and inspired tees are sold: in nice capsule containers with red caps... I found a cupcake shirt which I could not resist getting for Sihan.. Haha..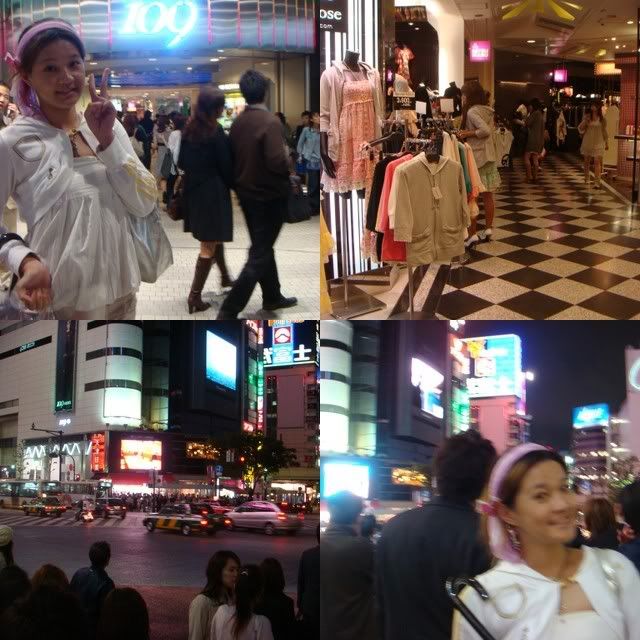 And here is Shibuya 109, the building of beauties.. I should really take photos of the girls in there cuz they're all pretty, but I'm so shy about it.. But its a criteria to look pretty to work in those shops.. I heard there are shops there that earn $5million dollars a day! Girls there? Well, I can only decribe.. Tanned skin more beautiful den any sentosa beach gal, wearing heels 7 inches or higher, big eyes that sparkle with super long eye lashes, perfect complexion, 3 times the volume or length of average girl's hair length and the voice of a doll? Makes me wonder how long they take to dress up everyday though..


After that, Nozomi-chan had to go for a dinner, so I had to make my way back to Koiwa station where Tat-chan would pick me.. On the walk to the Shinjuku station, I observed a bunch of interesting guys.. Look at the sign boards they're holding.. They were trying to attract hugs.. Ain't that cute and funny? I wonder how wld Singaporeans react if people did this in Orchard Road..

7pm was the packed period and this was how I squeezed with everyone else in the station...
After like 30-45 minutes, I reached Koiwa station and Tat-chan drove me home to pick Okaasan and we all went out for dinner!!! Yay!!! Hurrah! What's for dinner? Taiwanese Food!!! Which wasn't very far from our Tze Char.. Except the same dishes tasted much better in Japan.. Maybe its the wonderful ingredients that Japan manages to cultivate...