Being so tied up in school makes my blog empty... My poor blog has been so neglected.. And how can I not finish my travel journal on my Japan experience.. So I last stopped on 24th May 2008, where me and Tat-chan when to a showroom to check out the housing there.
So today, its about my weekend picnic with the Kugimoto Family.. 釘本家族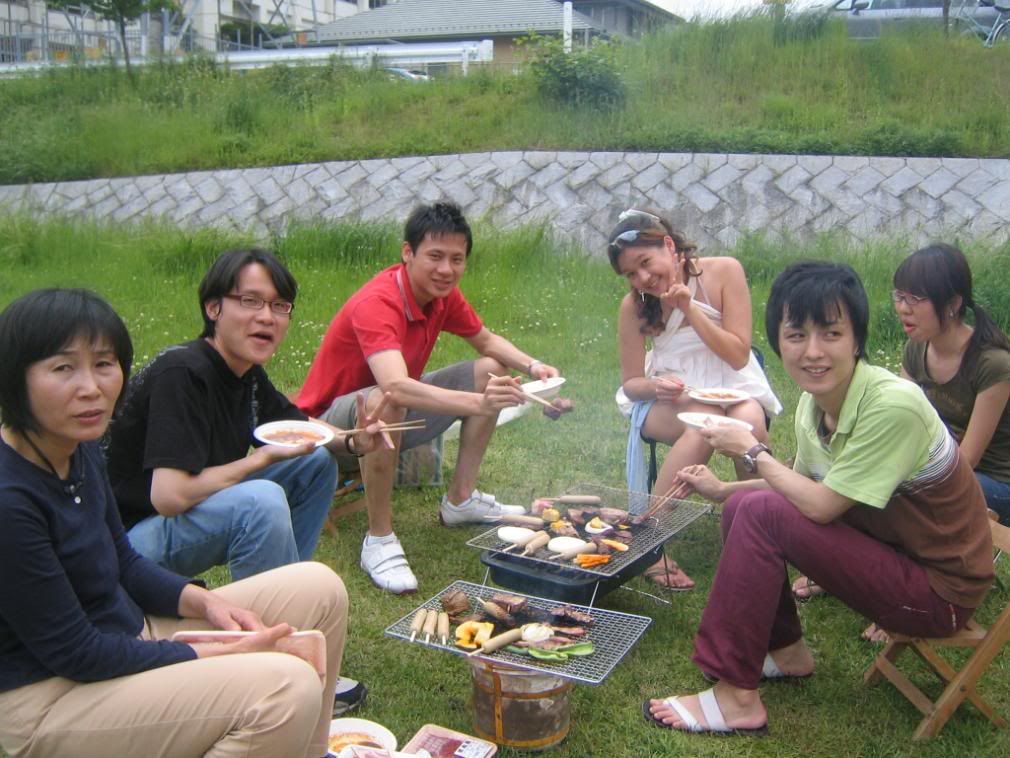 Well, not everyone in this picture is a Kugimoto though.. haha.. In fact, only the lady on the left corner is from the Kugimoto family.. This is Kugimoto-san's wife(奥さん o-ku-san) Going in clockwise from 釘本さんの奥さん、we have Choon Fei from NTU, Ian, previously from NTU, me, Pei Shan from NUS and my ex-junior from AJC and Tat-chan..
Meeting Peishan made me realise that Singapore ain't that small. She was on an attachment program with a bank for two weeks in Hiroshima, and she gets to visit different homes for homestay.. Ian happened to meet her at the Hiroshima International Centre.. And when I met her, all I knew was that she is from Singapore.. When I introduced myself to her, she asked me:"Are you from AJ?" My gosh was I shock!! There was actually a junior from AJ who remembers me in Japan.. haha... Yeah, but she was the second Singaporean I met after Ian, so I was kinda excited.. And we had quite alot to chat about..
Pork!!! Barbequed pork!!! Funny thing is the way Japanese eat this is the reverse of how we do it.. We marinate the meat before hand, den we bbq right? Tey bbq it fresh, and they dip it in a bbq dipping sauce, which can be used as a marinate too, and eat it!!! It taste great!! These sauces are called ta-re たれ!!
The bbq picnic organized by 釘本さん was nice in the country site, where you see mountains and houses away from the hustle and bustle of the city... Its quite impossible to get here without car though.. We need to take the JR to get here... Thanks to Tat-chan who drove me, Choon, Ian and Peishan over... We need to show more appreciation towards him!!! :)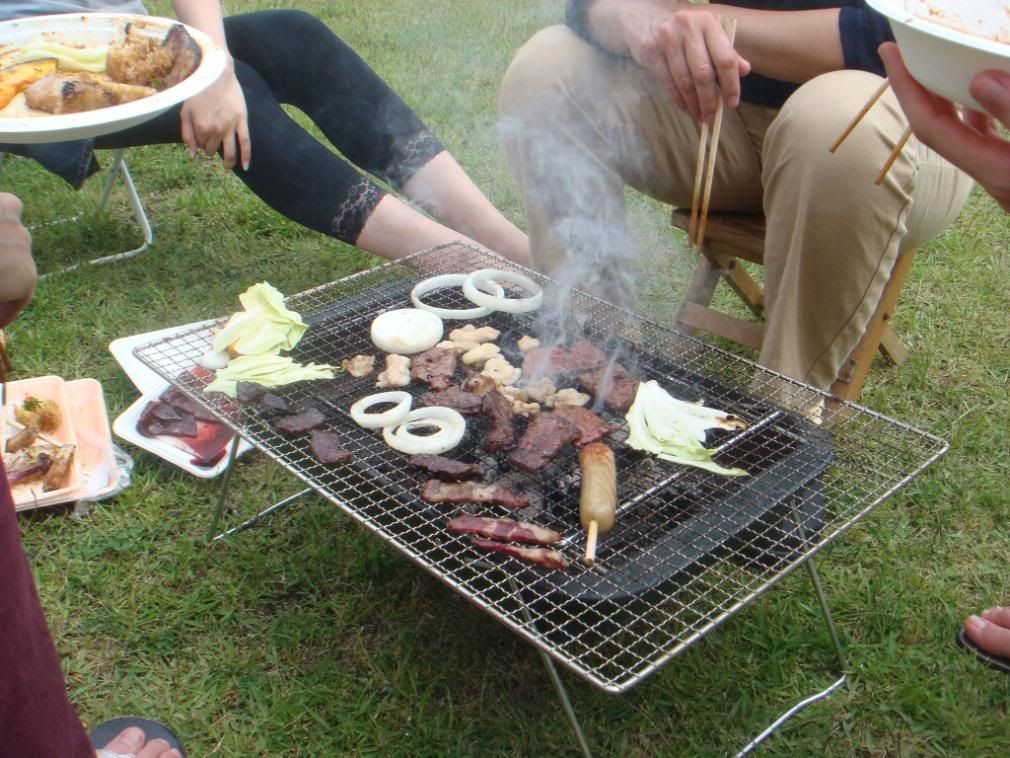 Good 和牛(wa-gyuu-Japanese beef), white onion(玉葱ta-ma-ne-gi), jumbo sausage, I can't say enough thank yous to 釘本さん's hospitality... Especially wa-gyuu dipped in tare!!!! It doesn't matter how hot or how burnt I was getting from the summer approaching sun...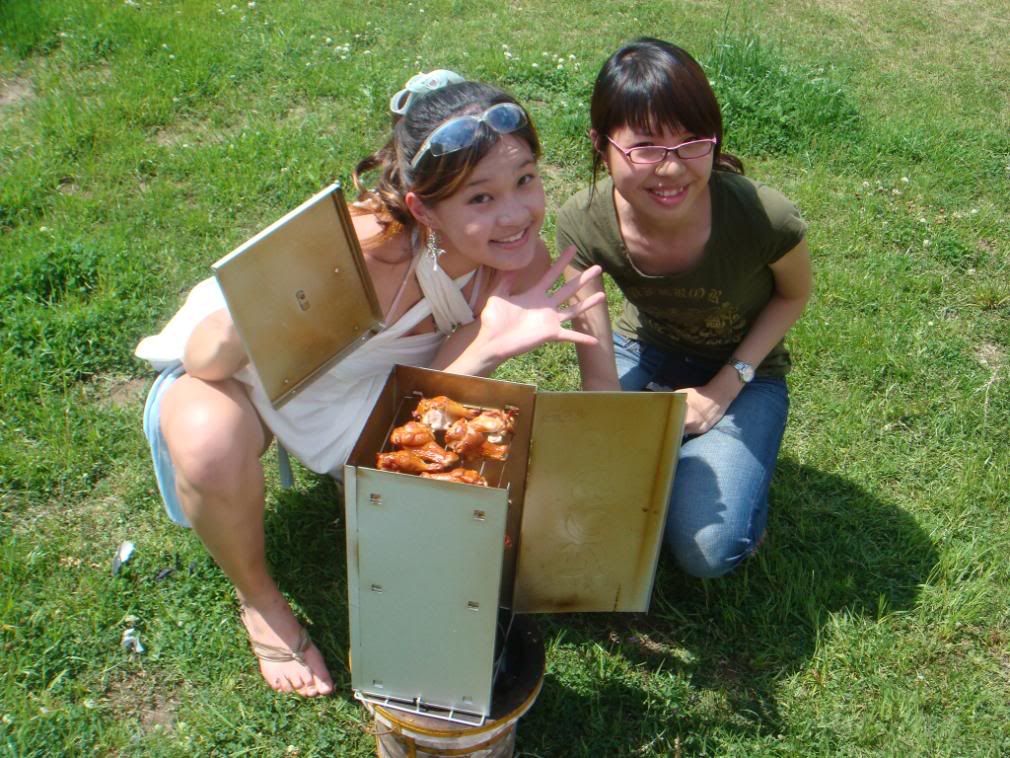 Look at this! Its actually a smoking chamber... They cook fantastic chicken with this... By burning sakura wood chips in the pot below, putting the meat to be bbq-ed in the smoke chamber mounted above the smoking wood chips, the meat turns out really おいしい!!!
And here is Kugimoto's daughter釘本さんの娘さん, me and Pei-shan-san (sounds funny)
From left: 釘本さん's daughter-in-law, followed by his wife and me!
and this is the 釘本さん who I have been talking about.. drinking beer and indulging in all his favourite food, sharing his funny stories and experiences... And I was like the 黒豚 kuro-buta means black pig in Japanese.. Cuz I got burnt by the sun!!!