25th February 2008:

A colleague returned from England and bought tea from Harrods.. Look at this beauty.. There is ceylon and English breakfast.. The tea is kinda strong for my liking, and the absence of sugar didn;t help me enjoy the tea.. But the aroma of the tea was really fantastic..

26th February 2008: Breakfast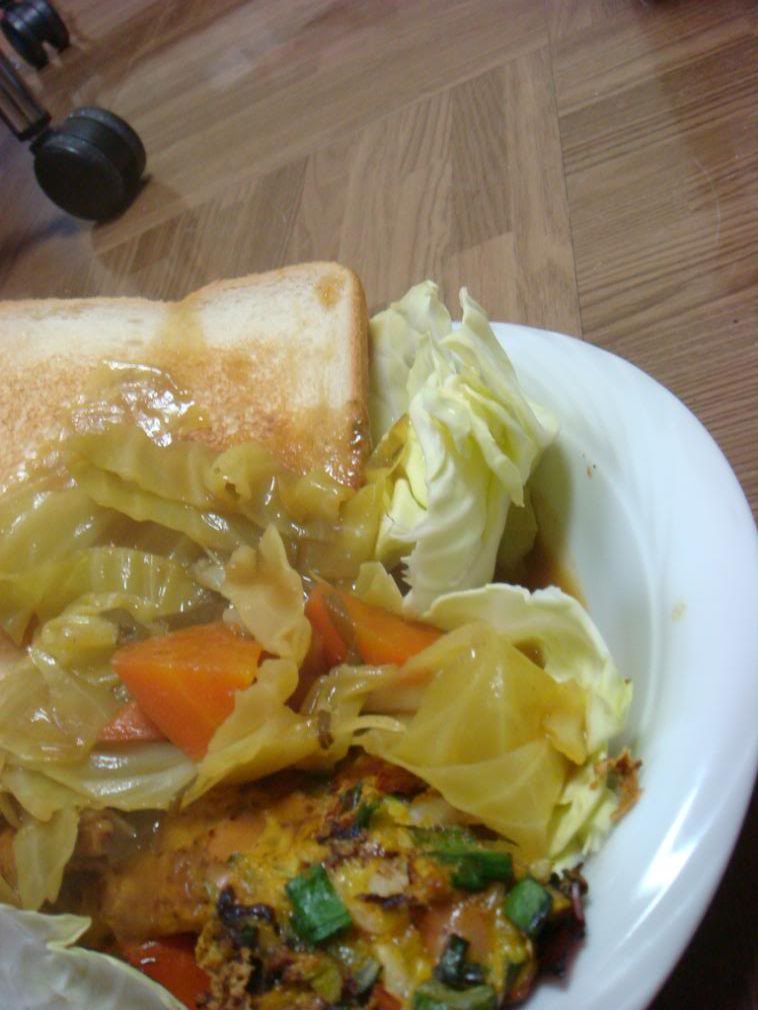 I've always felt food taste best when eaten right away.. So I had to eat a big good and heavy breakfast.. But I think I over ate, cuz it took me hours to relieve the satiety I had from my breakfast.. Lunch was totally unnnecessary for me.. So I had curry stew with bread and omelette..
27th February 2008: Last heavy breakfast
After my second consecutive heavy breakfast, I decided this was the last heavy breakfast I would eat.. Bread with meatballs and fried toufu.. More like tau kwa.. :)
I went over to the MAzda plant today for a talk by the company.. I had lunch with Ian, Tat-chan, Sakata-san, Choon, Choon's supervisor.. But I was reluctant for lunch since I had a breakfast.. But it seemed rude to not eat when everyone is eating. Too bad Ian insisted on taking us for Korean food since I dislike korean food, there was nothing much I could eat...
So I ordered something 'light'.. a Pig tail soup.. But it was unknowingly a set lunch which even had rice.. So the meal was kinda too heavy.. I had to give the rice to Choon.. Guess how much was my big bowl of soup and rice? 1000 yen!!! That's like $14!!!!! Roar!!!! I was simply pissed the entire day that I had to pay so much for something I din like just because someone simply wanted to eat Korean food, oblivious of what everyone else wants to eat... Oh well, This issue was two months ago.. I simply bear grudges too much...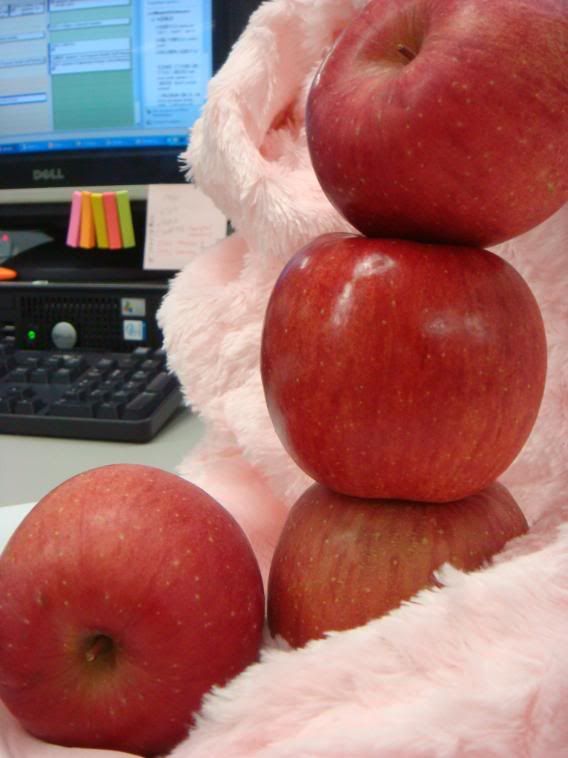 I was sad the entire day cuz I could no longer buy the apples I wanted to eat because apples are so expensive.. :( So I simply remained in low spirits.. Tat-chan was really nice.. he offered to give me 500 yen because he could sense my sadness.. Well, I should have asked for price before ordering.. It happened to be the special of the day and the poster was blocked from my sight by Choon.. Hiromi-chan heard about my sadness that I can't buy apples anymore that she bought me four apples and brought it to my office!!!! Ain't that sweet? I was so touched.. It simply drived away my sadness for the entire incident...
ありがとうひろみちゃん。。。おリンゴくれていただきました。。。
However, there were things worth rejoicing about.. I was going to meet Sakata-san for dinner because I was supposed to pass him the cupcakes I made... :D Akiko-chan was nice to come along to join us!! Yeah!!! So she was so nice to translate for me and Sakata-san... Thank you akiko!! After a treat of okonomiyaki from Sakata-san, I headed for Maison Rabelais.. Sakata-san, his friend and Akiko-chan went to a sushi restaurant.. I promised to return to the sushi restaurant to find them after I'm done at Maison Rabelais... And for doing that, I was rewarded by Sakata-san by leftover sushi!!!!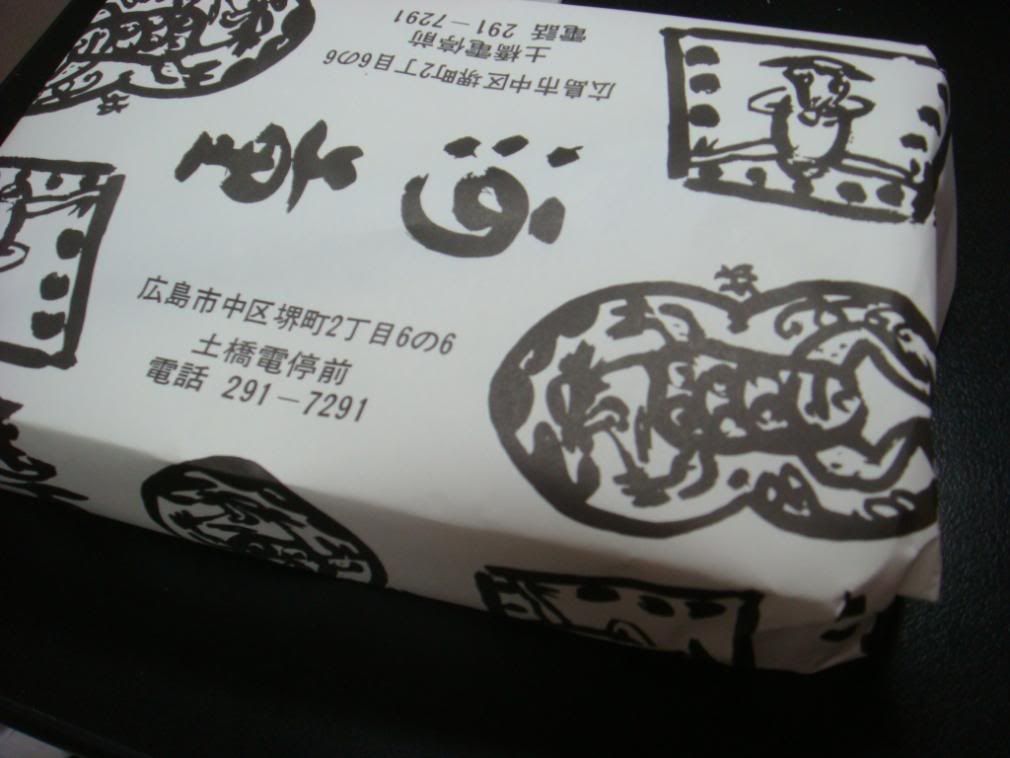 It was actually wrapped like this.. Totally doesn't look like left overs... But thanks to all the shaking and bumps from my bicycle, look at what happened to the poor sushi.. :(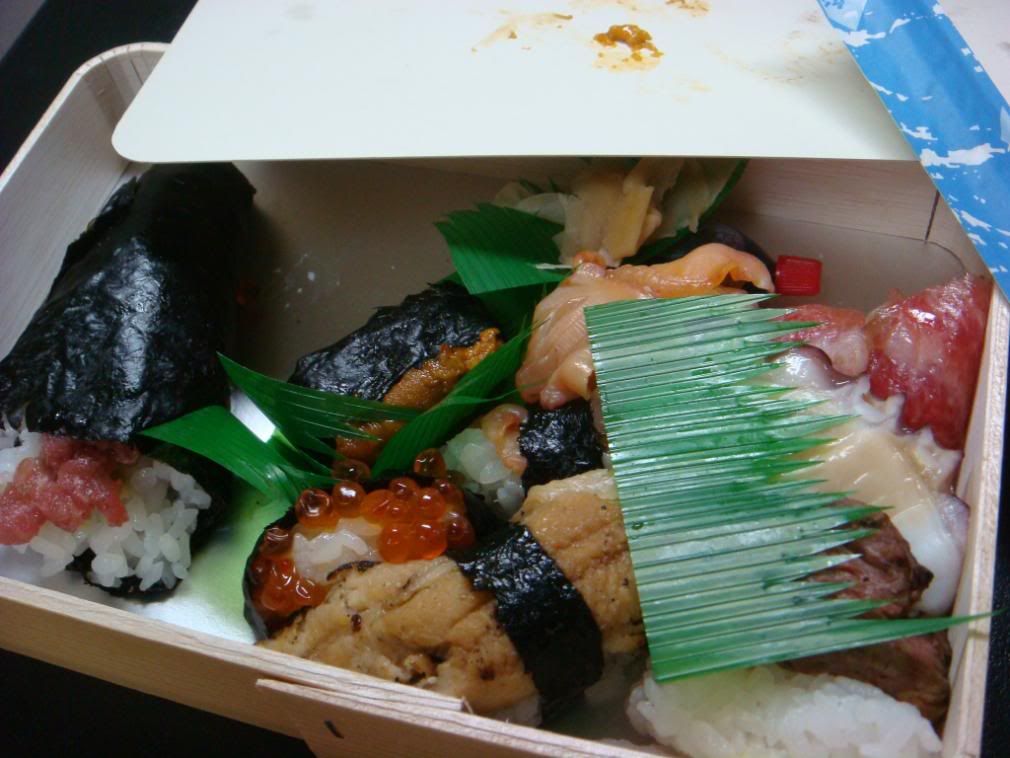 Nonetheless, it was still really taty.. I'm sure I would hate the sushi in Singapore when I return.. Freshness is so importantly.. There was totally no fishy smell from the sashimi on the sushi..
28th February: Ice cream treat from Tat-chan
Tat-chan worked really late.. So we agreed to meet at Fresta for ice cream.. Ice cream was still kinda cheap den.. :D But communication breakdown led poor Choon and Tat-chan to go different places to look for me.. :S They went to MR which was closed by then, our apartment in Tokaichi, and finally they found me at FResta.. I found this at FResta.. It seems to be different colours of chocolate used for cake decoration.. It looks very user friendly... :P
I felt so bad.. Although I was waiting for some time, But I enjoyed groceries shopping as ususal.. Sorry Tat-chan... Wasted ur petrol looking for me.. :S
29th February: Meet my Brother Pig!! Mido-san!!!
Akiko-chan bought some mini cream puffs that was the speciality from Kyoto.. She was so nice to save two for me to try.. I was so hungry after my pathetic lunch.. Akiko-chan.. Thank you!! Akiko-chan wanted to take me out for dinner this night.. While I was talking to my Finance manager, Mido-san during our afternoon walk, we happened to run into Akiko-chan when we were reaching the office.. So we talked to Mido-san about our dinner tonight and invited him along.. Too bad he was likely to be busy.... So it wld be just be just me and Akiko-chan...

But.. In the late afternoon.. Akiko-chan and I had a super surprise from Mido-san!! He could joined us!!!! SO the three of us made our way to Kappa-Tei..

We had so much fun eating this spread of food.. Recommendationw as by dearest AKiko-chan.. She really knows where the good food was.. there was charcoal barbequed chicken... The picture on the top right is actually horse meat.. Its horse sashimi.. It tasted pretty good.. :P Sorry to horse lovers.. Please don't hate me.... Bottom right is Mido-san..
The three of us ate s o much that we felt like pigs.. So we called ourselves the family of pigs, or 豚三人家族... :D This was one of my most memorable dinners in Hiroshima.. Not because we had a $140 over dollars of treat from Mido-san, but we really got close after the dinner.. We felt like siblings after the meal.. We even gave each other names for the pig family.. So Mido-san is our Ton-kei豚兄、Akiko-chan is Ton-shi 豚姉、And I'm Ton-mai豚妹.. In case you are wondering why there are no picture of AKiko-chan, she refused to photos with us again.. :(

http://s195.photobucket.com/albums/z304/iverylamemeh/Hiroshima%2025th%20Feb-29th%20Feb%202008/?albumview=slideshow
http://www.facebook.com/album.php?aid=109646&id=651105233