This is by far my worst day in Hiroshima.. had to work cuz i din go work on monday.. and most importantly, I spent 23rd month anniversary without Dave...
The bento of meats was my dinner.. I kinda packed it from the dinner with Hashimoto san yesterday night since there were so much leftovers.. So i had a pretty pathetic but delicious dinner.. Pop into the microwave for 1 mins and its piping hot!! Den i actually brought tomato ketchup from singapore here.. Haha.. Explains the tomato ketchup on the meat.. :P
My lunch was quite pathetic too... Its a puff patry with tapioca inside... its like 3dollars sing for that puff pastry.. But the things in the shop are really nice and the staff is so polite you feel bad if you dun buy..When I entered "Clark Shiegel", there was a shop attendent opening the door for me. After that, when I entered, she followed me around the shop, explainign what which product is made of in Japanese which I din catch very well.. :P so I decided to buy the freshly made puff pastry, without knowing there was tapioca inside..But Its quite special cuz it has a really nice flavour and the crisp in the puff pastry was complimented by the aroma of butter in the pastry..
After work, Choon Fei wanted to cycle pass the Hiroshima castle park.. Since he enjoyed the walk there the last time.. Den there was a jet in the sky that left the trail you see above.
I went to the cheap supermarket called "mamachen ママチェン" Yupz... the stuff sold were relatively cheaper except that by the time Choon Fei and I got there, most of the things were sold out.. But I manage to buy some affordable fruits, so it ain't so bad.. You shall see the fruits on the 20th Jan 08 entry... its really beautiful... I bought strawberries!! Show you in the next entry.. :P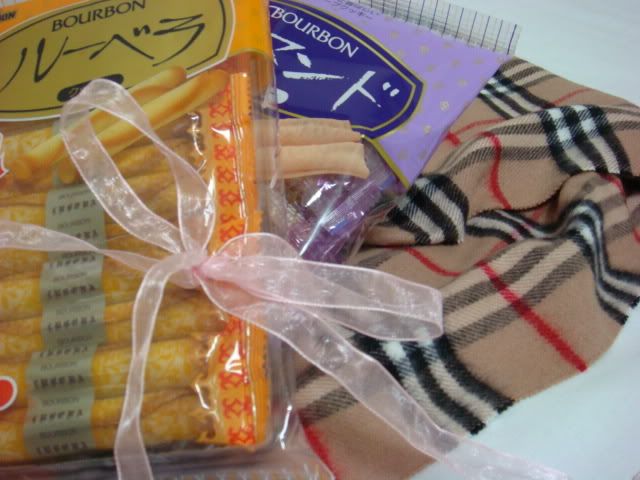 Thid id my 23rd month anniversary gift to Dave!!! Happy 23rd month Oinky!! Hope you like it!!! :D