Woohoo!! Our snowboarding cum ski trip is here!!! Only sad thing is we didn't get bus tickets since it was all sold out... Guess every one wanted to catch the snow before winter ends and you wun get to ski or snowboard till the next winter... So Ian rented a car with Snow tyres so that we could drive up the mountain without slipping off the slope... Think the total came up to 15,400, which is like $208 for our car rental.. So divide by three... its 5000 yen plus.. But Ian was nice.. He only took 4500 from the pathetic and thrifty me... HEhehe... But the costs includes petrol, tolgates, parking, blablabla... Parking here is quite expensive.. But there is a cap though...
Choon Fei took pictures of the first huge sight of snow we saw....
The cap is 1000 yen, so you wun pay more than $13 per day in parking at one place... Most places here have a cap of 1000 yen.. But the charges by half hour is about $1.30 per half hour... hmmm...
Well, I got a shot too!! Snow coated trees!!! Looks good right? You have yet to see the winter wonderland on Mizuho... :D After about 1.5 hours of driving, we were on Mizuho mountain.. We did get lost a little... The GPS system on the car made Ian confused with the actual route he knew to go Mizuho...
So here we are at a junciton which is about 8 mins drive to Mizuho... Isn't that house cute? It looks so much like a farm house in Denmark.. :P
We finally arrived!!! So here's Choon Fei with the car, he seriously take photos with everything... So much more hardcore than me... I think if it wasn't so cold, I may wanna take more pictures... HAahahaa...
I was so scared of the cold, I wore like 8 laters of clothes... Think Ian and Choon was really amazed... (So was I) But I realise that was not necessary... I seemed to have overinterpreted Ian's advice of: "Wear as many layers as you can" (think I'm wearing three pants)
So after a change at the equipment and winter clothes shop, the bear from the previous picture looked more proper....I love my striking colours!!! Hahaha... But the clothes rental was good.... The equipment had really good quality... There's like some innerlining in my yellow jacket to prevent snow from entereing my body, and the inside was warm... The puter of the clothes was water proof, so when snow on you that mets wun make you cold.. I didn't feel the minus 10 degrees on the mountain when I wore these clothes... but again $$ I spent 4500 ($61) on equipment and clothes rental... so hehe... Gotta wait till I'm older before my next ski trip..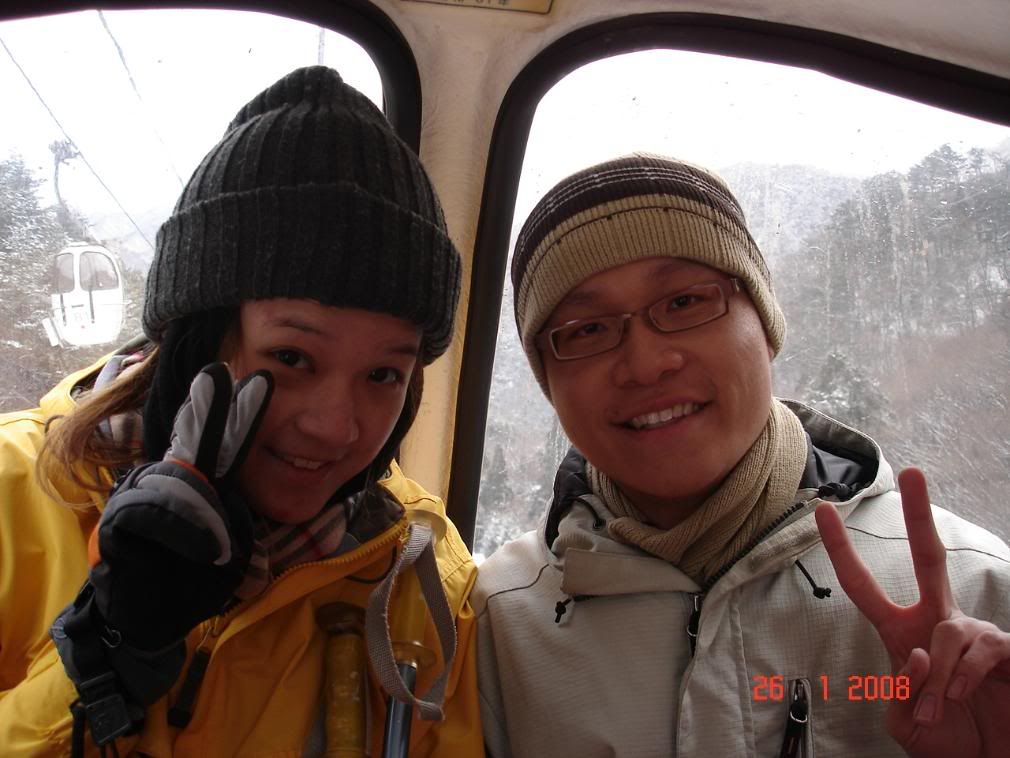 So here's choon and Me on the Gondola.. ITs like a cable car.. But the thing is the trip costs 5500yen ($75) YOu just need to show them your admission ticket, Den you're up on the way to the montain!!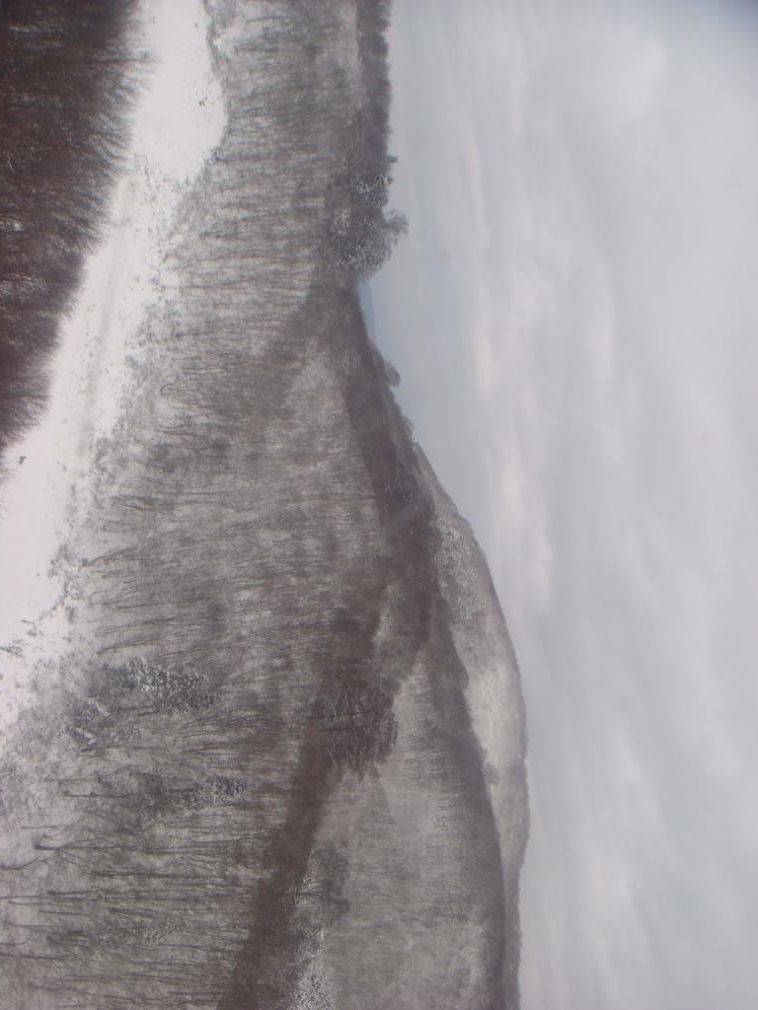 I managed to catch this when I was on the Gondola... It looks so quiet and pieceful.... Imagine the amount of snow!!!!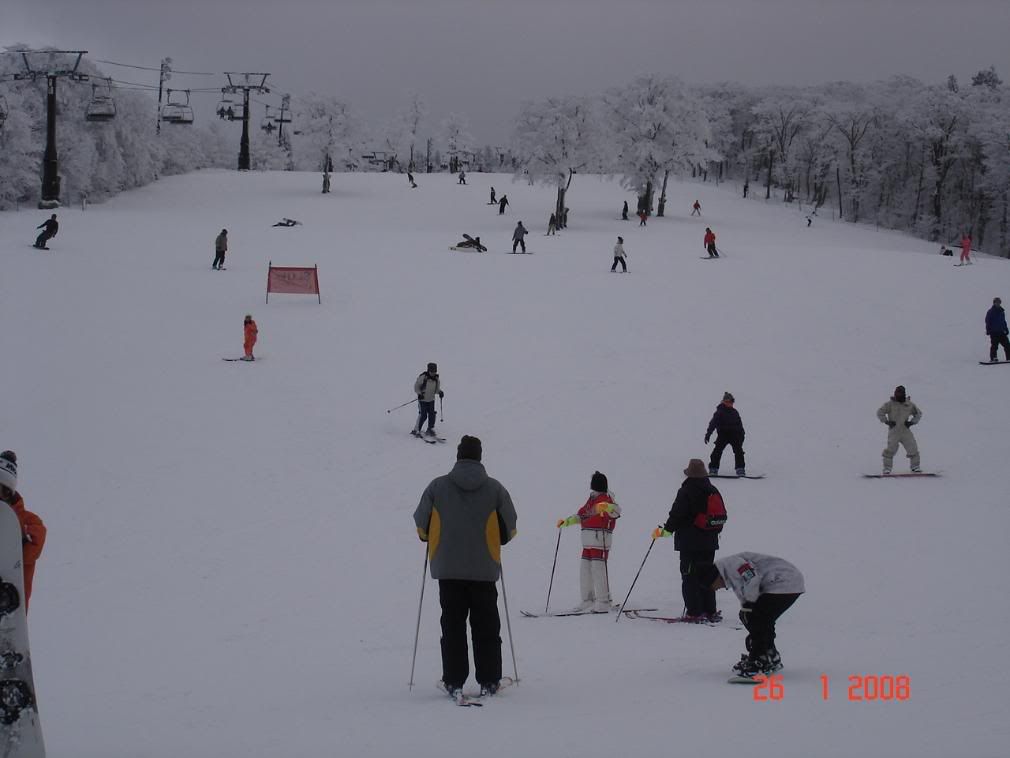 After about 10 mins on the gongola, we finally arrived on the mountain to ski!! and Snowboard... I was the only one who chose ski(Cuz its 500 yen cheaper) But it seems everyone there did snowboarding.. Since its easier than ski-ing.. But the problem was it would cost more... So I took the harder one and struggled with fun... TO ski down this slope, we had to take the rope way up first, The slope looks gentle, but it was quite tough for me... :P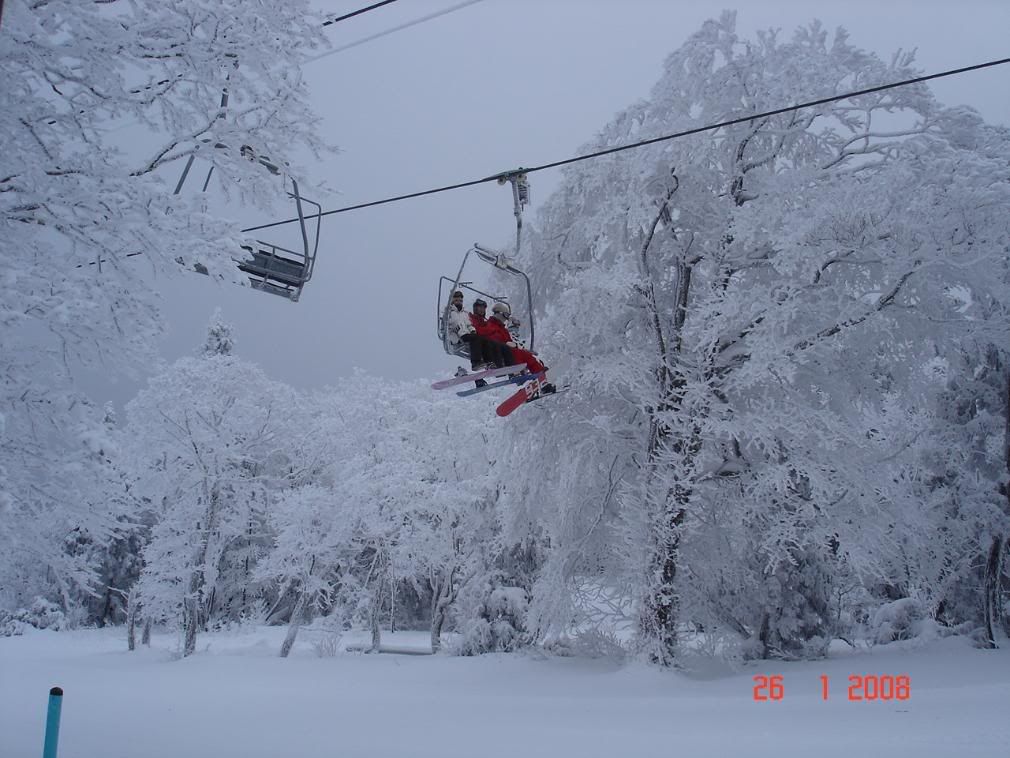 This is the ropeway that brings you up the slope...
Choon caught this nice picture.. Look at the Christmas trees!!! So beautiful!!!
Well, Choonfel was willing to spend 4000 yen on lessons, which I didn't want to spend, So I had to learn to ski by trial and error since no one knew how to and no one here could teach anyone since they paid so much, all they wanted was play till their hearts content... I was really bad.. But I still had fun... Mainly cuz I loved the snow.... The clothes kept me warm, so it was not bad.... But I didn't noe how to stop, So I had to fall down on purpose to stop.. Other methods of stopping include:
1. Crashing into people
2. Crashing into trees
3. Crashing into nettings
4. Crashing into snow piles
Well, all these methods were not very good cuz I landed up being really injured... So I had to sit and rest and let my legs heal from the bad bruises... While resting, I decided to make a snowman... Here is my Snowman!! Its called Dave!! Its wearing the cap that Ian lent me... :D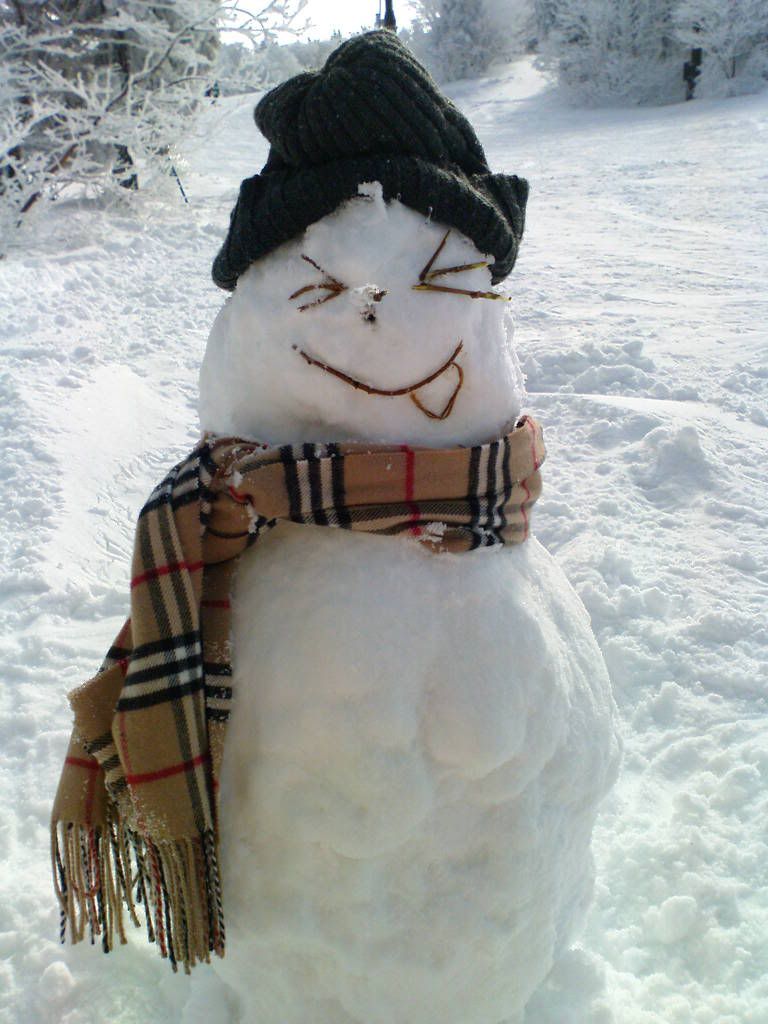 Since I was stuck, all alone, with my calf feeling injured, all i had was company from Dave...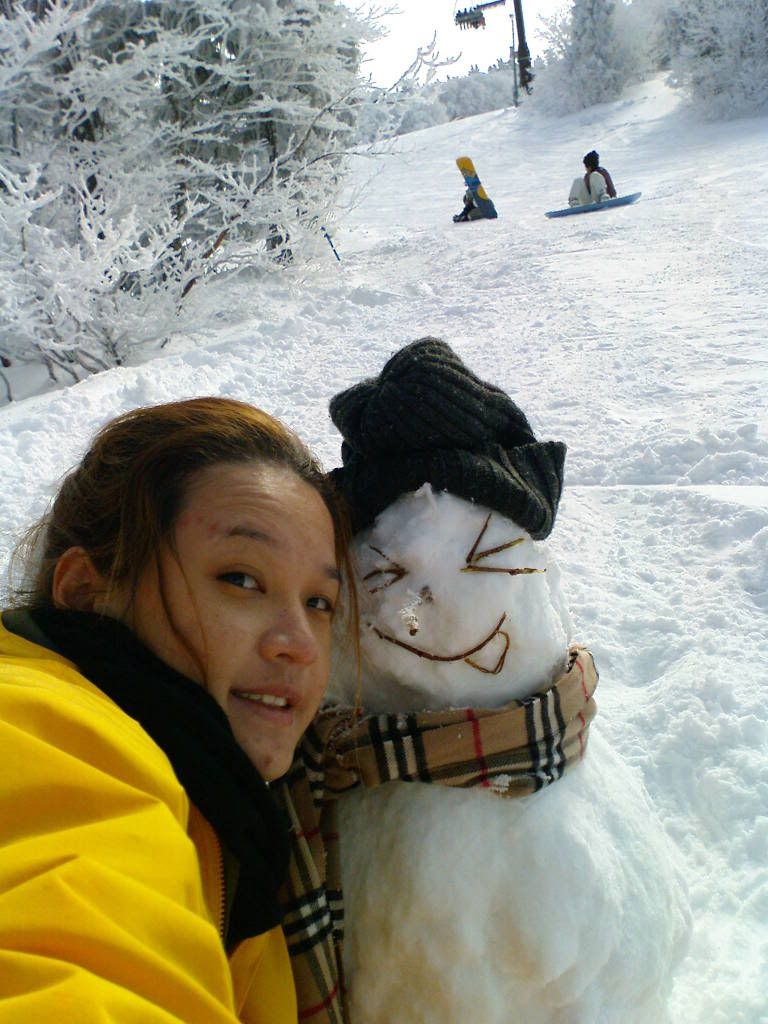 So, I think you can make a prediction what's with the title... I had face outbreak... And I din wanna wear make up since I was gonna be playing (surprisingly all other gals did).. So boo hoo for me for looking ugly in the pictures with all my pimples and acnes... Think it must have been the cream I ahve been using...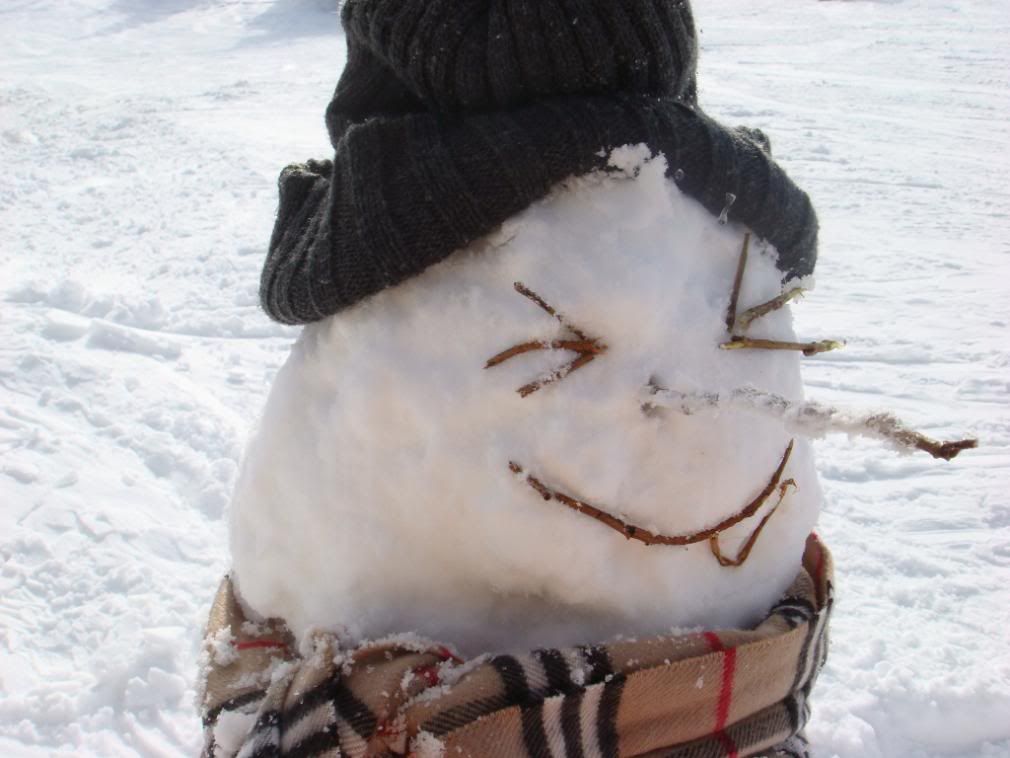 Yes yes... ugly face... But the snow is nice... Look at the background! Its a winter wonderland!!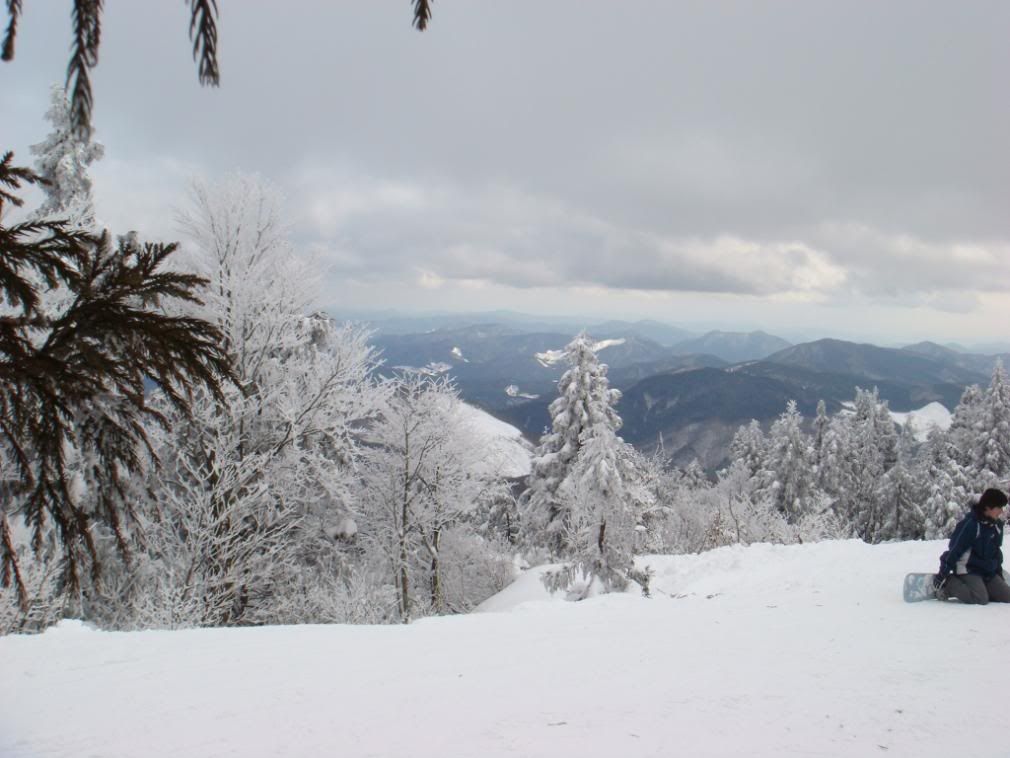 So after sometime, it was time to pee!!! So I had to show the toilet!!
Look at the gloves... This machine actually helps to dry and warm up ur gloves... Think its more of a radiator...
Look at the taps... There are temperature controls, so you can get warm water...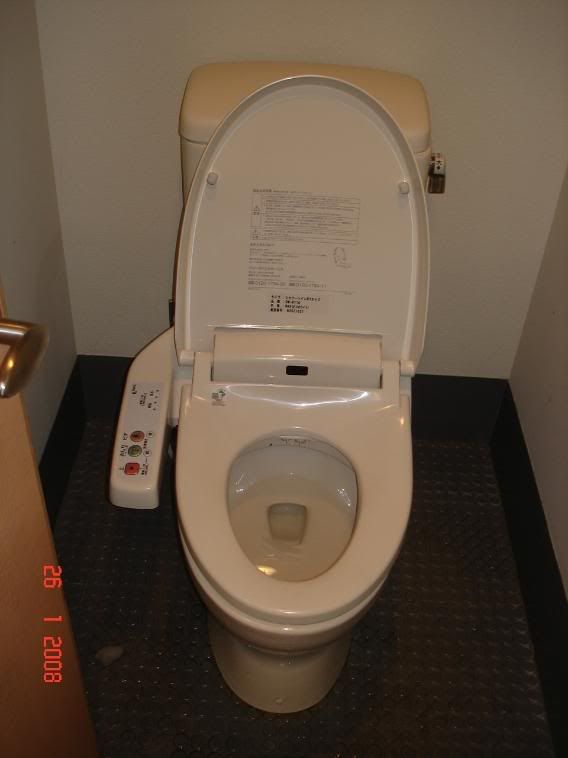 As usual, toilets here have washlets, even the gents, as you can see from the pic Choon took...
I didn't buy the food since it was so expensive... Imagine paying $10 for a sandwich... But I saw this cute structure of An-pan man that some children made... Isn't it cute? And yes, by the way, please note that cameras tend to hibernate at high altitudes and low temperatures, So choon and I were facing low batts situations with our fully charged cams... Luckily my sony Ericsson phone still had a little life in it... So I could catch a little more pics... (Like this An-pan man)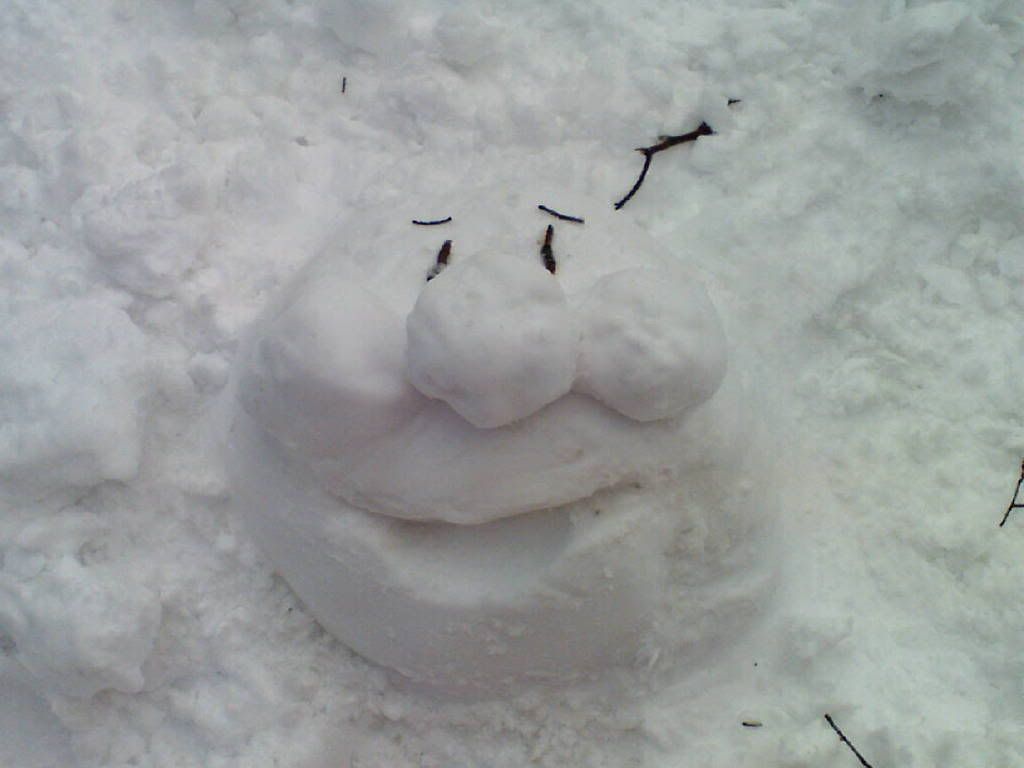 After my toilet break, It was back to skiing.. But, I had the worst crashed of the day... I was stuck, For the moment I thought I broke my bone since there was extreme pain and I couln't move.. But I couldn't move because I was stuck in a snow pile.. I din have enough energy to disengage my ski boots too, So I was really very stuck.. So I just sat there and waited to recover...
But!!! There was the snow patrol.. they helped me out, and they got a boat for me to sleep in.. Haha.. Then they covered me up and snowboarded me down the slope.. It was acually quite an experience.. Except I was covered, So I could not see...

Choon dropped by to see me in the First Aid room..
This is the boat I was recued it.. Haha.. I called it the Ambulance(救急車=kyu-kyu-sha).. the guys who snowboarded me down was laughing.. They were like"救急車?!?!?!?" Its called a 船, pronounced as foo-ne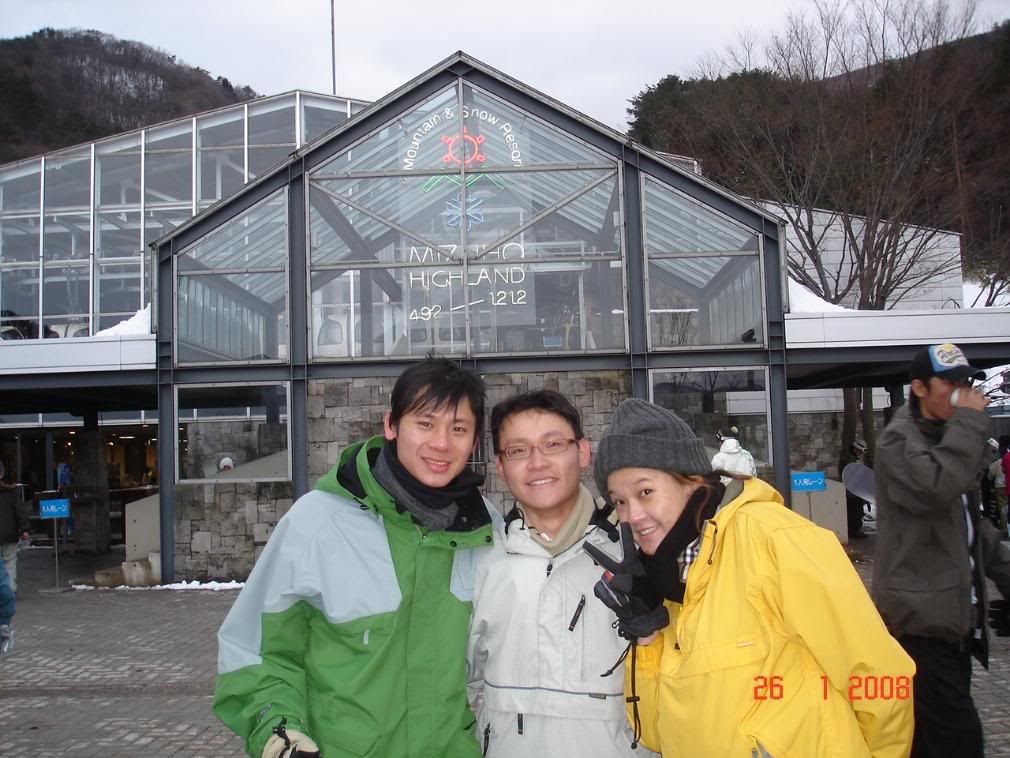 So our snow-trip ended, and here's the pic we finally managed to catch with Ian...
It was time to return our snow equipment... Look at this... Its 5.30 pm... The Japanese are always considerate.. They would wash the equipment before they return becasue there are snow caught on the boards atc, so since such care were taken by the customers, the equipment were all in 'better than buying my own' conditions... I think in Singapore, we would just return the equipment with all the crap we did to it.. haha...
So we were all tired.. Poor Ian had to drive us down the mountain.. Choon simply slept the car trip away... We made a pit stop.. For me to be particular.. Haha.. It was at a convenience store and the toilet did not have a washlet to warm the seat, so it was really cold!!!
And in the convenience store, I saw something surprising.. Look at this rack of magazines!!! My god, they actually display it like that? although there is a rule about being 18 and above to buy these magazines, but the shocking thing is the way they displayed it and the huge amount that were available.. Den I realised that this is actually available almost everywhere, in particular convenience stores...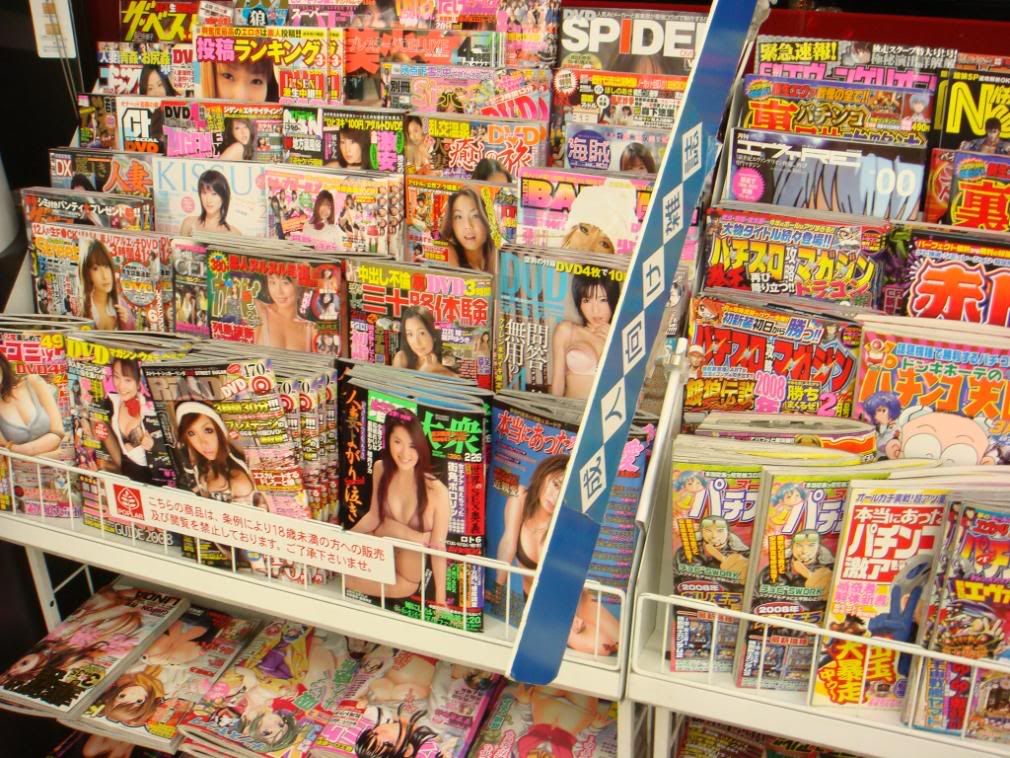 Our long trip back to home ended and here we are at the DAiso near our place to get some stuff... We had to catch a picture before we go... And here, I shall introduce Jackie! She lives two blocks away from Me and Choon.. Haha.. no.. she's not Japanese.. She's a Canadian Chinese... REally nice and chirpy gall... Friendly too!!! She's on the JET program, so she's teaching English in a Japanese school here... :D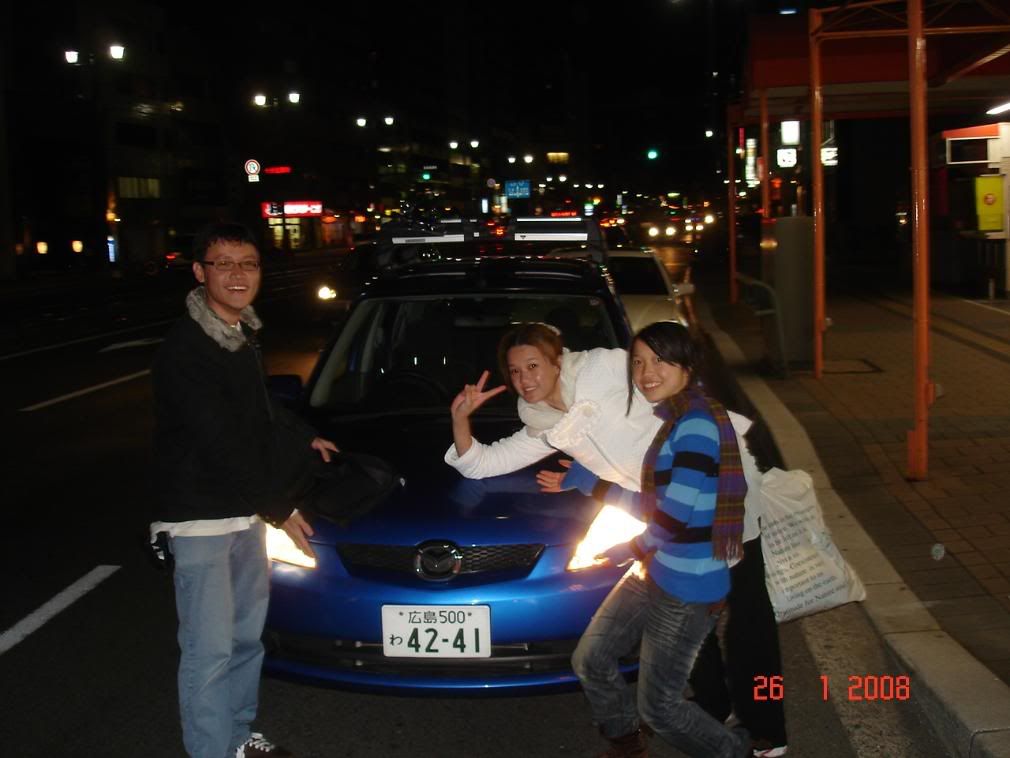 And, of course, we have to have another pic with Ian... He is such a tall and skinny man!!! Ian needs to eat more... HAha.. Maybe Japan starves him.. :P

These were the baking supplies available in Daiso.. So each of this costs $1.30.. Imagine getting chocolate moulds at that price! Oh gosh.. And the range of wrappers are so nice!!!!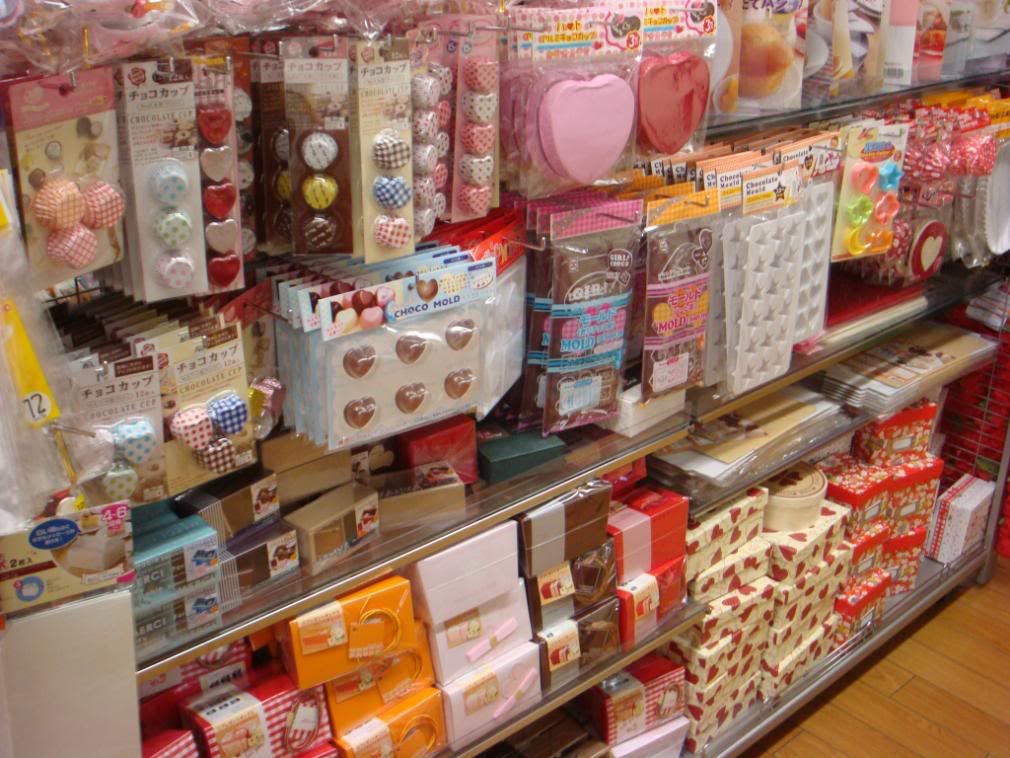 This entry took super long to write.. ill try to update soon!!! Take care everyone!!