Hey everyone, I'm gonna talk alot about my new best friend in Japan!!! Her name is Akiko-san.. TO be honest, I'm really lonely here in Japan.. If I haven't met akiko san, I think life here would be much more boring... But Akiko-san has been taking really good care of me like a sister... A sister and a friend!! What more can I ask for? meeting her is simply the best of both worlds!!!
I asked Akiko-san out for lunch for the first time on the 23rd of Jan.. She seemed nice to chat with plus her standard of English is probably the best I've heard so far.. At least better than me (LAR).. She doesn't speak Singlish, so we can naturally assume she speaks English well.. And also mainly cuz I lost my access card to the building and she didn't scold me for that.. Yeah.. another Claire moment... Losing access card( I found it in the end though) .. So I had to ask her out!!!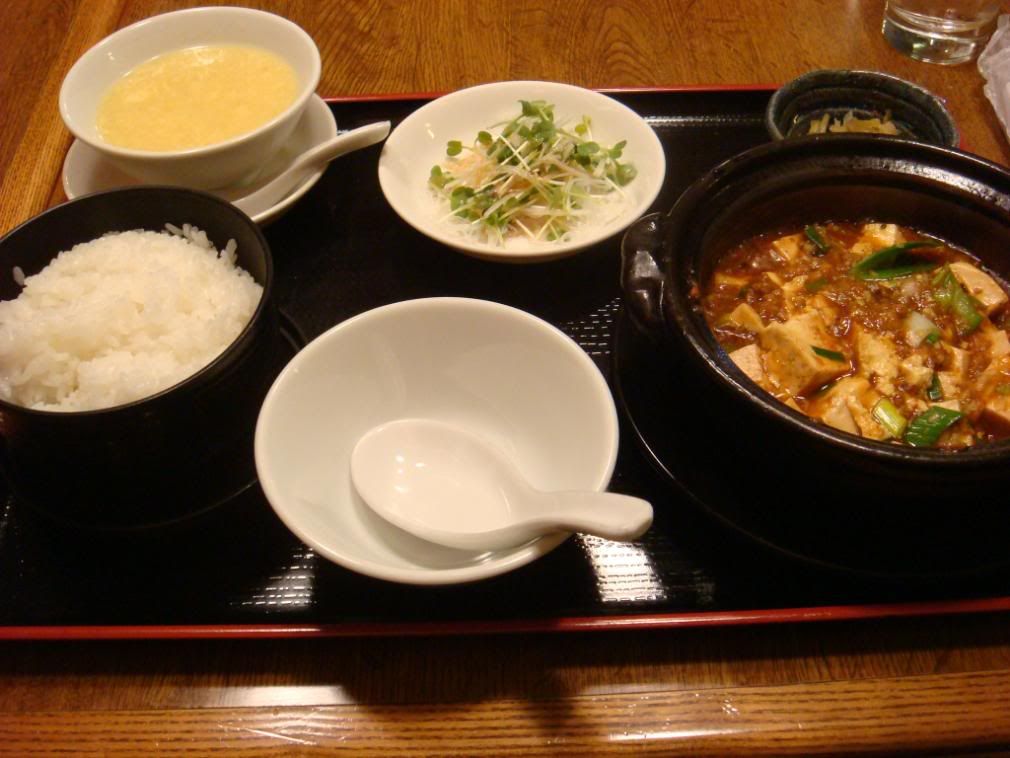 Akiko-san brought me for Ma-po tofu.. It was my first time eating Mapo tofu.. This set is 700 yen.. So that makes S$9.50? Well, It does sounds expensive if you compare it to NTU canteen A or Kopitiam... But if you think carefully, isn't this the amount you pay in reasonable restaurants? Especially after all the tax, service charge and cess and wateva exra charges that would be coming up in the near future?
Itadakimasu! (Dig in!)
So basically, the quality is good, the mapo tofu was a little spicy for me, but it was a new taste... So, the main thing in Japan is not that the things are expensive, cuz you really get what you pay, but more of the fact of the inavailability of cheap, lower quality stuff...
I guess the meal isn't so ex for me if I was eating my once a week, eat in a restaurant time.. But the thing is since I only get 1000 yen a day and I have to make sure I have money to tour Japan when IA ends, i have to be a little more stingy with myself.. Especially when all the money i bought here is like half of my savings...
We even had 杏仁豆腐... This was my favourite dish mainly cuz its the desert.. Its 100yen ($1.30) But its really small.. This was kinda special, not in terms of taste, but in terms of texture.. It was smooth and creamy, yet it had the texture softer than pudding and less creamy than custard.. Its not like the almond jelly we have with Longan in Singapore...
After saying so much? Where's Akiko-san? HEhe... I was kinda shy to take photos with her.. :P Its our first meal together after all.. But Akiko is really helpful.. She tells me all the whats and what-nots in the office... On top of that, she treated me on our first meal together!!! So touched... She baked cookies for everyone in the office the day before and now, she's treating me lunch?!?!? On the first meeting? I can't say how touch I am...
Well, lunch is over, so Akiko and I had to return to reality... Work.. :(
Reiko-san who seats behind me often receive gifts.. Its not difficult to tell why cuz she's really nice to me.. The office is reallly like a family.. Reiko-san is like a mother to me.. Very kind and caring.. For someone so nice, its not surprising she often receives お土産 (o-mi-ya-ge: Gifts specially made from japan)
And whenever she gets them... She shares with everyone!!! And she would always offer it to me first!! :D So this makes my mid afternoon snack!!! Yummy!!! All the above was superb.. I loved the blueberry fruits wich.. The long thing that looks like our giant pocky is this twisted puff pastry which looks like bread stick... But its really good.. crispy and fragrant...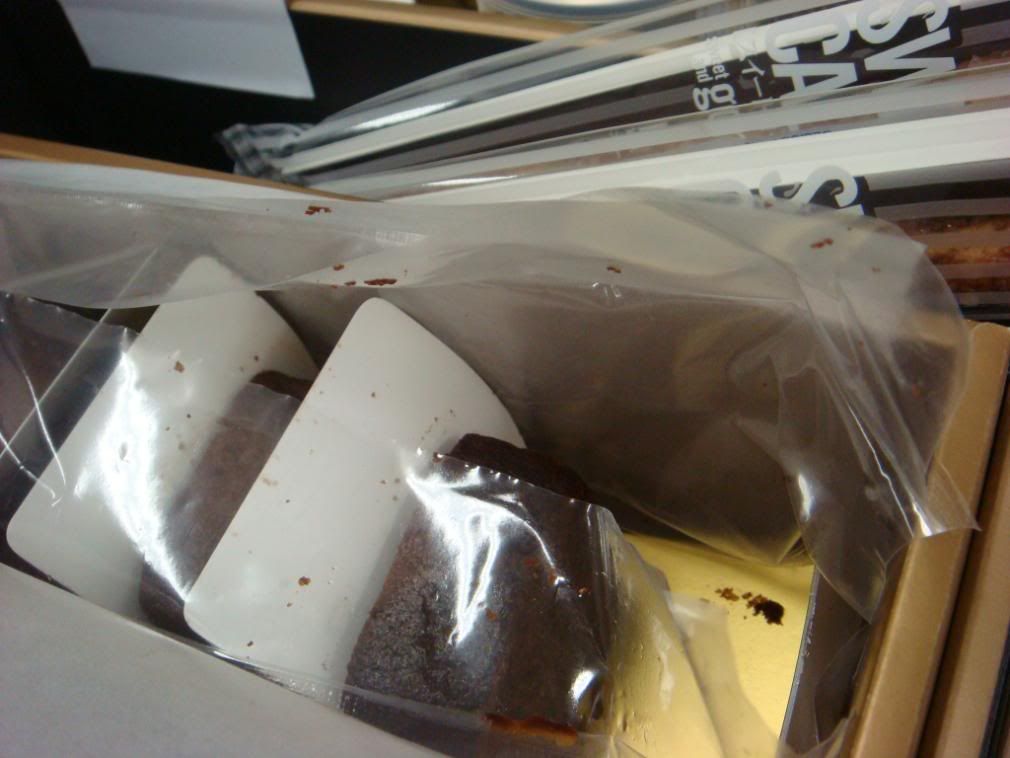 The chocolate cake was really good.. Its something you noe its sweet, yet, its not sweet at all! It was just right! Not tasteless, but yet fragrant...
There was some 'Tau-sar' like thingy inside.. I think its potato? :P Not so sure... Gotta ask Reiko-san.. haha..
The 'fruits wich' ... I think its a play of the word sandwich since there are fruits sandwich between cream and two really fregrant sandwich...
After a long day at work, Choon Fei rushed back to wait for Ian since he was picking us for sushi.. I tagged along to meet Ian.. Elvin has been telling me loads of stories about Ian.. Ian was an NTU student.. He did his internship in Ford Hiroshima like Choon Fei and I, and now he's working here!! Yeah!! Fellow NTU students, please clap for Ian!!!!
Since Ian drove Mazda 5, and he had a friend in his car, Choon and I had to sit in his friend's, Mike from Hong Kong, car.. It was a mazda 2.. Really cute car.. :D There is this cool GPS thingy in his car.. It opens and closes on its on.. I think it opens before you have to make a turn.. :D But its so cool.. It shows this computer simulated map of the area you are travellling.. Look at the roads and sea... So cool.. there was also George in the car.. George is a Japanese who lived in UK for loads of years...

After what felt like 30 mins, we reached the sushi shop!! Its called.. tetsuya? ooops.. Forgot.. maybe you can check out choon's blog.. he updates it more than me:
http://kouichi-hiroshima.blogspot.com/
(Its not fair!! He has internet detection in his room!! I have to go balcony!) The shop is really popular, so we had to wait.. So we chatted while waiting..
The green tea in this shop is made using Matcha powder... Look at the 'green-ness' of the green tea...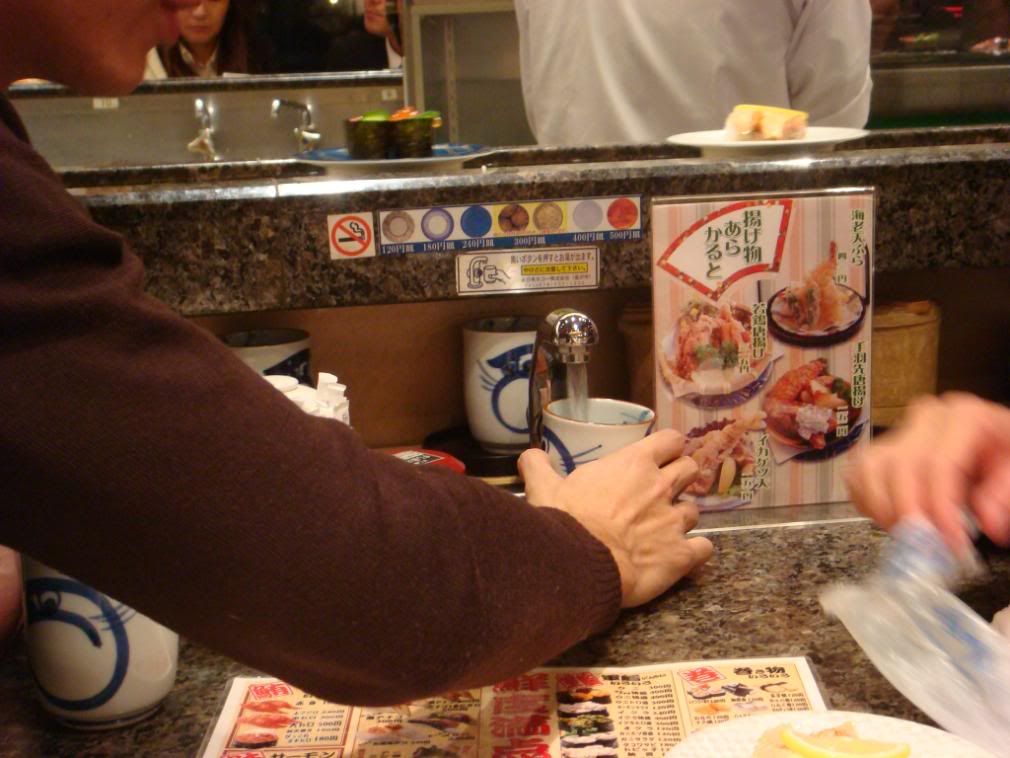 The conveyer belts here are two tiers.. The lower tiers rotates the wasabi, cups and matcha powder.... The upper tier? Sushi!!!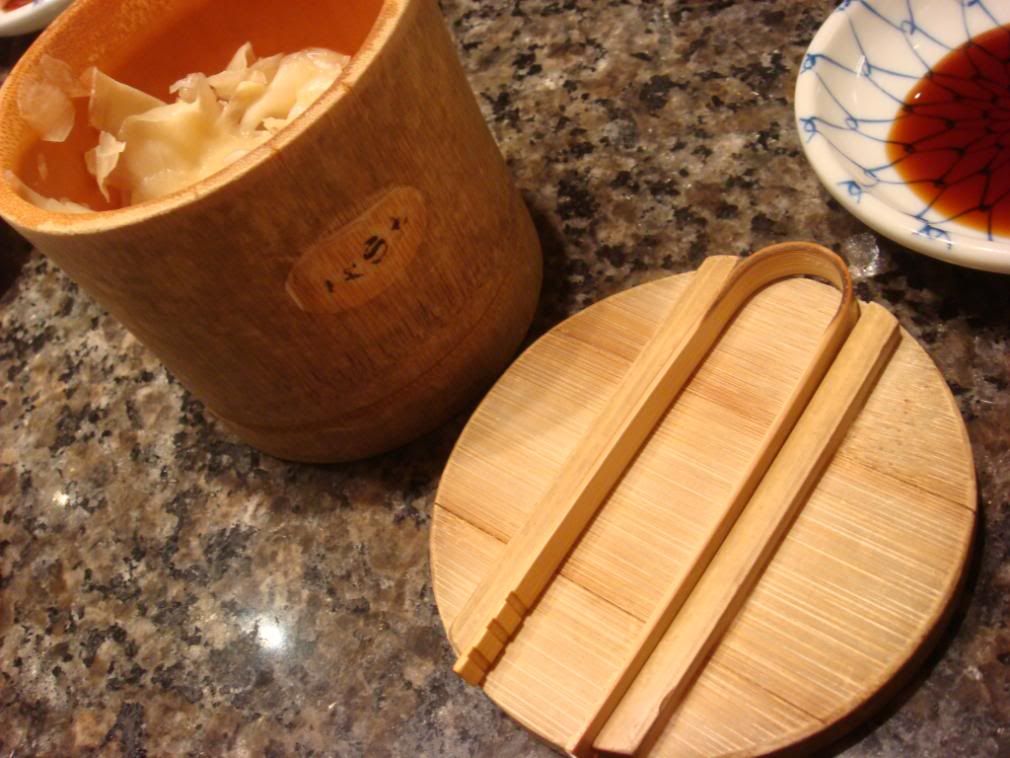 This was the ginger container.. the tongs had a slot on the top of the cover of the container.. How cool is that? :D
This is me.. and my sad face since I wasn't eating just to save money.. :(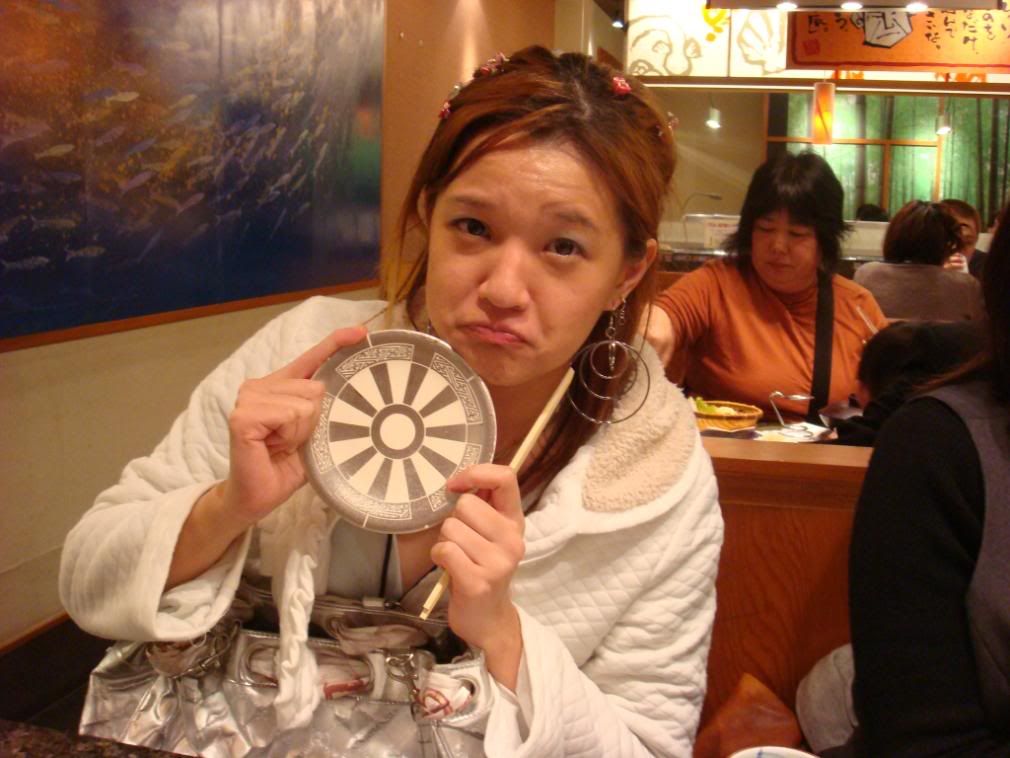 But I had a chance to take photo with my new friend!! ひろみちゃん!(Hiromi-chan) That's Ian on the right by the way.. The only Singaporean me and Choon has met so far... haha...
After eating so much, we had to take a photo, its our first meeting with Ian after all... Who would bother to drive all the way to our place and drive us all the way here for Sushi when he or she has never even met us before? An NTU senior of course!! Poor Ian has to take care of these litttle ducklings everytime we land in Japan.. :D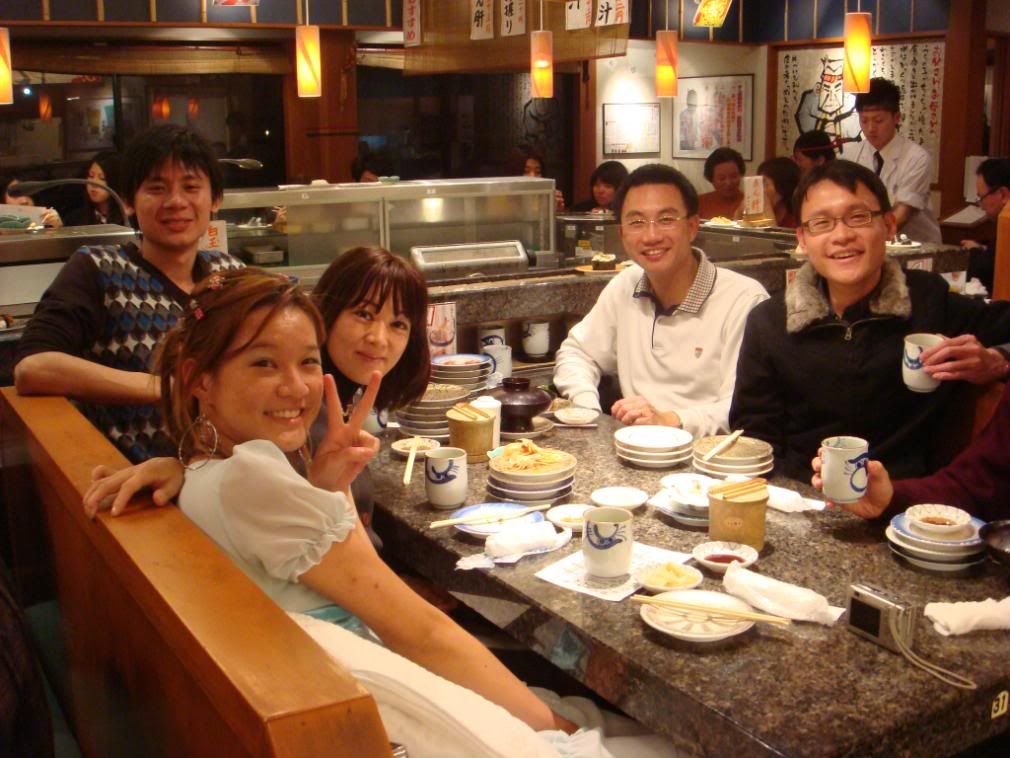 But, the counter behind made it a little hard to see George, so we tried another shot.. The poor waiter was struggling with trying to fit to crowd into the frame..
And we got it!!! All six of us!! Left: Ian, hiromi and You noe who... Right: Mike, Choon and George.. (George is holding a piece of paper with my blog address on it)
Choon help with a shot for all of us!! :D then go back to Suncourt.. and sleep.. There are loads more photos on photobucket:
and face book: