27th Jan 2008, Sunday
After the tiring snowboarding and ski trip yesterday, I was simply too tired to move my lazy bum.. So i literally 'nua'(Sloth) in my room... Then there was this quiz thingy on TV.. I think they asked which band sold the most albums or something like that... One of the options was.....

But too bad... They weren't the one.. Think it was Ayumi... But at least Kinki Kids are in the guiness book record for having the most number of consecutive singles hit the J-pop top charts! I think 25 singles since 1997 has hit the top charts... Go Tsuyo-chan!

After enough nua-ing, I decided to make a trip to Yamada Denki(Many of the earlier posts was actually done on this date... Sorry about the super late bloggings... But oh well... too much to do and too little time... Besides.. It seems that even though I get more sleep than I do back in Singapore, I am still sleepy all the time)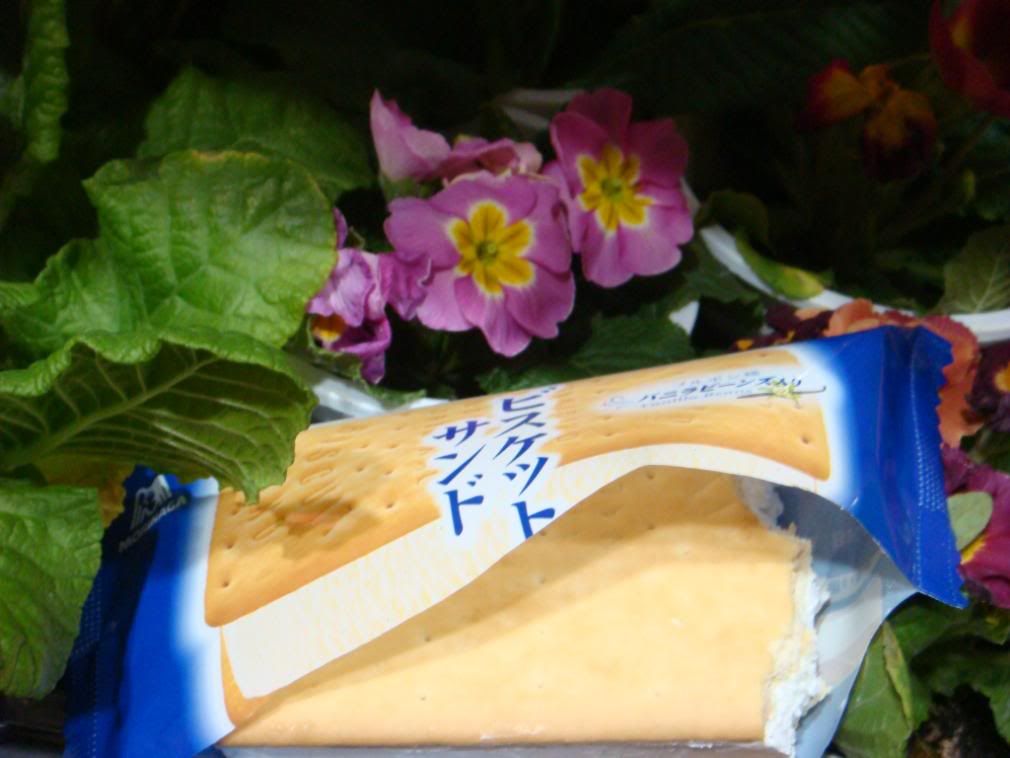 On the way to Yamada denki, again, I bought an ice cream!!! Well, its 82 yen... Its a dollar plus... So ice cream is the cheapoest indulgence I give myself.. :D And yes, that flower is real!! the flowers in Japan are beautiful...

I tried cycling a different roue.. Maybe drop by daiso to get some cooking supplies... The Daiso here sells much more variety of stuff compared to what we have in Singapore... So I tried taking the route we usually walk during lunch breaks with our superiors..
Look at all the spices!!! They are available in Daiso at 105 yen, so each of this bottle costs $1.40.. That's not so bad right?
And as I promised Si Han and Evan, look at the baking supplies in Daiso!!!!! Each at $1.40!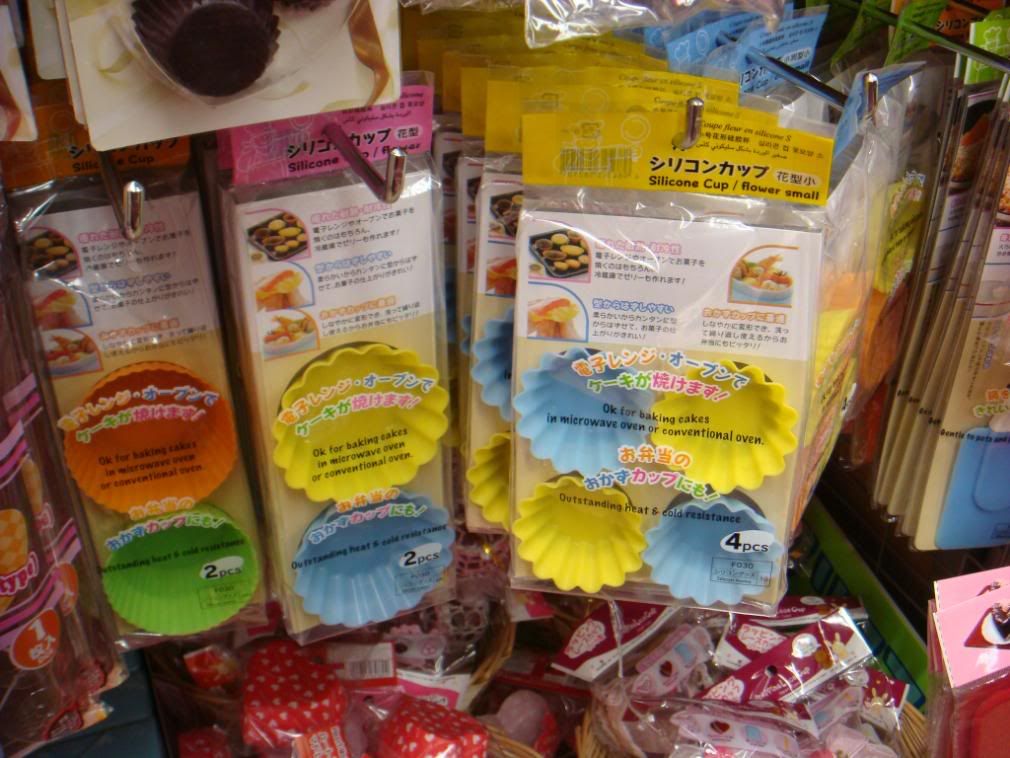 These are the silicon baking cups...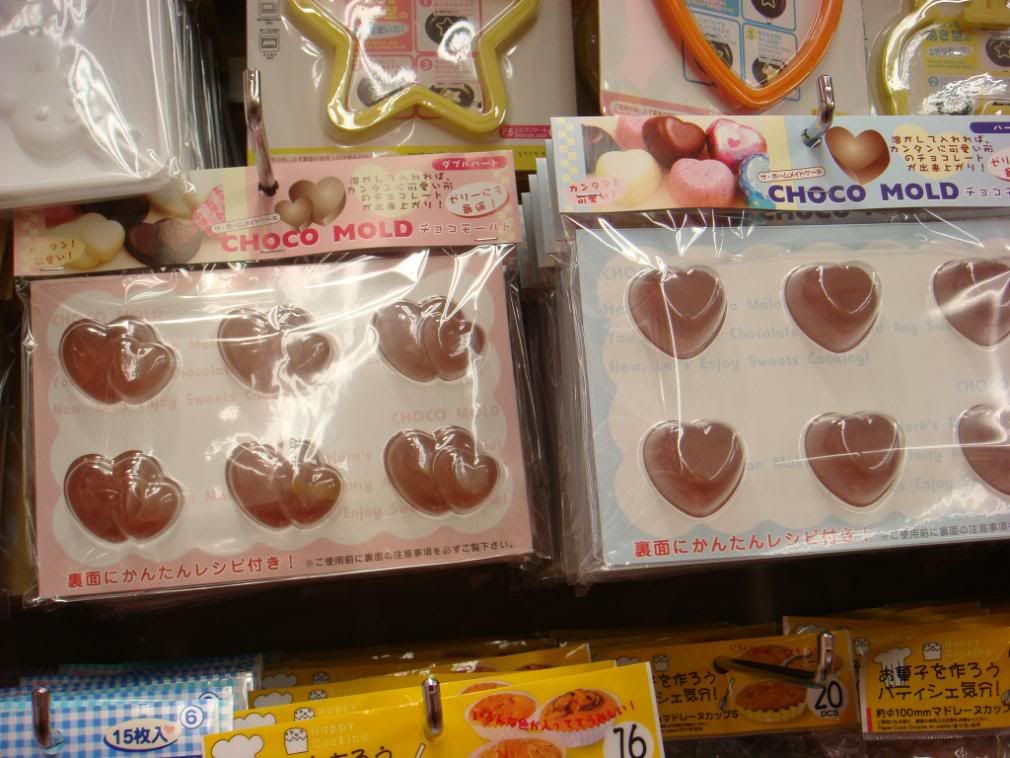 These are the chocolate moulds
Look at all these chocolates... I think we see these insingapore.. the ones here are $1.40, so I guess its cheaper here? Well, with daiso around, People like me find ways of surviving... Haha...

And yes.. They even sell baking ingredients like baking powder, cinnamon powder, sprinkles, nuts of all sorts, vanilla essence, bla bla bla..
But there was a problem though... Daiso closes at 8pm, so I had to sweep my butt towards Yamada Denki.. Haha...

Considering I did not eat the entire day, seeing Mister Donuts simply triggered my sweet taste buds... So I ordered a custard french and a chocolate stick... And proceeded to my blogging... :)
So after blogging, I decided to grab my bicycle and cycle back... There's Domoto Kyoudai at 11.15pm
28th Jan 2008, Monday
Surprise again!!! Guess what? Someone gave me cookies!!!! Can you guess who? guess guess!!! Its so obvious right? Who else would be nice enough to give me this?

Akiko gave me cookies!!! She made chocolate chip walnut cookies!!! Yummilicious!!!

Reiko gave me Mille Feuilles from the usual gifts she always receives from visitors... She's really good... no wonder everyone gives her gifts... Mille Feuilles are a pretty popular thing in Japan!! incase you don't know what it is, I adapted this from allrecipes.com
mille-feuille
[ meel-FWEE ]
French for "a thousand leaves," this classic dessert is made with two large oblong pieces of crisp
PUFF PASTRY
spread with whipped cream, custard, jam or fruit puree. The pastries are stacked and topped with another pastry layer, which is generally dusted with confectioners' sugar. A serrated knife is used to cut the dessert into individual servings. Savory mille-feuille can be filled with cheese and served as an appetizer.
I finally saw snow in Hiroshima today, but the snow did not make my journey home comfortable... Cycling in the cold with rain and snow hitting on my face and frozen ears... It was not nice... But I had to stuggle back to the warmth of my cosy apartment... And this, is Genbaku Dome.... The oblyy building that remained standing after the A-bomb... Look at the snow on the bushes!!

Since I went Promart during break, I decided to buy the loaf of 115 yen bread... There's six slices inside... Only wonder I had was why choon Fei loved the bread so much...
The bread is really thick though, like the thick toast toastbox sells... maybe slightly less thick... But I measured the thickness.. Its about 2cm! So I had two slices for dinner...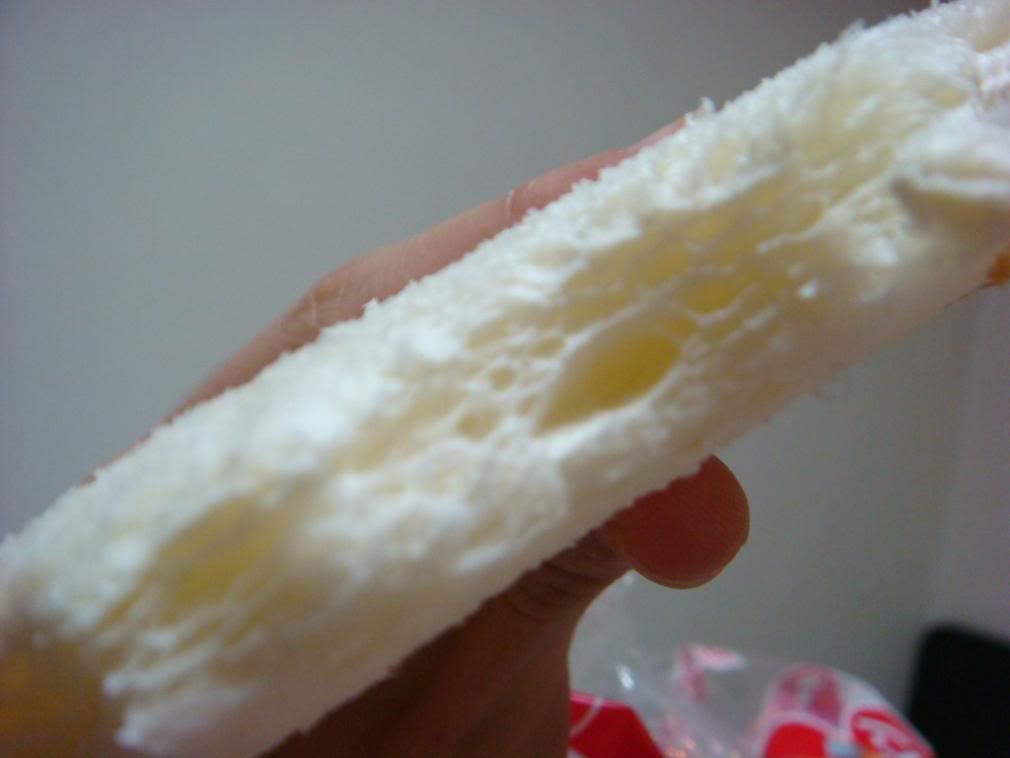 The bread was really good!!! light and fluffy... It even bounces back after you squash it!
29th Jan 2008, Tuesday
Nothing much special on this day except I tried a new flaour of ice cream.. its called Polar Bear.. Haha (白熊, shiro kuma)
30th Jan 08, Wednesday
Look at these strawberries!!! Even the leaves look edible!!!! And no, I did not buy them... Someone very sweet and nice and caring gave it to me... Make a guess... Guess who!?!?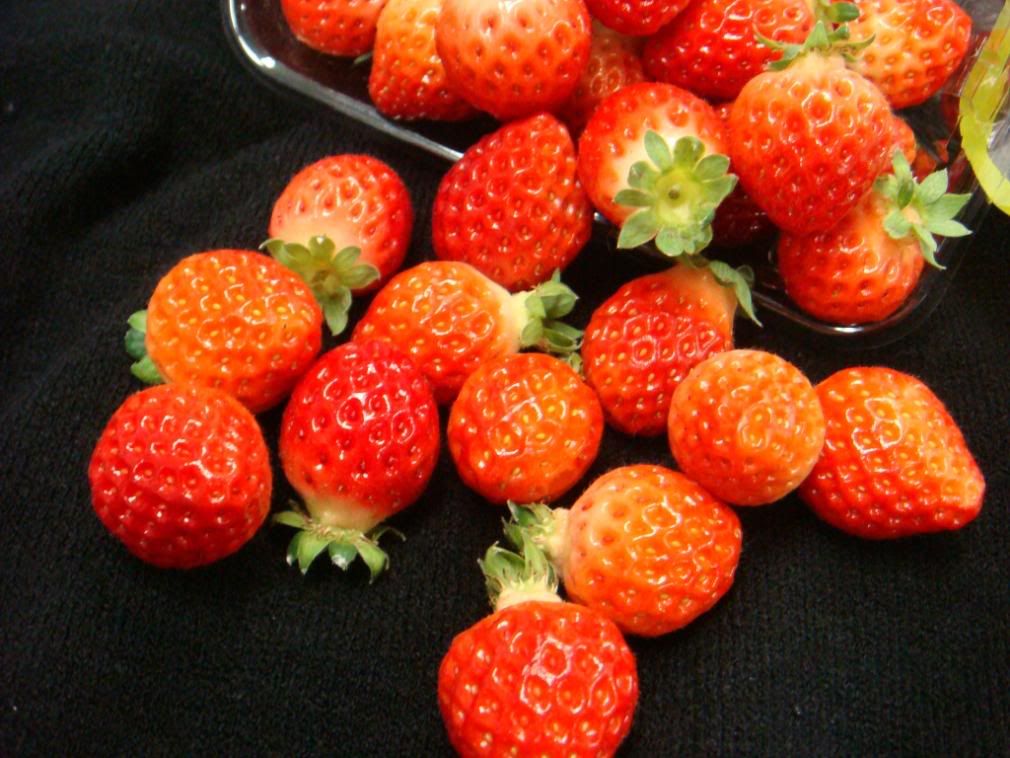 Yes!!! You got that right! Akiko got it for me!!!!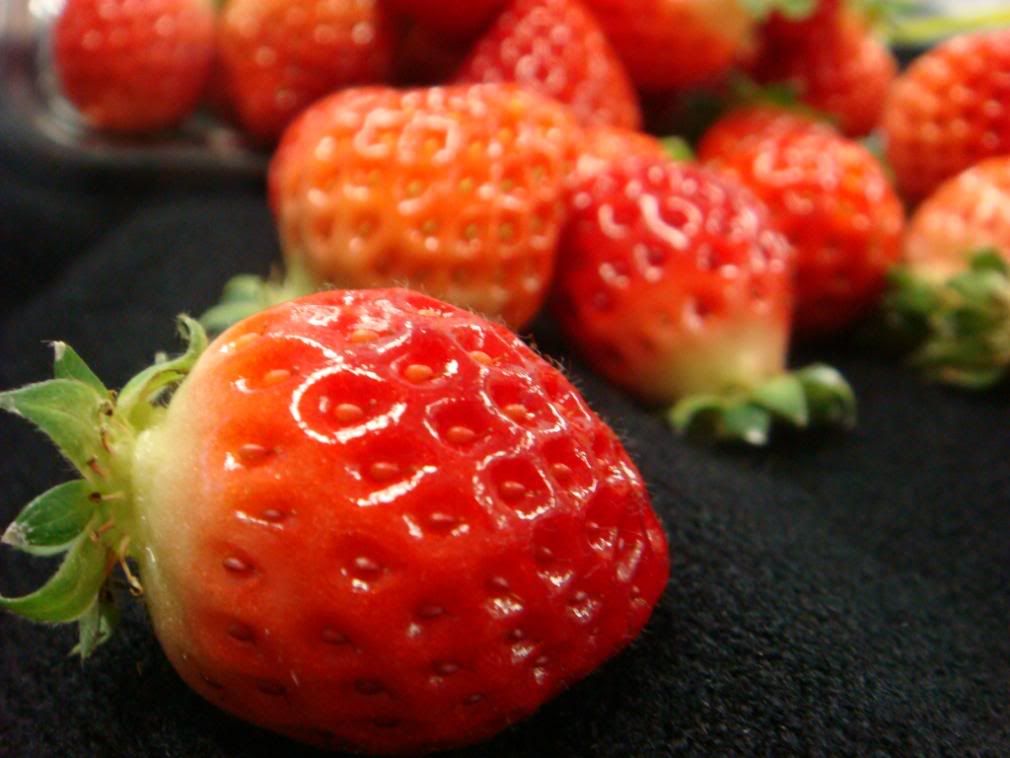 I told you she's the nicest person I've met in Japan! She's like an elder sister, but yet not so, cuz she looks so much younger than her actual age...

It seemed to be a long time since I last visited Tsukushi... So decided to drop by and say hello to Masaki chan and Yuki chan though I'm not eating(to save money).. I told them so sorry I haven't been partonizing.. But I'll try to be there this week.. And Yuki-chan gave me an apple!!!!! Apple!!!! Gosh!!! This is a fruity present day!!! But I'm happy!!!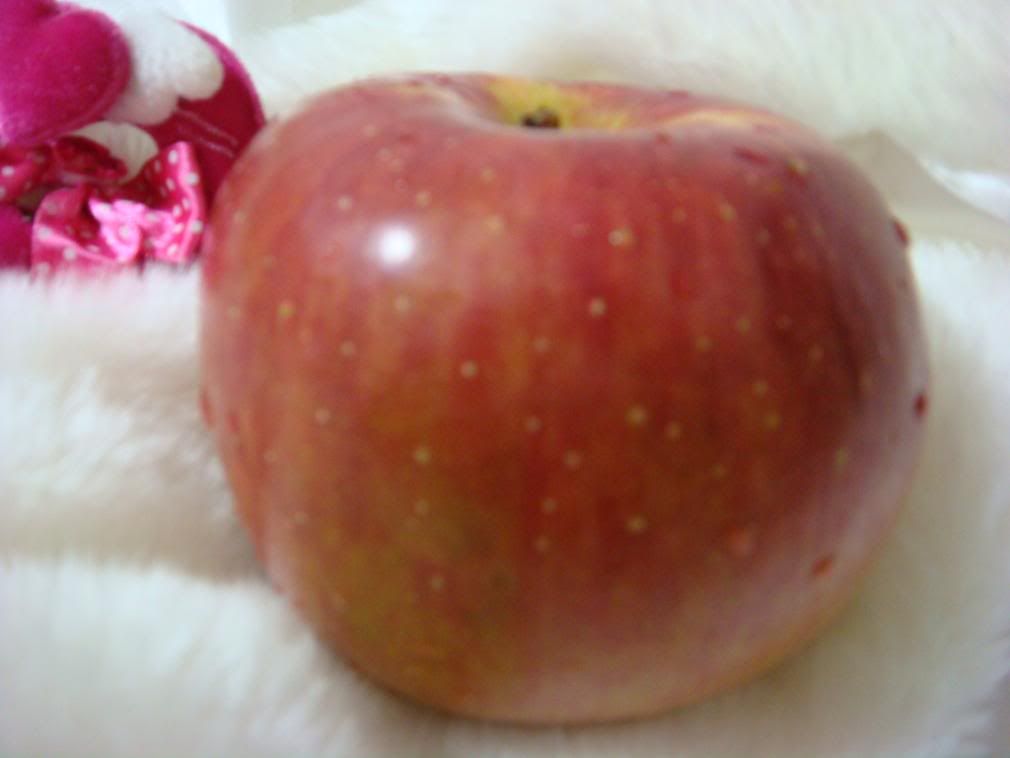 People here are so nice to me... In fact, I treasured the apple so much I litterally finished even the core!

31st Jan 2008, Thursday
Not sure if it was the big bottle of green tea I drank this morning, but I seemed to be having vommitting spells.. So my sup was nice enough to let me go back early and rest... :) That's so kind.. :) So again, I dropped by the supermarket which is never open when Choon and I are available to go.. bought a few things... Then I had a claire moment... My bike was stuck.. Couldn't seem to unlock the stand that holds the bike standing... So I dragged my bike to Tsukushi and said hello to Masaaki chan again... Masaaki chan realised I locked the stand, So he unlocked it for me!! Yay!! I didn't have to spend money repairing the bike!!! And They gave me oranges!!! (As you can see above)

I was getting deprived from baking, so i got myself a mixing bowl.. Thought I could make pancakes or crepes...

This hokkaido cheese cake was available for 98 yen.. So I decided to give myself a treat.. :)



Well, my stay in Jan ends here, and Feb is coming soon.. sorry about late blogging.. These were all the snacks I ate in office!! Haha.. Reiko san offered me most of them and most of them were stocked up by her too!!