Its my second last week before I go on my Japan trip... There were many things to do though.. I finished my Taiwan project, but it was also time to finish up my final report... Thankfully there's always Tat-chan to drive me back, so I can stay back to do more of my report.. Dinner was always the food samples at the different stalls at Mitsukoshi and Tenmaya. Its really kind you know? I get samples like at the food fair and the brand counters in the department store.. I get variety.. They all come in small pieces.. What's better? The bread shop you see in the bottom row centre gives samples in huge pieces when they reach the end of the day! There's my dinner!! Talk about extreme money saving.. If you look at the picture below.. Its the Honshuu festival and there are really great stuff from all over honshuu 本州, the main portion of Japan.. There are deserts from Kobe.. Place of お菓子(Okashi) sweets.. Kobe is like a place with many Westerners.. And hence its no surprise how popular Kobe is for their deserts other than their beef...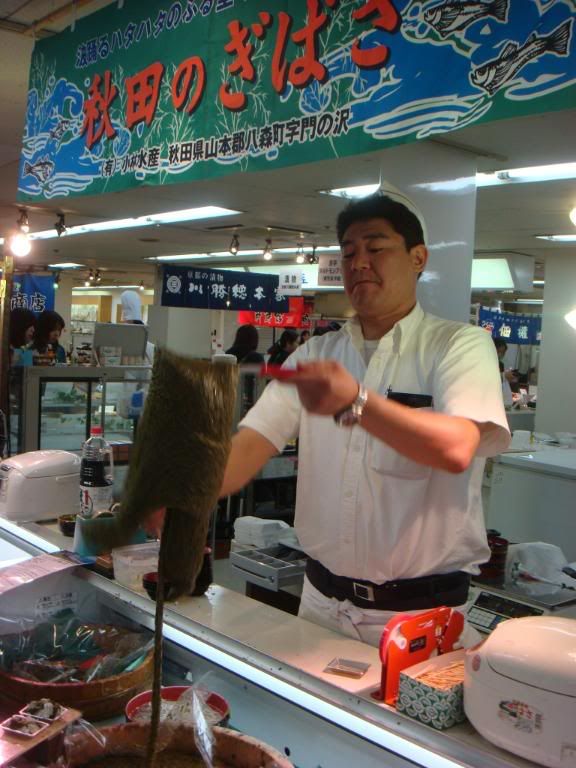 And from AKita prefecture, there is the gibasa.. The interesting seaweed only available at Akita prefecture.. And yes.. Only in the city of Yamamoto in Akita prefecture... The seaweed is really slimy.. But the feeling of eating it was a whole new experience.. As you know how late my entries are, I still can remember the feel of this seaweed till now...
The seaweed slurps like quality noodles, yet, it has a light chewy texture.. The main feature of this seaweed is the high iron content of the breed of seaweed.. Its really interesting!
Farewell dinner was gonna be on Friday and wonderful Reiko-san arranged a group photo session in the carpark.. I was leaving soon.. Its so sad... Time passed really fast.. I knew I was going to miss everyone who treated me like a family there... Not only did I learn professional office skills, analysis, and of course improving my horrible standard of Japanese which has already returned to its original 'huh?' standard.. So I had to take pictures with some of my favourite people in the office.. My favourite photo was the one with my superior. He's ususally so serious, I get scared sometimes.. But in that photo, he was posing with a "Yan-dao" pose.. lol.. Its so amazing.. (For the confidentiality of the company, I shrunk the photo.. :S)
Thanks to Tat-chan hinting to my godfather, Sakata-san, I was treated to YAKI-NIKU!!! Say it with me! Yaki-niku!! 焼肉!!Yaki-niku!! 焼肉!!Yaki-niku!! 焼肉!!Yaki-niku!! 焼肉!! Now its a song!! Alright.. I'm lame.. But Yaki-niku has overtaken my love for donburi... I'm a horrible carnivore... Bad me...
I know Pony and horse lovers will slaughter me for eating this.. But its 馬刺身 Horse sashimi... Eaten with raw egg.. Talk about raw with raw...I think some people may vommit after eating this.. But this is so good!!!! The tender meat of the horse just melts with every bite you take in your mouth.. And the egg just simply smoothen that bite in your mouth.. Woohoo...
And, what's Yakiniku without niku?
Of course there is niku at Gyukaku牛角 The famous yakiniku restaurant chain... Its good.. But I think because this place does not have the miso tare I ate at my first restaurant, the taste of the yaki-niku lost to the my first try Tat-chan brought me too.. But none the less, its still good.. Cuz its 和牛(wagyuu) which means Japanese beef... I wish Singapore would import Japanese beef instead of Australian beef... Its like at least 3 times more tender.. And the fats of the cow are so well marbled...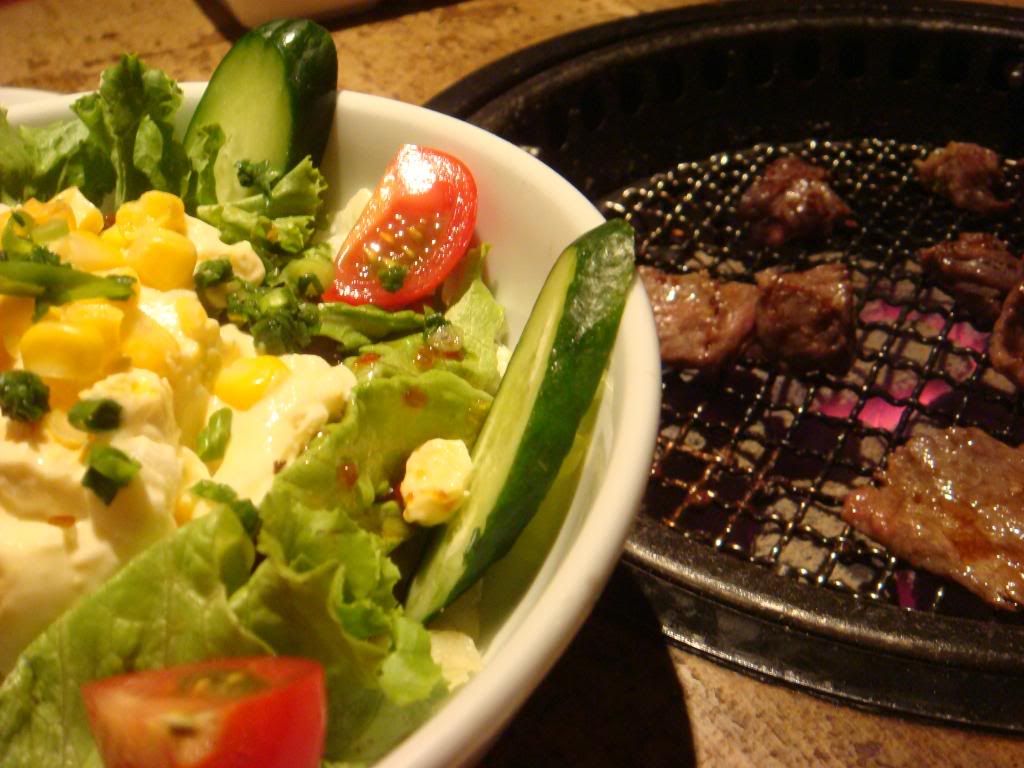 Potato Salad(ポテトサラダ)My honest opinion? No difference from the ones at Sakae..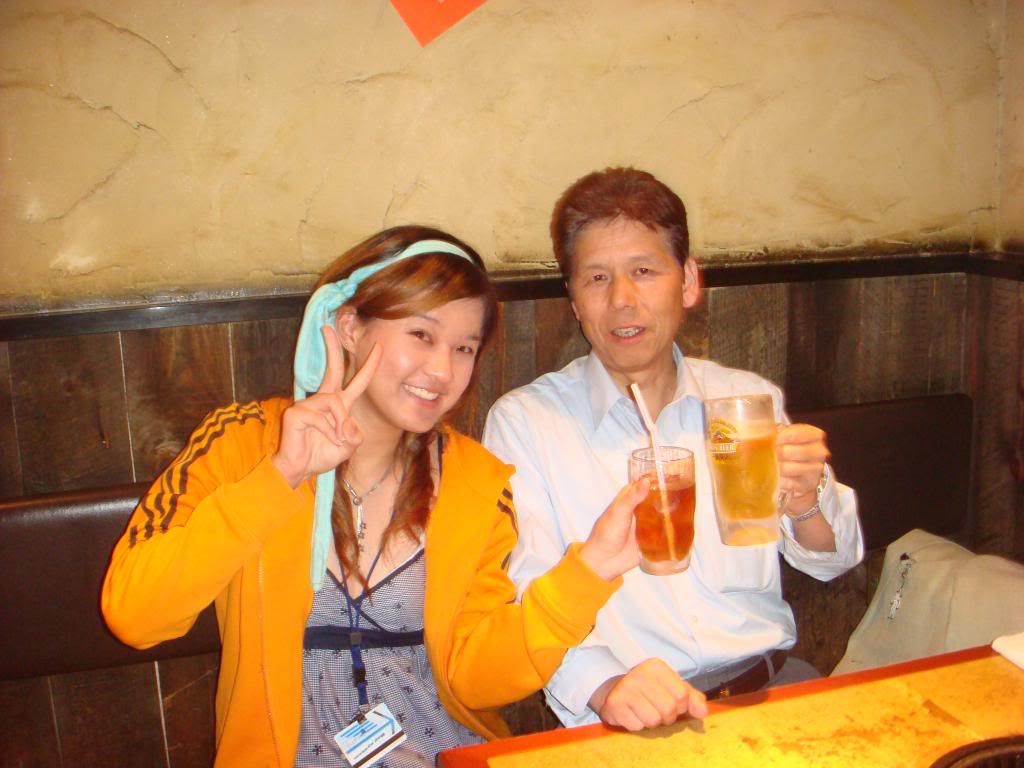 But the saddest thing is this is going to be one my last few English lessons with my godfather, Sakata-san in Japan.. I miss both Sakata-san and Kishimoto-san who have been great Papas to me.. Caring for me and always treating me every week... They never ever let me pay for my food.. Because.. I'm an intern... Isn't that sweet?