After the SAturday farewell dinner with my kind Hiroshima fathers, It was farewell dinner with タッチャン.. To repay me for all the English lessons I gave him for his 英検Ei-ken English examination preparation, タッチャン brought me to the restaurant at 古江fu-ru-e, the little hill with a spectecular view of Hiroshima.. Furue has loads of fine dining restaurants from different culture.. And the one we went to is called Zona Italia... Its really pricey though, but the crowd filled the restaurant full house, so タッチャン and I had to wait before entering the restaurant...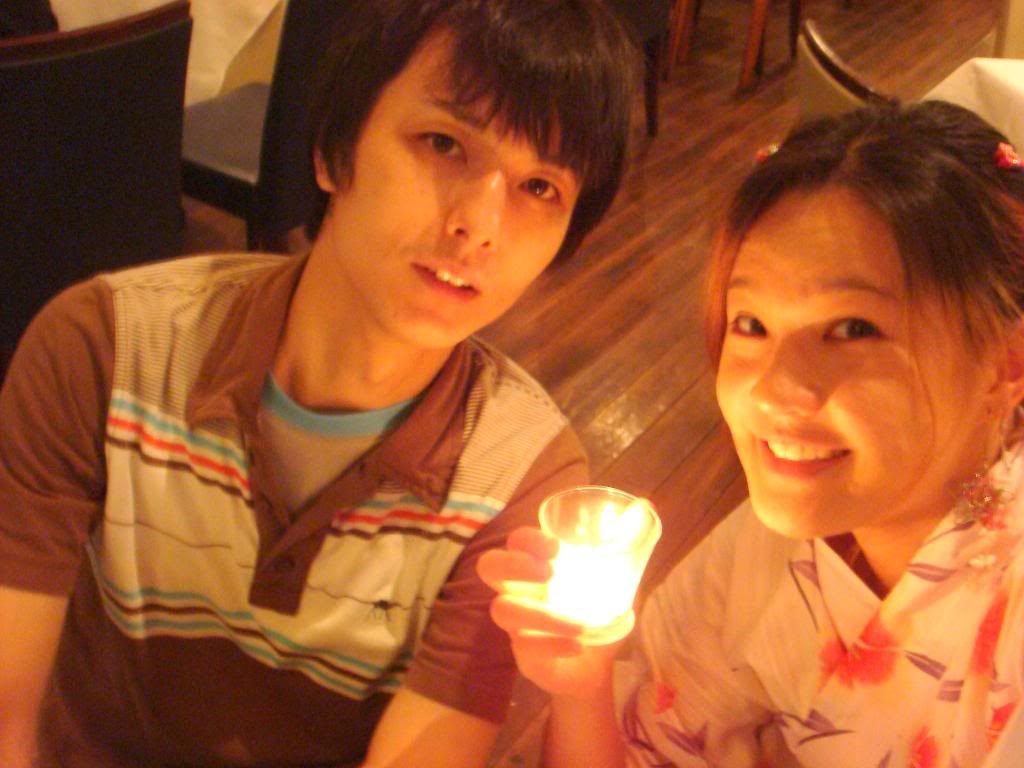 But soon after we settled down, we started looking at the menu in Japanese.. They had an English version and Thank goodness for that.. Too bad we couldn't get a window seat.. :( So sad.. But at least our seat wasn't too far from the window, so we could still catch a view of the lights in Hiroshima from there..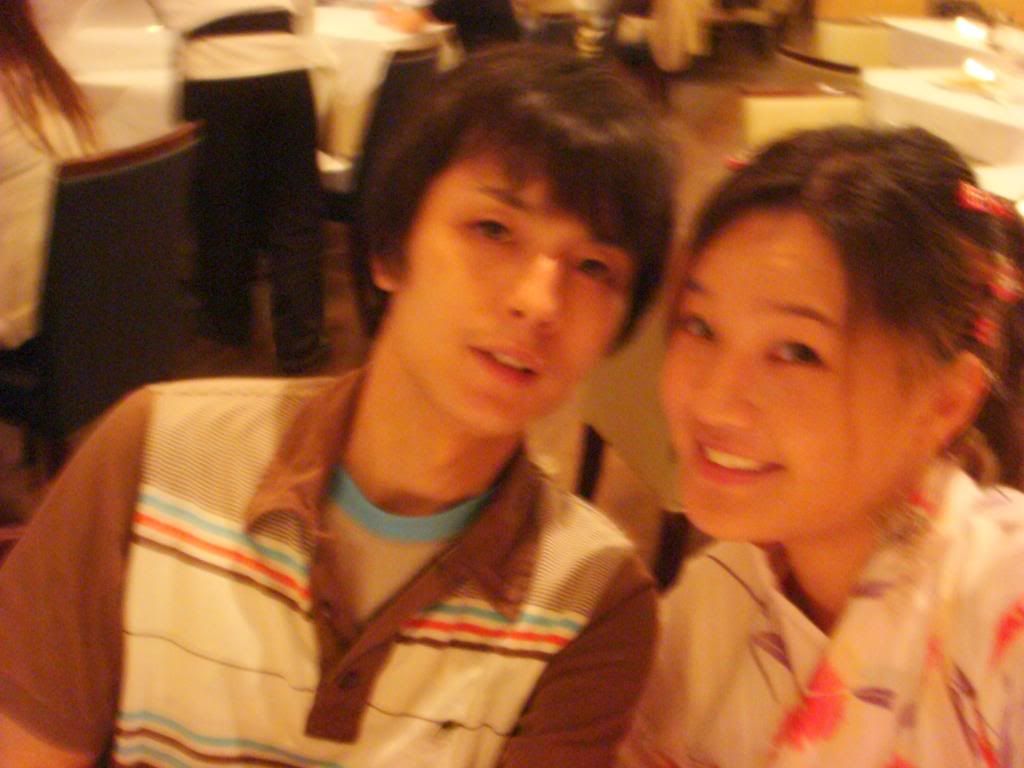 The set course menu was the most reasonable, cuz it has loads of dishes, so I could try abit of everything! But by now, I have forgotten the names of the dishes, or what it is, so I guess you can only guess?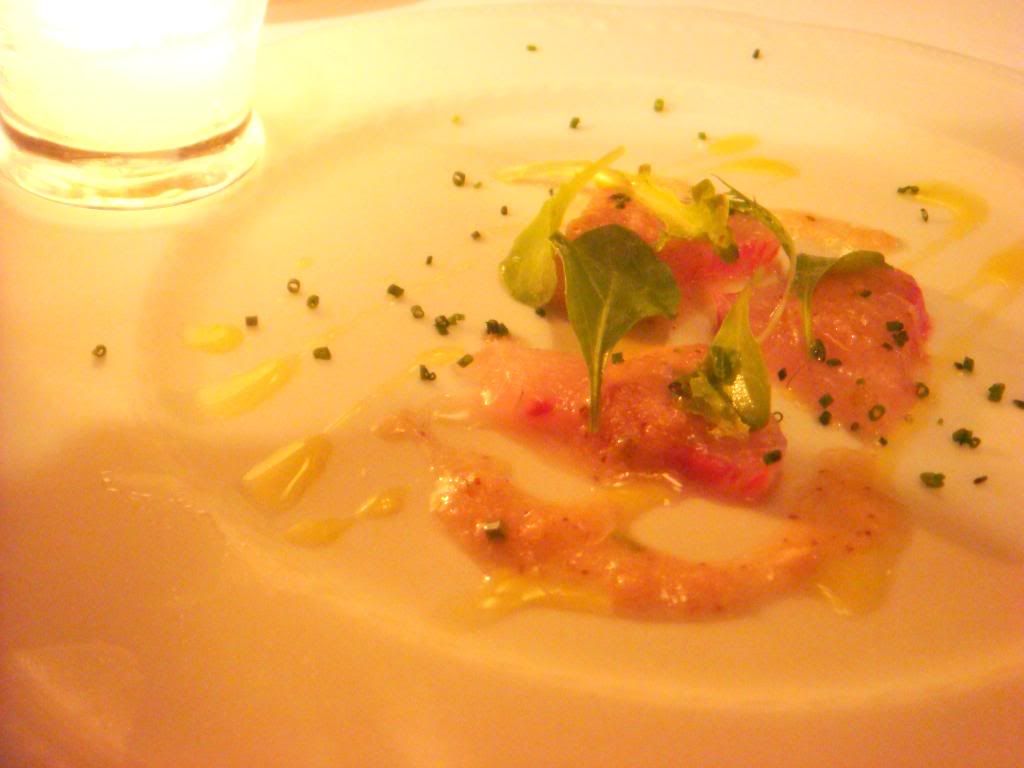 This was the Carpaccio.. Carpaccio is a dish of raw beef, veal or tuna traditionally thinly sliced or pounded thin served as an appetizer. I know this is some kinda tuna sashimi with their special sauce and mint leaves... And their Sashimi were delivered daily fresh from the fish market!
And I saw a window seat which was set up nicely, and reserved! Since it was the only unoccupied seat in the resturant..With a note and everything set up so pretty, it was probably a date or maybe even a proposal? Woo hoo!! This is actually the most expensive dinner set and its 7000円 Which is less than hundred sing back then and more than a hundred sing now...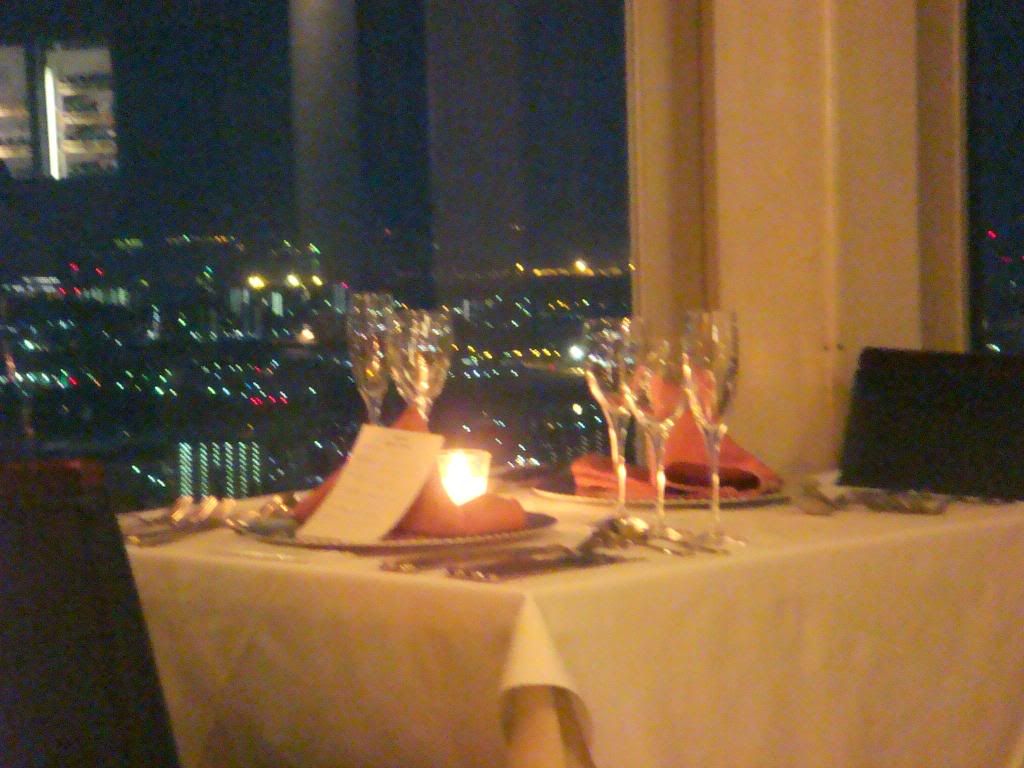 This was the next dish, the anti pasti/anti pasto. Antipasto, or antipasti, means "before the meal" and is the traditional first course of a formal Italian meal. I know its some kinda fish terrine and there were sauces and sashimi prawns on top of it... But there were two colours in the mousse, so I dun really remember which is in what..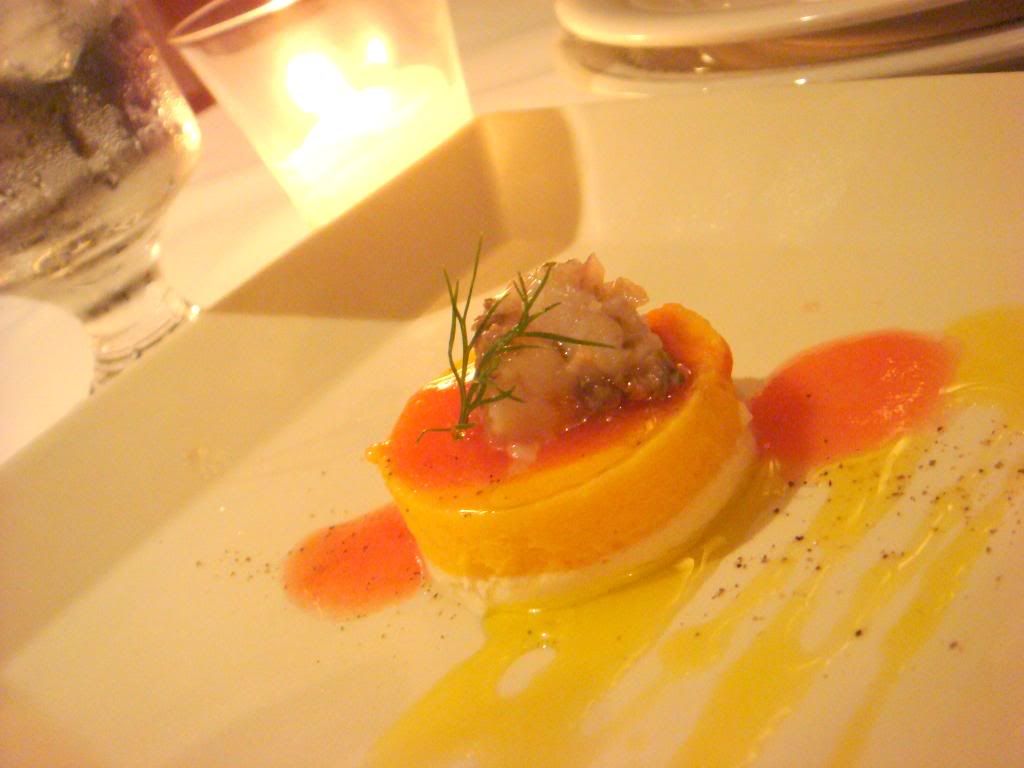 Next is Primo Piatto, the main course.. The list has three types of pizza and three types of pasta.. So we could just choose one..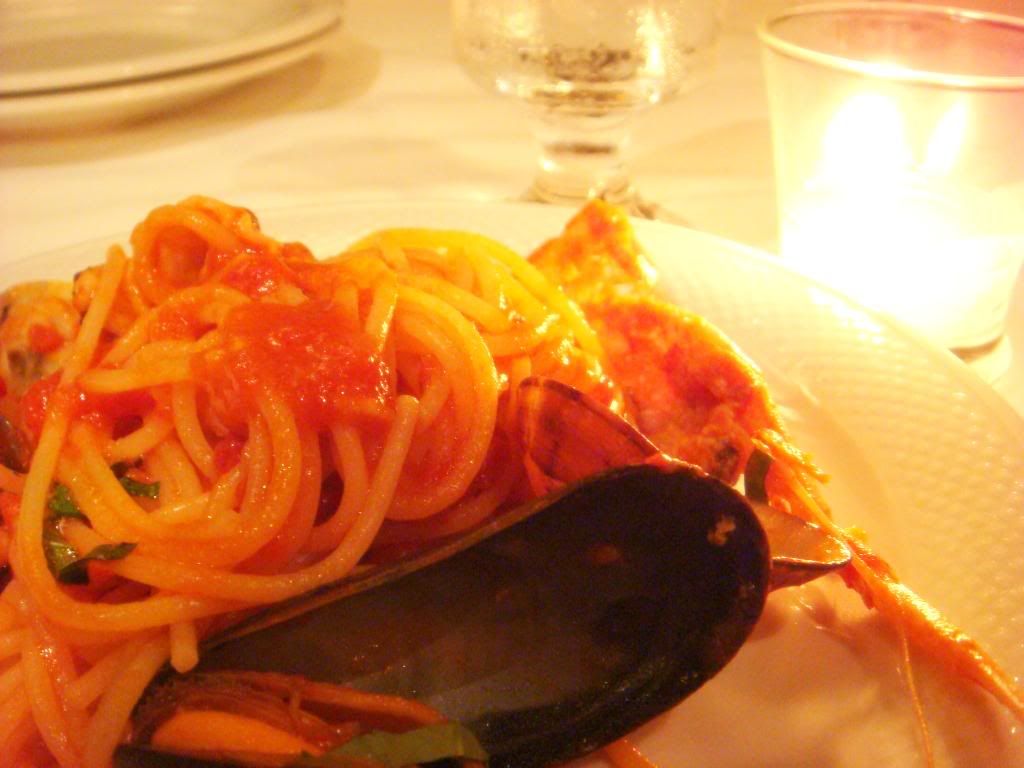 I chose the seafood pasta and seriously I dun remember what else was special about this dish.. XP
Like I told you, the restaurant was fully occupied!
Next was the Piatto di Carne.. I only know that Carne means meat in Spanish, so this is probably the plate of meat?
Medium rare beef, from Japan..I think you should know how tender this is...
タッチャンordered a pizza separately to feed him self and I think it was really good!!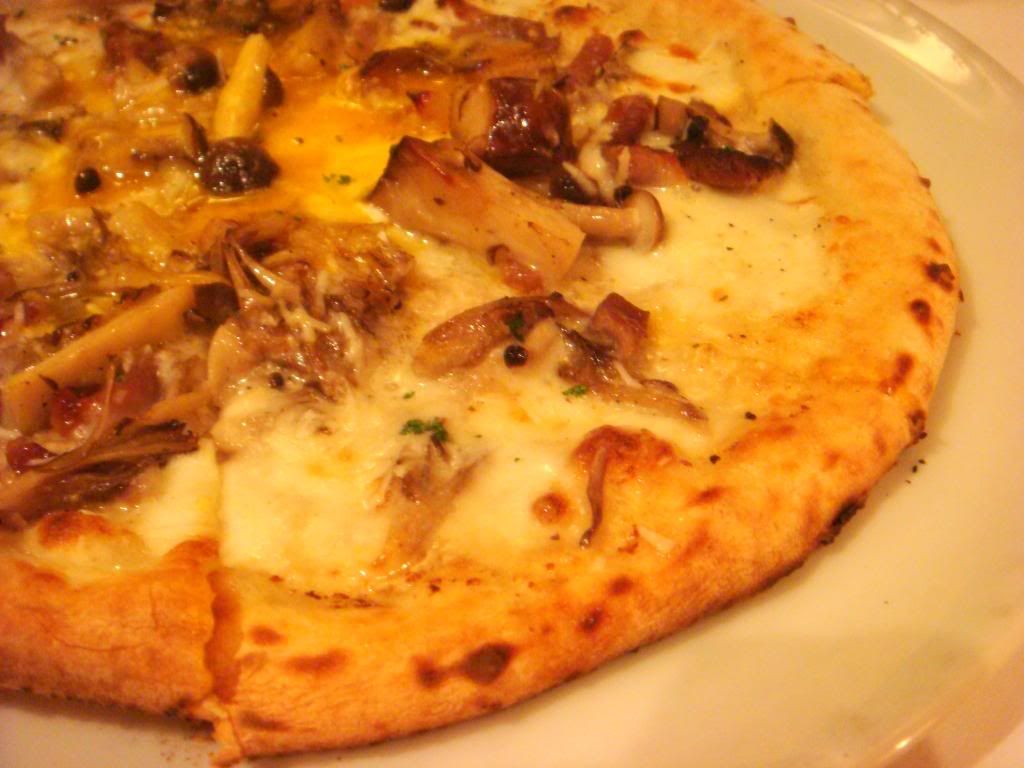 This is Dolci, which means desert in Italian.. They gave a list of desserts and we could choose two! So I had the fruit sorbet, decorated with sugar brittle ball on top.. And of course, CHEESECAKE!!! タッチャン preferred the one that I made though.. Haha.. wad an honour!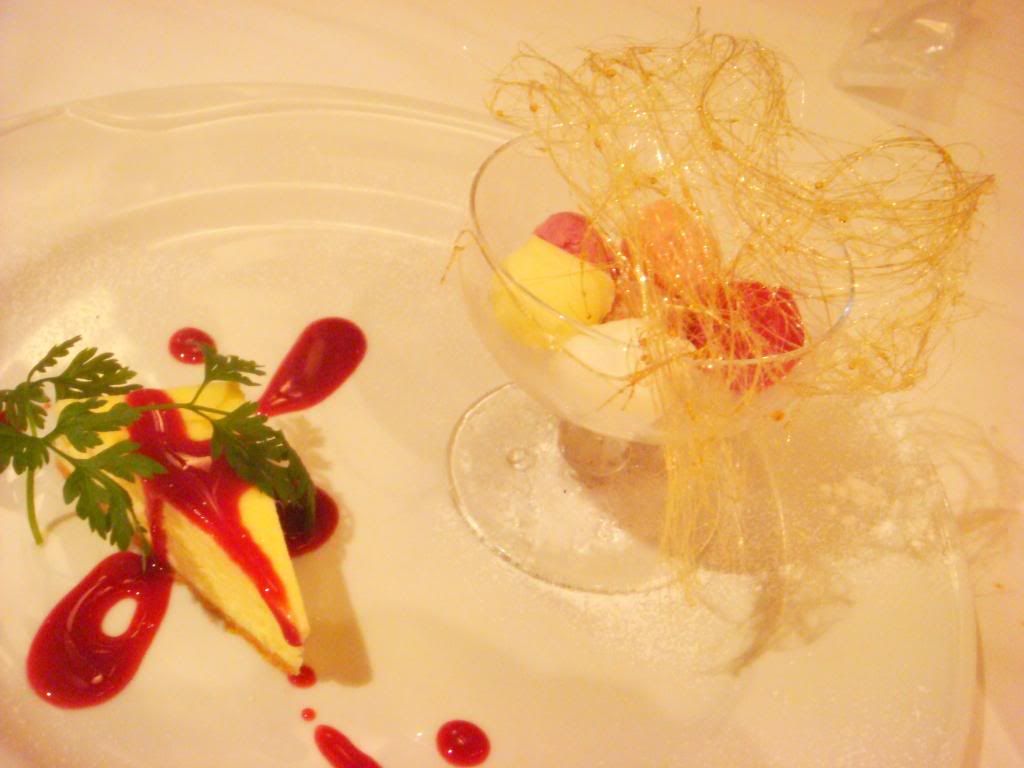 And because the first place of Dolci was not enough, we ordered a separate ala carte dolci to satisfy our sweet cravings after the meal... Tiramisu, chocolate cake with ice cream and some kinda fruit tart! Delish!
The meal was tied up with an Espresso and check out this nice pattern they did on top!! Ain't it nice?
This is the restaurant,
Zona Italia
.. On the outside.. Check out the webpage.. It shows a nice view of the restaurant..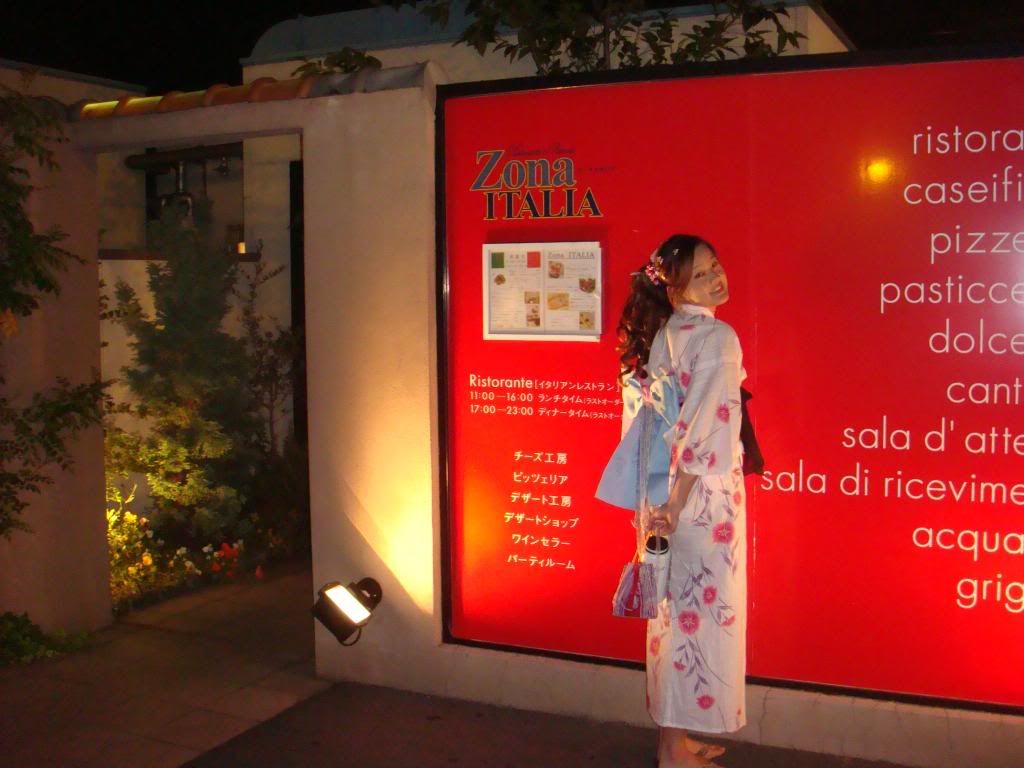 タッチャン and I went for a walk to aid the digestion of the huge meal we ate earlier on.. And we walked to the top of 古江.. I tried to take a photo and it was so hard to take night shots.. After adjusting some modes and trying a few shots, I got this as the best shot..
This is like the best place to retire! Nice houses on a little hill top.. Schools nearby.. 10 mins drive to the Hiroshima city.. Remember the wedding photo location in the
May entry
? ITs in the photo.. CAn you spot it?