After a nice trip at the Fukuyama Castle, it was time to return to Akiko's place to present the presents to the important people of the Ose Family!!
So lets start with the Apple crumble pie!!! This was specially made for Akiko's dad, but we all enjoyed it!!!!
"Hot hot hot!!!!" But its all nice!!! Apple crumble pie the way it should be.. serve toasted and warm!!
Apple pie for you? This is really good! Well, she didn't exactly say that, but it was close to that.. :P
Look at the necklace Akiko-chan's mum is wearing.. Its hand picked by your truly and the 豚姉妹 shared the present for the beautiful mum's birthday coming next month (Well, more like it has passed since this entry is so late...)
And look at my earrings!!! Its a present from 亜貴子ちゃん!!!
The garden is so beautiful that sitting in the tatami room watching television felt so fresh when the plants outside are smiling at you..
That's all the time we have I guess, time to take the JR back to Hiroshima.. Its work tomorrow!! :(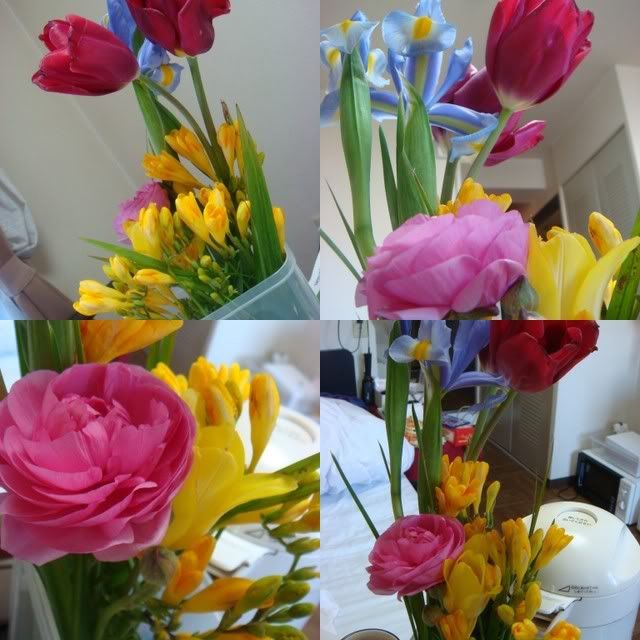 I received these beautiful flowers from Akiko-chan's mother as お土産 (omiyage) presents... Aren't they beautiful?
They lastde more than a week in my.. erm.. water bottle.. HAhaha.. I had nothing to put the flowers in and I had to save on buying the vase, so I sacrificed my water botttle.. Haha.. Well, it can be washed right?
Back to:
Chronicles of 豚姉妹 Just to help you navigate my entries