Day one of golden week started almost three monthss ago.. Sorry for the late entry.. :P
We were supposed to depart from Hiroshima at 4am from Hiroshima to get the midnight discount on the toll gate.. But Tat-chan had to work late the night before, so we landed up leaving Hiroshima at 6am..
Thanks to Tat-chan, I had a chance to see Fukuyama's service area.. Service Area here is equivalent to the rest stops we stop at on the way to North Malaysia.. But except that toilets are cleaner, food are better and of course more expensive.. But these service areas sell nice souvenirs お土産o-mi-ya-ge.. I love looking at omiyages cuz they're nicely packed and it features the speciality product of each prefecture... Example for Hiroshima, its the momijimanju もみじ饅頭、あなごanago, 牡蠣kaki.. And Fukuyama is a city in Hiroshima prefecture, two hours drive away from Hiroshima city, if you remember the older entries..
Here's the man who drove us all the way from Hiroshima to Kyoto 京都 although he was tired out by work the night before.. タッチャン有難う!!(Tat-chan arigatou!)
Visiting Kyoto is very much like seeing alot of traditional side of Japan.. Not exactly my favourite place to be at..
Unless You like looking at TEMPLES AND SHRINES, DO NOT VISIT KYOTO
Our first desination is the
Chi-on-in 知恩院.
You will see the 知恩院 in detail in this entry.. This is the main gate of the Chi-on-in..
With steps like that, I can't resist a shot like that cuz it feels like we're taking a photo shot for an album.. Hahaha..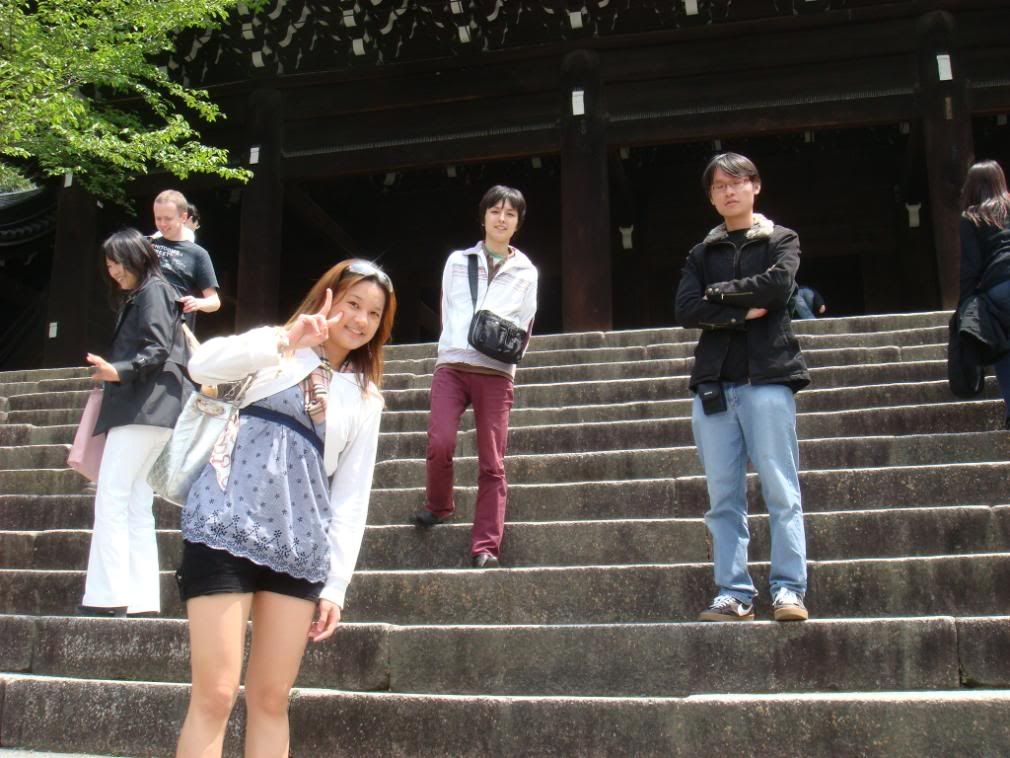 The temple is built in 1234..Its really big and built on a side of a certain hill.. The pillar is so big I felt like hugging it.. Tat-chan gave a
"Erm.. I dun think you should do that"
face.. So i think hugging pillars in temples are a no no.. But who would do such a crazy thing but me? Well,
note to self: NO HUGGING OF PILLARS IN TEMPLES
After passing the main gate, we had to climb this big flight of steps.. Being tired from the car rides, you can see who had the most energy left after the 6 hour car ride..
Too tired to smile.. heh-heh
Oh well, I'll force a smile..
After the long flight of steps after the main gate, we reach this big area with different halls for the temples.. on the right is actually an お土産 o-mi-ya-ge shop where people buy souvenir..
On the left is a prayer hall...
Behind this left and right is another shelter for a buddhism statue.. And here's me and tat-chan posing in front of the building..

Walking up another flight of stairs leads us to another hall..
And a shelter for buddhism statue on the left..

After the long climb up, it was time to go down.. And going down is a different route.. and as you can see the pathway behind me curves to the right, downwards..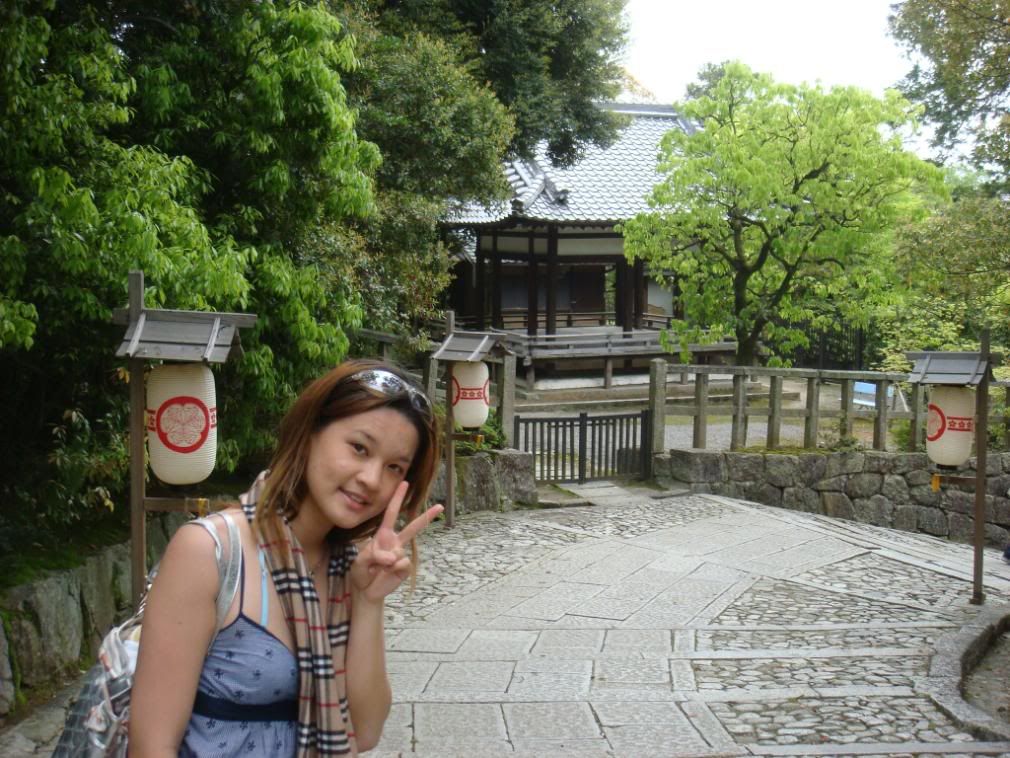 Another one of my signature TIY (Take it yourself) shot.. Notice my flower earring.. It was a gift from Akiko-san..


Walking on somemore led me to the discovery of a Sakura trees where the sakuras have yet fallen..

Taking more stairs downwards leads us to this weird stucture.. So I can't resist another corny shot..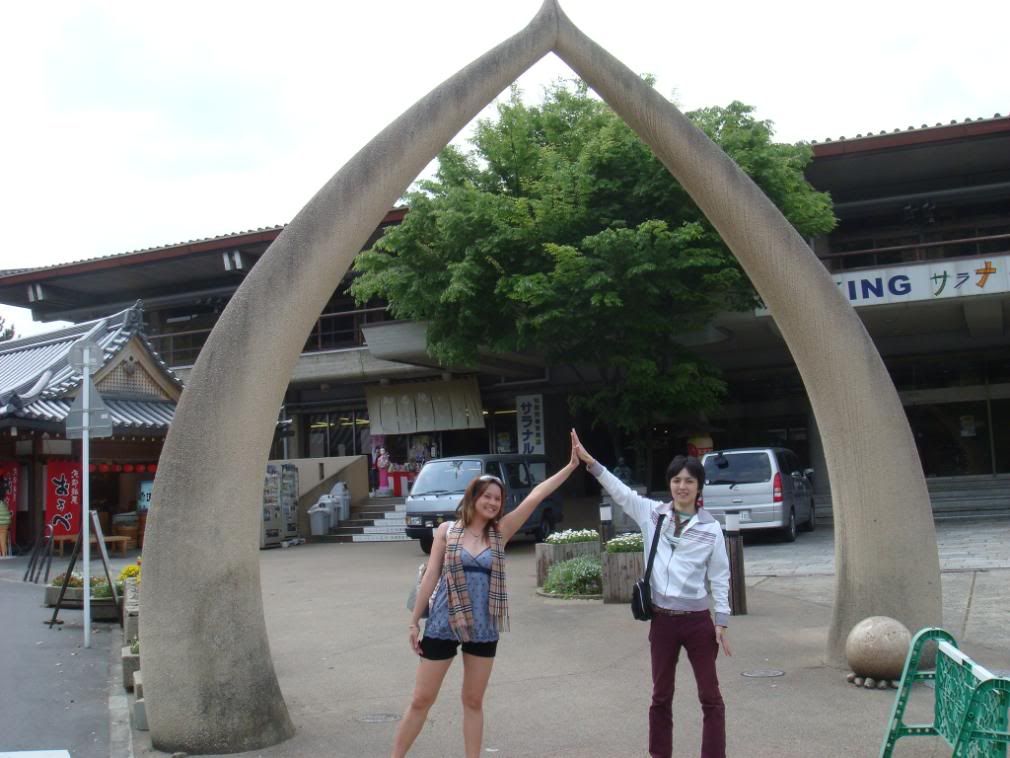 Here's the 八橋mascot... Can you tell which is the one?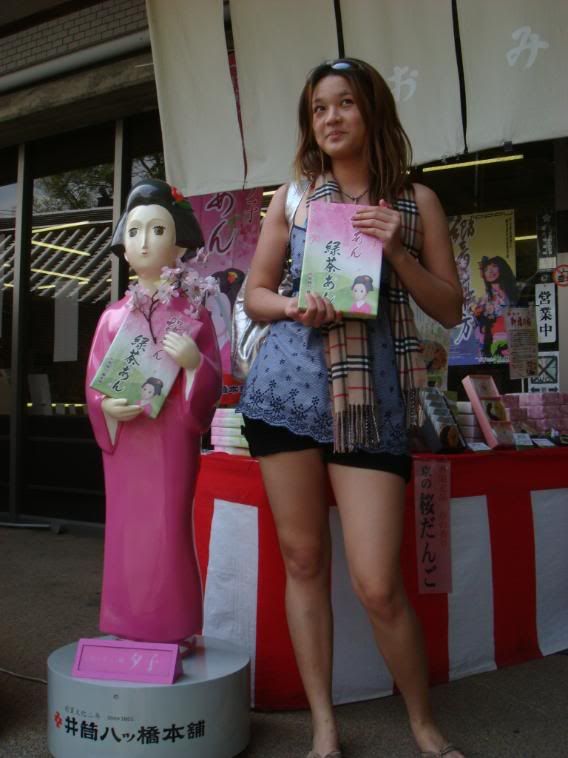 The 八橋, a Kyoto Prefecture product, which is usually red bean paste wrapped in mochi skin, shaped like a triangle.. the other version is the baked one,which is a type of biscuit, with cinnamon in it..