Haven't been blogging for another long period of time.. So here's the super outdated Kyoto entry.. This entry is on the Kyoto castle and its called
Nijo-jo
.. It seems to be one of
Japan's biggest castles
(Japan has 120 Castles!!) , and it has been recognised as a
world heritage
..
Here I am,standing in front of a map of the castle.. We are near the Ninomaru palace.. Den we would walk through the Ninomaru garden to pass the Honmaru palace.. After the Honmaru palace, we would climb the support building of the castle.. And a tour around the outer garden to head out..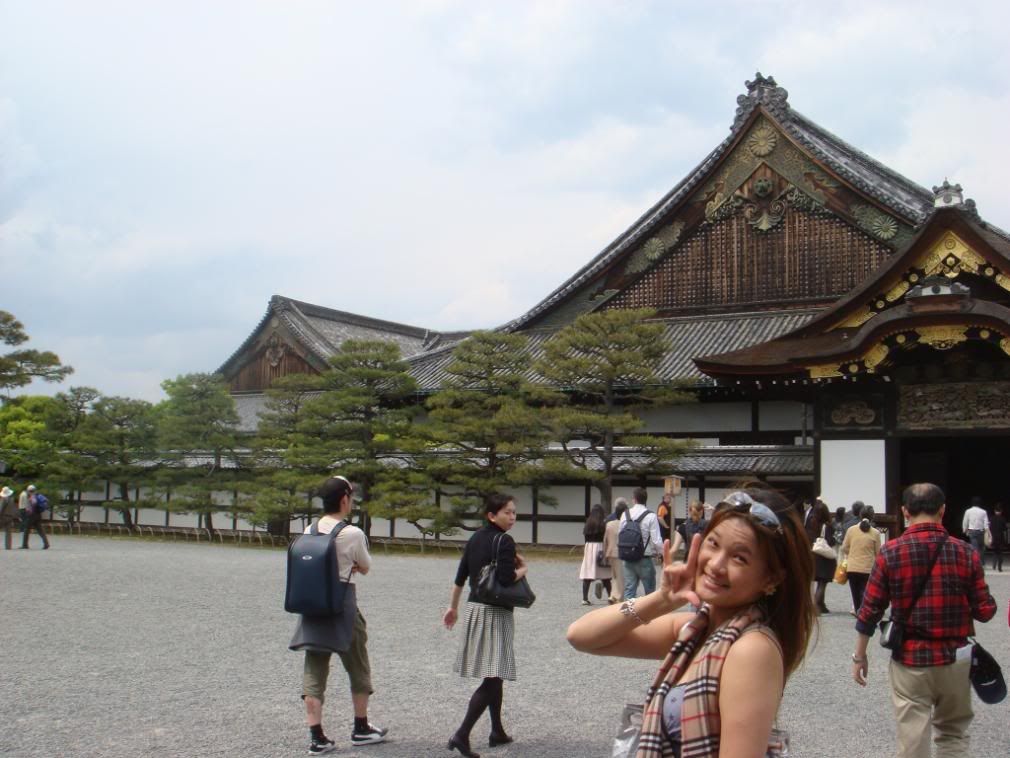 Behind me is the ninomaru palace 二の丸御殿... But we had to pay to enter the palace.. We paid and we entered, but we were restricted from photos and everything had barriers... They had some wax figures showing what each room was used for..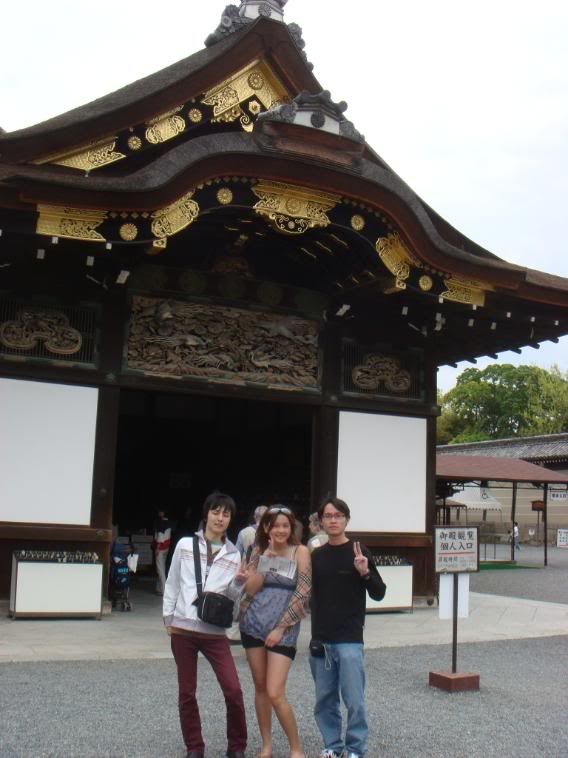 A really nice European took a photo for us..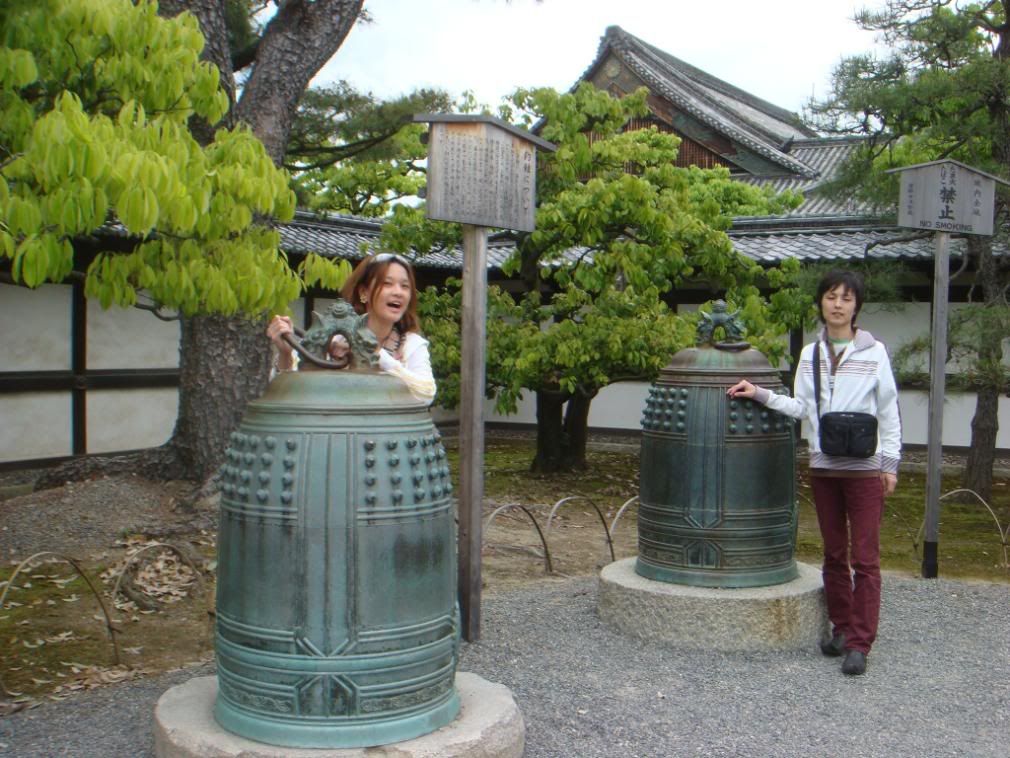 When we exited the 二の丸 (Ninomaru) palace, there were these two bells.. So I had to force Tat-chan to take a funny picture with me.. Haha..
This gate outside the 二の丸御殿(Ninomaru goten)palace leads to the 二の丸御殿庭園(Ninomaru gotenteien)..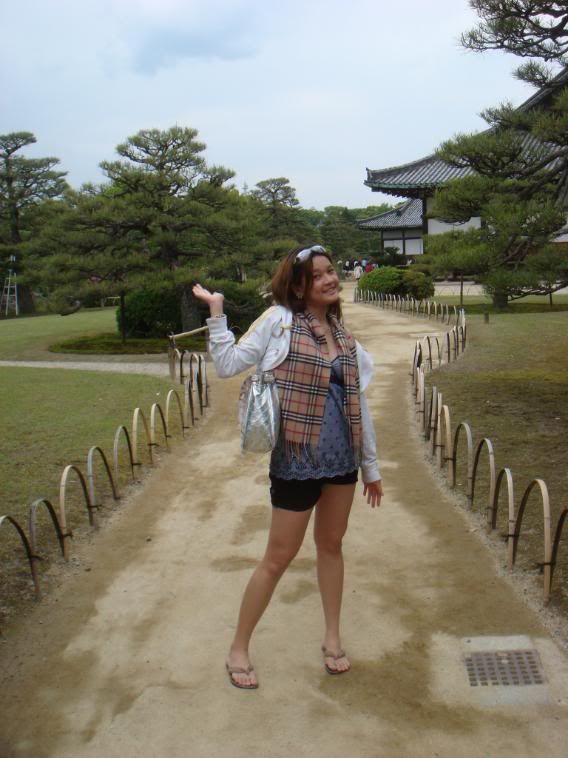 And Tada! Welcome to the 二の丸御殿庭園(ninomarugotenteien)!!
These are also known as Japanese style gardens, as you can see in the background..
Since we were kinda shy about asking for help in photos. Partly cuz I think strangers dun do a very good job in taking pictures for us.. So I positioned the camera and took a three people picture using the timer..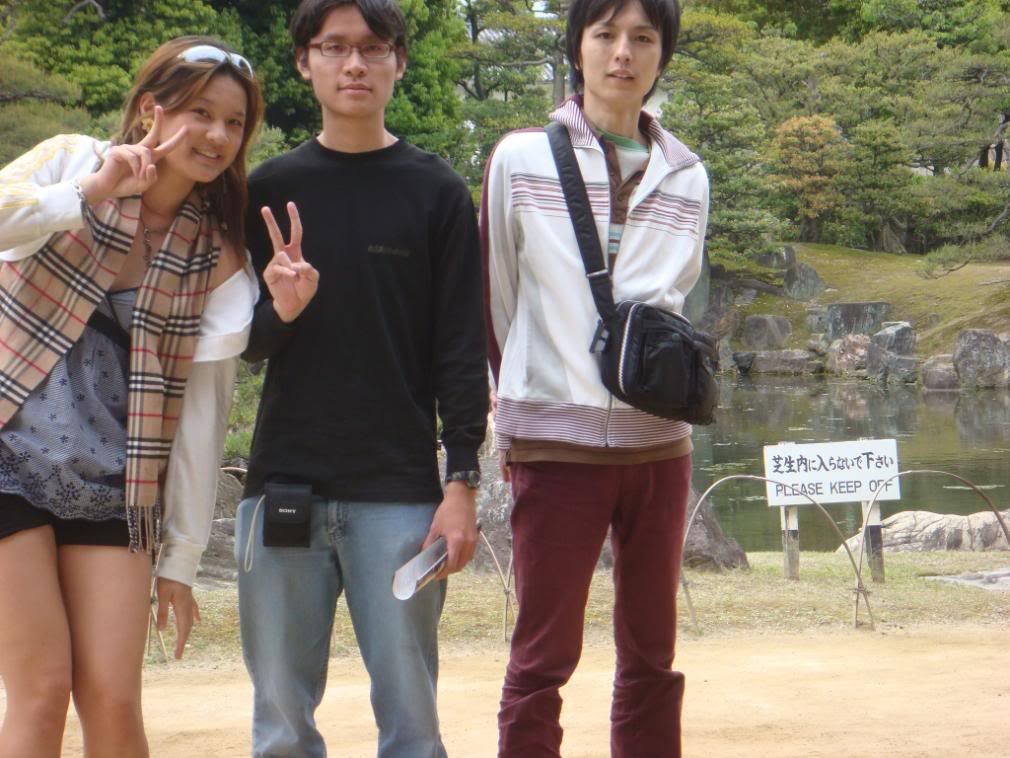 Still in the garden, but we're reaching the 本丸御殿(Honmaru goten) Honmaru Palace..
In the background, still the 二の丸御殿。。I must seriously kick the habit of doing something with my hands when I take photos.. -_-'''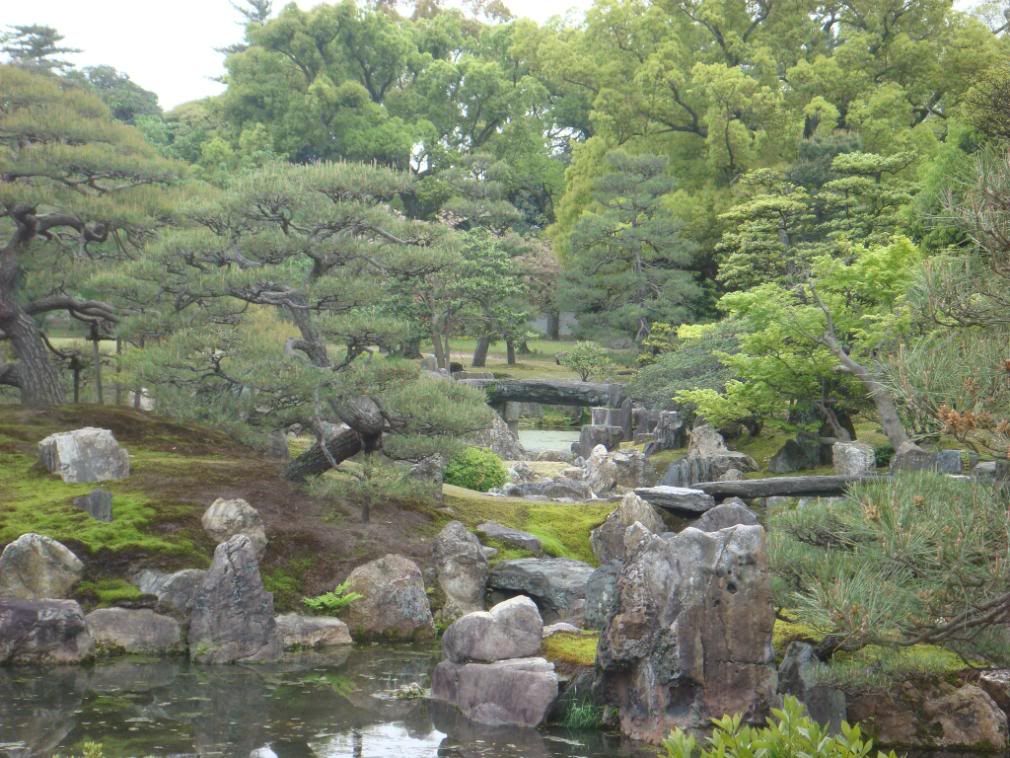 Finally, we reached the 本丸御殿(Honmaru goten) Honmaru palace..
This is the 本丸御殿庭園。。(Honmaru goten teien) Honmaru garden..
The castle tower was within walking distance, so we made our way to the top of the tower for this view... From the tower, this is how the Honmaru palace looks like: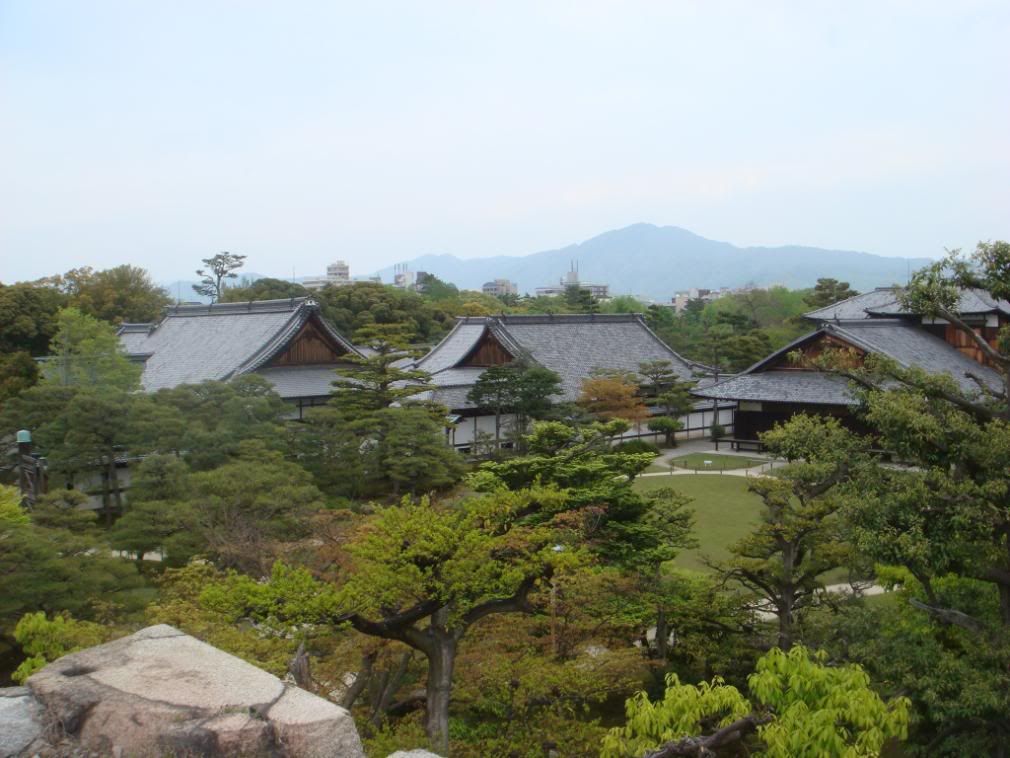 And there's the gate leading to the castle tower...
And here's the three of us on the castle tower... A nice person took the photo for us.. And you can see the mountains in the background..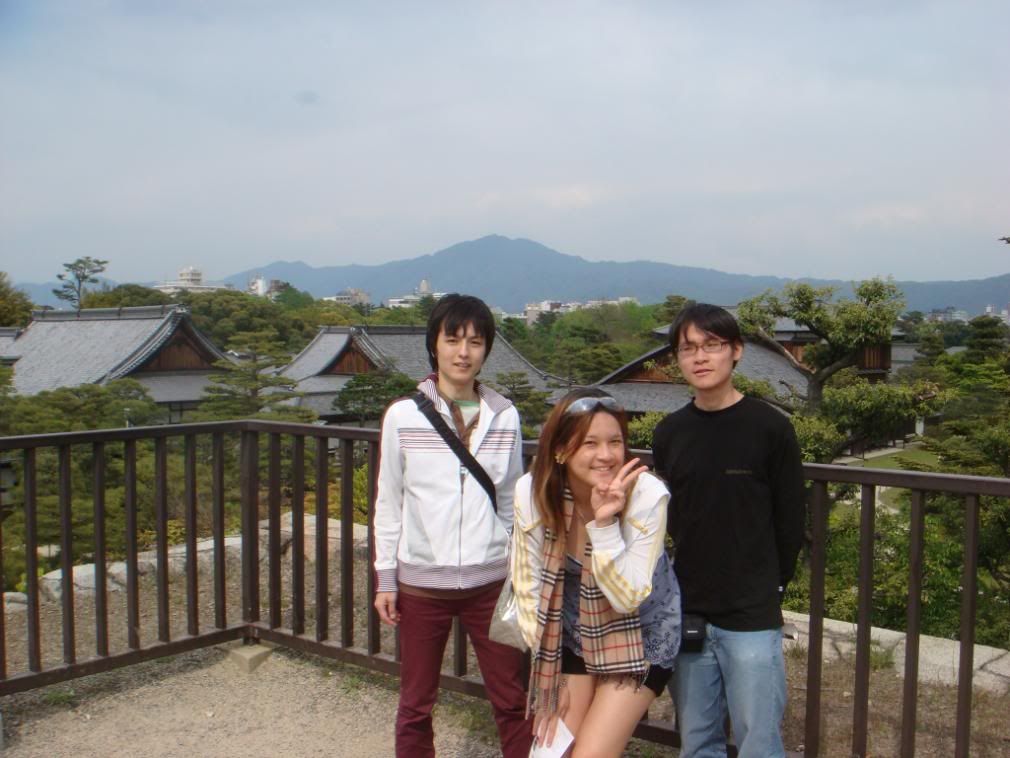 So we descended to tower and found our way our of 二条城
Here is the pool of water surrounding the castle tower, known as the 天守(Ten shu)..
And this is the walls which the Castle tower is surrounded by..
Exiting the castle tower grounds, we walked past these bushes of colourful flowers called つつじ(tsutsuji) Azalea.. Its such a cute pink looking ball I had to take a photo with it!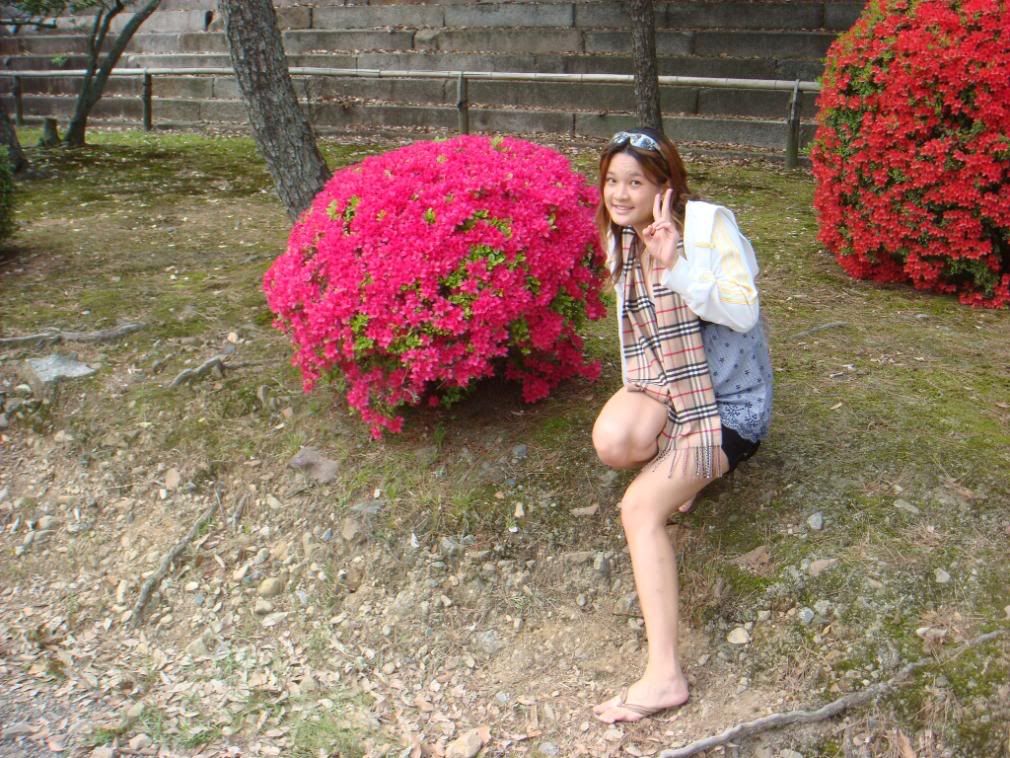 Walking on, there's a path of つつじAzaleas... Ain't that beautiful?
And we made it out! Here's the gate to the entire castle! (Note Choon's sian and sleepy face due to the car ride.. :P)