After a long drive from Kyoto the night before, we arrived at Tat-chan's place at 10pm the night before... Tat-chan's mum, whom I call Okaasan, Tat-chan's dad, whom I call Otousan and Tat-chan's grandmother, whom I call Obaachan were already waiting at home ready to welcome us.. With night snacks.. They even wanted to take us out for dinner.. But we were so tired from the long car ride that we decided to pass it.. So a long night talk till past midnight, and I managed to meet Nozomi-chan, Tat-chan's younger sister.. Everyone in the family calls her Nomi-chan..
Nozomi-chan
actually tidied her room and
slept in the living room
to let me have her room.. I felt so bad.. They simply wouldn't let me sleep in the living room or tatami room.. Tat-chan was so surprised with the state of his sister's room.. As exaggerating as he usually is, Tat-chan told me you can't differentiate Nozomi-chan's floor and the bed.. -_-'''
After breakfast, I helped clean up the dishes and the leftovers that Okaasan prepared and dressed up.. Tat-chan was going to take me to IKEA!!! Its in Yokohama, a city in Kanagawa Prefecture(神奈川県) which is less than an hour drive from Tokyo.. But before heading there, Tat-chan drove me for gelato at a sweets shop near his place..
Gelato is quite a new thing in Japan still, but this shop has alot of beautiful sweets (Japanese called these baked products sweets)..
After the nice ice cream treat from Tat-chan, we headed for Yokohama.. We were on this bridge which I felt had a special infrastructure.. Quite different the usual bridges.. But most bridges in Japan have nice infrastuctures..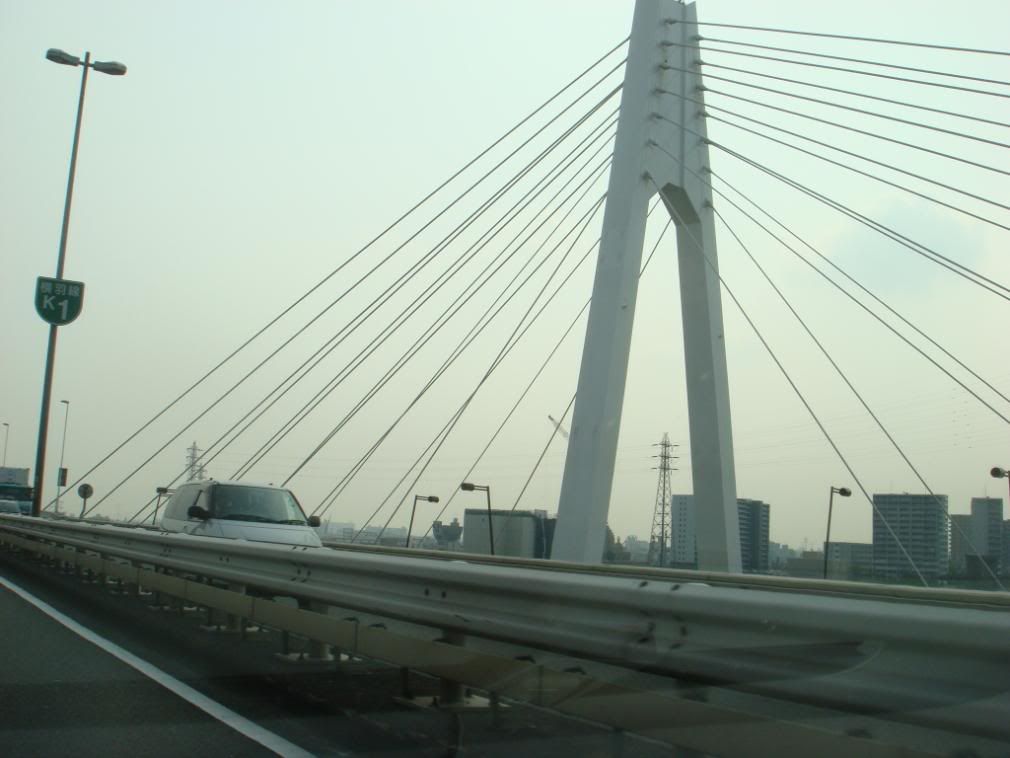 This is the Ferris Wheel at Odaiba.. Its Japan's tallest Ferris Wheel.. Definite cheaper than Singapore flyer, but its less high and moves much faster...
And after a short drive, we arrive at IKEA in Yokohama!!! The sign below IKEA's sign points to the Yokohama zoo!
The IKEA here felt no different from the IKEA in Tampines.. The displays, the prices, the things they sell, all the same! Maybe labels had Japanese instead..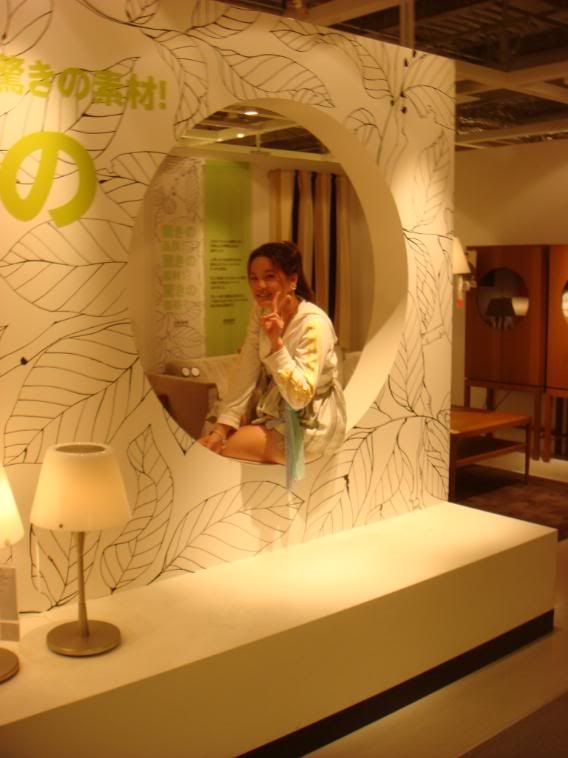 So after a long walk and late lunch at IKEA, we headed back to TOkyo.. But poor Tat-chan made a wrong turn we landed up getting lost.. Holding a not so detailed Japan directory, I tried to help Tat-chan get back to Tokyo.. So we were kinda lost for some time... I manage to catch a shot of the Tokyo tower from inside of Tat-chan's car.. Haha... Not so clear right?
And we finally arrived in Tokyo!!!! We picked up Okaasan and Nozomi-chan.. And went for good sushi!!!! Look at the sushi treat Okaasan gave!!!! Touched** Good quality sashimi you will never get in Singapore.. Explains the tummy I'm having now.. Hahaha...
And after talking about the beatutiful sister and the cute mother, time to show photos!!!! This is Nozomi-chan!!! Isn't she pretty? Her slimness brings out my fatness though.. HAha!!! Oh well... Good dinner...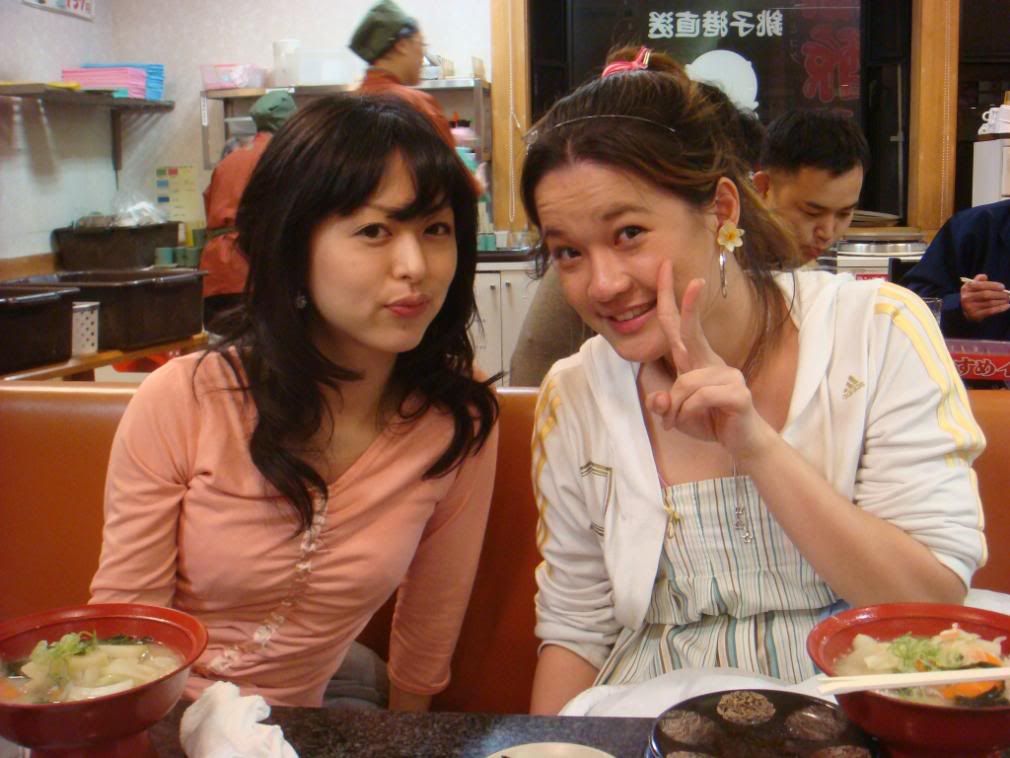 This is Okaasan, my mother in Tokyo.. She extended so much care and hospitality to me I can't say enough thanks for how nice she treated me.. And you will not be able to guess her age.. She's older than my mum! When I first saw her, I thought she was Tat-chan's sister!!! Shock!! Being a counselor, Okaasan is really kind and understanding.. No temper really sweet and nice..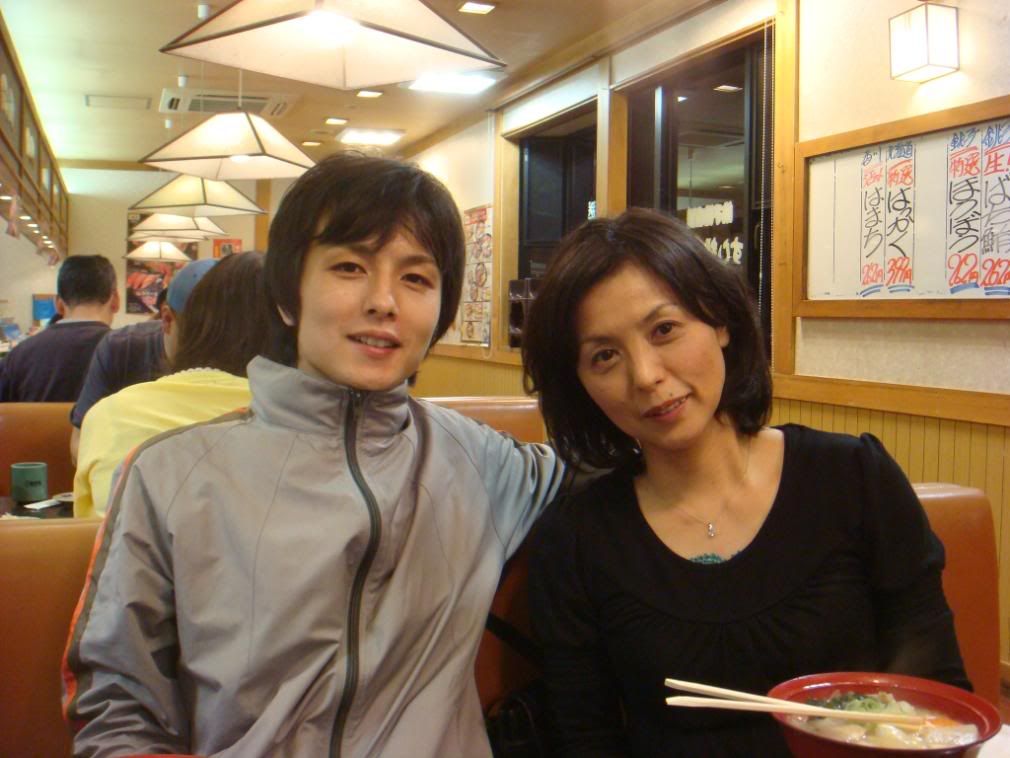 And this is how much we ate!!!!! :S Four people eating up a sushi restaurant!!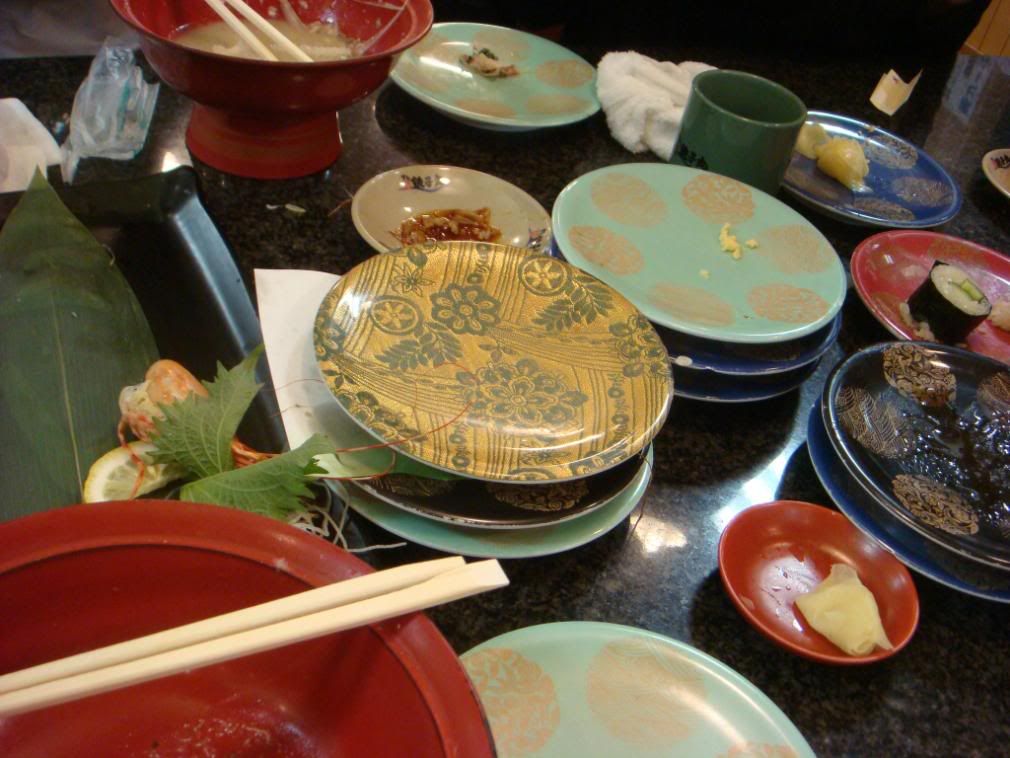 After the nice dinner, Tat-chan drove us to a supermarket and Okaasan offered me to grab anything I like for tomorrow's garden party they are throwing.. I was gonna make cheesecake for tomorrow, so I grabbed the philadephia cream cheese!!!!! Wahaha... Cheesecake entry coming up!!!
Nozomi-chan loves baking too, so she introduced to me all her baking equipment in their kitchen... I was so shocked! She had even more baking supplies than me!!! I couldn't believe how lucky I was to meet her.. To bake in Tokyo like I could in my own kitchen.. Actually even better than my own kitchen since there was even more stuff.. :S